Learning Rapid Franchising, The Poolwerx Way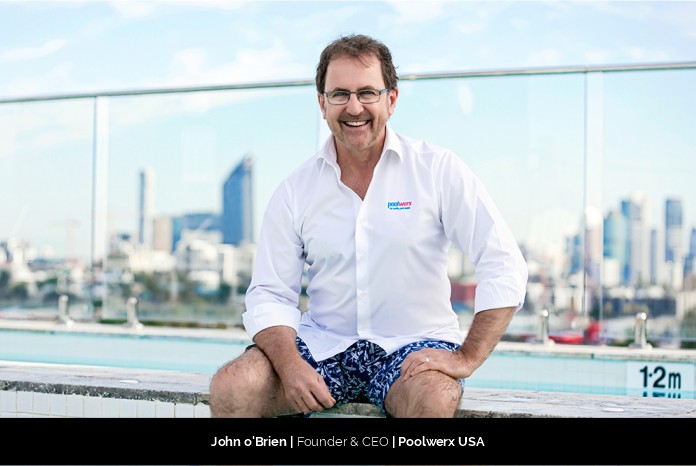 With a modest start over 25 years ago, they embarked on a new journey to revolutionize franchising, and today, Poolwerx has set a benchmark in the business as one of the leading companies in pool maintenance services. Expanding their business from 25 stores, service centers and service trucks they have seen a growth of 500% in the last three years. They have earned a successful reputation over the last 25 years which is an asset to the company that continues to reap a large number of loyal and valued clients. The thriving franchises have written a new chapter of success in Poolwerx's story that is an inspiring read for budding entrepreneurs and businessmen considering the franchise field.
The Early Impediments
Poolwerx was founded in Australia in 1992 which grew rapidly, becoming the largest pool and hot tub/spa maintenance network across Australia and New Zealand. When they first decided to enter the US market, the major roadblock was the cultural difference. Albeit, the business outlook of both countries might be subtle, it was very important to take this important aspect into consideration. From a US perspective, the Australians weren't recognized for their business savvy. Also, the Aussie's direct and open approach can often be interpreted as brashness. Navigating the complex relationships between a brand and franchisees required the team to re-evaluate their communication and business approach. Despite the differences, they started their first office in Arizona. Their determination superseded the contrasting outlooks, giving their business a new shape.
The Product Spectrum
Poolwerx specializes in pool and hot tub/spa maintenance that offers services like trained technicians for homeowners, tenants, HOAs, hotels and other businesses. Poolwerx does not stop at that. They not only service your pool and provide pool related products but are also available in person or by phone to ensure that you have a healthy pool that everyone can enjoy. Poolwerx believes that a pool is an investment and should be clean and ready to use whenever you feel like. Poolwerx walks the talk by striving to be the best in the market and provide excellent customer service. They value their clients, Franchise partners, suppliers and the industry at large that has kept them motivated to be consistent in their services.
The Client Experience
A business starts, grows and thrives only because of its clients. Clients stay loyal to a company when they feel valued. With their commitment to excellence, Poolwerx values their client, franchises and every client they communicate with. To ensure uniformity in their services across all franchises, Poolwerx provides every technician an extensive training for swimming pool and spa services in their 10,000 square foot, state-of-the-art training facility and support center in Dallas, TX. Over 80% of technicians at Poolwerx hold a Certified Pool and Spa Operator (CPO) certification, along with a mandated internal training that every technician undergoes. There is a huge difference between a certified technician and an unqualified technician. The certification equips the technician with the skills and expertise to carry out all pool and spa services. Therefore, Poolwerx ensures that every technician receives a certification in order to outperform his task to the best of his ability with their commitment to excellence. They continue to receive positive feedback from their client that fosters Poolwerx and its employees to be the best.
In the words of a client and franchise partner:
"Today was a good day for me because [Poolwerx] sent an efficient, courteous and friendly service tech, 'Mike' in answer to my request for help. In this time it was a real pleasure to have Mike stop by. He was knowledgeable and took the time to correct and adjust the pool pump to improve flow of water and to correct vacuum leak problem. Thank you! – J.P. (Poolwerx Redlands Client)
"I became a Poolwerx Franchise Partner in August of 2017. With the construction division of my business doing well, I only had about 25 maintenance accounts when I started. Within my first year with Poolwerx, I opened my first retail location in May of 2018, and by my one year anniversary, my maintenance accounts more than tripled. I currently operate 3 maintenance vans, 1 service truck and a 7 day/week retail operation. January of 2019 has been our largest month for growth so far." -Nick McAbee (Jacksonville Franchise Partner)
The Man Behind the Plan
The success of Poolwerx is written by the knowledge and skills of an experienced leader who followed his passion. His expertise has made the company grow globally citing greater opportunities for franchise partners in the large and ever-growing pool industry. Starting Poolwerx a quarter century ago, John O'Brien, Founder and CEO of Poolwerx has grown the company into a global, multi-award winning system. "Our competitors are often disorganized and have high-cost barriers to enter their system. Because of our streamlined processes and competitive pricing to join our network, our success is unparalleled. Poolwerx has built a system where you have great profit margins, repeat clients, retail and service offerings as well as a fun industry – plus we help families have safe fun under the sun in their own backyards and create those lifetime poolside memories. Now that's pretty cool to me.", says John. John is an inductee into the FCA Hall of Fame, past Chair of the World, Asia Pacific and Australian Franchise Councils and is a founding member of the Australian Federal Government's (ACCC) franchise advisory group, currently bringing order and accountability to the sector as a whole.
Under his expert guidance, Poolwerx has received numerous accolades along the way. To name a few, Poolwerx was recognized by the Franchise Council of Australia as 'Franchise System of the Year' (for the 2nd time) and in recent years, Poolwerx Franchise Partners have been awarded 'Best Multi-Unit Franchise' three times over. Poolwerx is now recognized as a global brand, growing swiftly in the US and has secured the third best position in its industry.
The Vitality of Values
Driven by their values every employee of Poolwerx is motivated to provide the best to their clients. They believe that these values are very important while communicating with Franchise partners, suppliers and clients that form the basis of a long term relation. Their values are the foundation of their business which maintains a cordial code of conduct instilling integrity and respect for all.
Poolwerx five core values are:
People first…always. – Our people are our first priority, our first concern, and our greatest strength. They include our Franchise Partners and their families and staff, our franchise support staff, our suppliers and our clients.
Do the right thing. – We all know what "the right thing" is – we just need to do it. This is about acting with integrity in our dealings and showing respect to our brand and to one another. It's about being honest, direct and trustworthy.
Find the better way. – As a franchise system, we constantly strive to improve everything we do. We invest in improving and refining our professionalism, ourselves and our brand. This value is at the heart of our innovation and initiative – we strive to be the best!
Dare to succeed. – As an extended community of entrepreneurial small business people, we rely on the courage to succeed, to overcome adversity and to constantly rekindle our passion for our brand and our clients. By daring to succeed, we make things happen.
Energize. – We add positive energy to the Poolwerx brand by supporting one another to be resilient and consistent. We take responsibility, learn from mistakes and strive to be part of the solution as we look forward, not back.
The Inspiring Impetus
The advancement of technology in the franchising business today, facilitated a competitive advantage for Poolwerx. Poolwerx made the decision to replace an industry solution it had been running on for years with three NetSuite solutions: retail point of sale, back of house accounting solution and a service scheduling product. This visibility also allows the franchisees to take a holiday, while still having visibility over their business operations from anywhere in the world. Poolwerx is geared up for a bright future with its thinking-ahead-of-time mindset.
Specializing in creating and maintaining healthy pools, for residential and commercial clients, Poolwerx has 66 locations across seven states. They are preparing for a glorious year with a plan to develop 20 more stores and 85 mobile units. In the next five years, they have a strategic goal of expanding by 300 stores and having 900 mobile units operating across the US. In order to fulfill their goals, they are on the lookout for potential franchise partners in Texas, Southern California, Arizona, Florida, South Carolina, Florida, and Georgia to join the Poolwerx family. These partners do not require prior experience as they undergo comprehensive, ongoing training and earn nationally recognized qualifications at the end of their initial training period.
Poolwerx USA might have had a small start, but they entered the business only to redefine it. Despite the oddities, they were determined to achieve their goal and stay put in the lead. They have acquired recognition in the franchise network and their journey will continue to be an inspiration as they paint new success stories in the years to come.