Routing Healthcare to Advanced Information Systems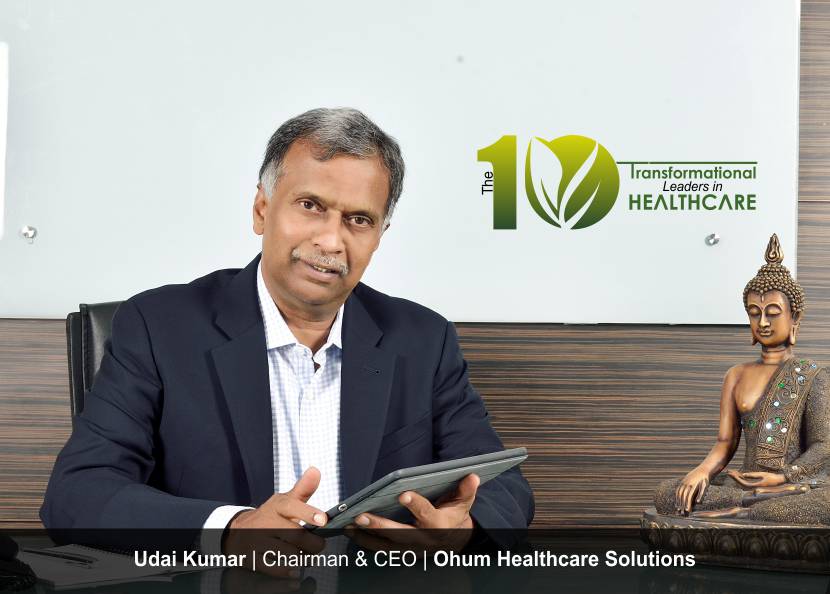 Ironically, healthcare has been a slow-paced field in terms of adapting to new technology where it is perhaps, needed the most. When he researched the industry, he noticed there is enormous scope for improvement in this field, and Udai Kumar, Chairman and CEO of Ohum Healthcare Solutions Pvt. Ltd. started an incredible journey. The journey came with ups and downs however the passion that he had to make a difference in people's lives superseded the struggles making Ohum Healthcare Solutions one of the leading companies in the healthcare industry today. Highlighting a few of the major turning points, success mantras and an inspiring success story, the journey of Ohum Healthcare make an intriguing read for entrepreneurs, businessmen and every individual who has the passion to change lives.
Embarking a New Journey
With a clear objective of making healthcare accessible and affordable to all, Udai Kumar set out on a quest to make healthcare more adaptive towards information systems. He was driven by a purpose to achieve massive transformation in healthcare by changing the conventional methods. This led to the foundation of Ohum Healthcare Solutions Pvt. Ltd. Udai Kumar knew that the journey is not going to be a cakewalk, but he was determined to bring about a change in the lives of billions of people by offering them new techniques of healthcare. Ohum was formed to deliver a digital health platform that enables quality healthcare for all by creative methods and by the introduction of information technology.
The Ordinary Obstacles
Every business is prone to struggles that need to be handled with prudence and proper planning. Ohum Healthcare too, experienced numerous impediments as they started. The three major challenges they faced were knowledge of the industry best practices, defining the solution architecture and ensuring the adoption of new techniques. In the healthcare field today, it is easy to adapt to new technology however changing conventional methods and acquiring new information systems becomes difficult. Blame it on the old practices that have become a part of our being or the lack of knowledge, Ohum knew that they had to fight this outlook and introduce a broader perspective. The other two challenges started diminishing as they kept moving ahead and creating new systems. Lack of knowledge was no more a problem. Nevertheless, the failure to adapt to the information systems is an obstacle that is still prevalent today. Ohum is dedicated to change this and is working hard to reach the point where the systems will work end to end making it user-friendly and the results are driven by transforming healthcare to be a global platform for safety, costs, outcomes, and experience. Struggles will always be a part of the race; however, the will to overcome these struggles with the right solutions is what has kept Ohum in the lead today.
The Never-Ending Path
Under the expert guidance of Udai Kumar, Ohum Healthcare started paving their way to success. Their journey was divided into four dominating parts that redefined their success; Exploration, Building the solution, Gaining adoption and Achieving transformation. The first two factors, exploration and building the solution were a nine-year process. Gaining adoption is yet in progress and achieving transformation will remain as a constant never-ending process. Every project initiated by Ohum has seen great success has kept motivating them to embrace new projects stimulating a system-wide transformation on a very large scale which is the next two-year plan. Ohum has been instrumental in providing solutions across the entire spectrum of healthcare making these solutions available for single doctor clinics, nursing homes, rehabilitation centers, small hospitals, corporate hospitals, and the overall healthcare system.
The Product Radius
Ohum Healthcare Solutions implements and supports Information Systems that transform healthcare services. They are a leading solution provider in healthcare offering world-class health care IT software and processes to help enterprise hospitals, nursing homes & clinics, primary health facilities, community health, and public health centers. They have tailor made solutions to handle different types of clients. To list a few,
ohumSKYTM is the ONLY end-to-end Clinical and Business Transformation Solution for Enterprise hospitals ranging from 200 to 2500 beds or more. It offers the world's best cloud-based integrated hospital management system.
ohumDocTM is the world's first sophisticated Native iPad application for clinics that enables clinicians to View, Order and Document Care in one flow.
ohumAirTM is an end-to-end integrated hospital management system for small hospitals and nursing homes sized 15-100 beds.
ohumC4TM is the community health platform for smart cities, insurance, and corporates.
ohumCCMTM is the Complex multispeciality Care Management solution for the management of chronic conditions, such as diabetes, cardiac, hypertension, Alzheimer's, and more.
ohumGTM It is the world's first district-level community health system that integrates preventive, primary, secondary and tertiary care workflows and delivers one lifelong medical record per patient accessible to any authorized clinician anywhere, anytime.
ohumBITM is a sophisticated clinical and business analytics application that transforms all hospitals and care management programs to deliver world-class performance.
SCORETM sets the highest standard of care on all 5 dimensions: Safety, Cost, Outcomes, Research, and Experience.
Their professional services include outsourced product development, data warehousing, integration, implementation, digital engagement, enterprise support, QA & Testing, device integration, data migration, analytics, clinical workflows, Revenue cycle management, Remote Infrastructure Management, clinical documentation, training, AI & Machine Learning, and more.
The Rapid Deployment model enables them to deploy their end-to-end enterprise hospital management system at an extremely affordable pricing model and helps in achieving HIMSS Stage 6 on the Electronic Medical Record Adoption Model (EMRAM) in record time.
All of the above solutions have been introduced to achieve a transformation in primary care management, critical care management, chronic care management, telehealth, patient app, public health, managed care and Ayurveda care.
The Master Mantra
A path-breaking journey as such needs the mind of a leader, a mentor, an entrepreneur, and a passionate soul. Udai Kumar was just the right fit with all of the above. With an enthralling experience of 30 years, he believes that he still has a long way to go. "Hard work is really about focus, determination, perseverance, and learning. It is about continuously tweaking the execution methods and striving for excellence. It is about managing three things: unexpected execution challenges, demanding customers, and competition", says, Udai Kumar.
He is an optimist in times of trouble. He believes that when work is challenging and demanding, it means that there is a gap between expectations and fulfillment and as long as the gap narrows itself, the work itself becomes a discipline. When that happens your work is no more a tedious task, on the contrary, it becomes exciting and invigorating. He is a successful leader who is determined to build a successful team. He states that the most important qualities of a good leader are intensity, passion, customer engagement, financial management, people engagement, planning, and problem-solving skills. He instills these characteristics upon his team through counseling sessions, mentoring, collective decision making and most importantly, by being an example.
Udai Kumar's was truly inspired by the first company that he worked for, CMC that was world-class IT Company undertaken by the Government of India. It inspired him to build an organization that could focus on delivering fundamental rights to every person by selectively enabling quality processes through smart technology. He loves spending quality time with his family and having a social life, which keeps his professional life happy too. He does not distinguish them as two separate tasks to handles but believes that they are interconnected. His work is his reward and the greatest reward that he is striving hard to receive is the milestone where the information systems are improved benefiting every patient in every country.
A Long Way to Go
Ohum Healthcare Solutions regards four major achievements in their journey; the first is their vision for a digital health platform that unifies best practices with technology and integrates all users. The second is empowering the patient in their own care management. The third is delivering clinical pathways that simultaneously improve outcomes, reduce risk and de-skill the provider. And finally the fourth is a single program that unifies preventive, prescriptive and progressive care into a single holistic health management system.
Even as they define the above as their achievements they believe that they yet have a lot to attain. Although the difficult part is over, they know that the journey ahead will have its own set of challenges that need to be handled with the same passion and vigor that has brought them this far. Udai Kumar is geared up to build an organization that can bring skill and process excellence to millions on a personal front in the next five years. With a goal to balance his personal and social goals along with his organization goals, he is all set to embrace the future which is going to be exciting and challenging. In line with the vision of Ohum to enable quality healthcare for the bottom four billion people in the world, Udai Kumar and his team are awaiting the future with great expectations.
As a young boy, he wanted to be a train driver, because he always wanted to be in control of his path, steering towards the struggles with a full proof solution. Well, Udai Kumar, CEO of Ohum Healthcare Solutions, sure has fulfilled his desire as he drives full speed ahead with a team of passionate and talented professionals on board.