Nicole Carter: Passionate about Social Equity and Helping Communities to Grow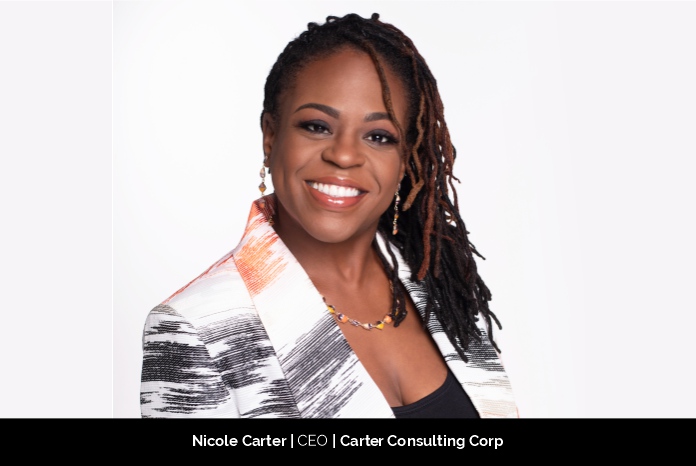 Leading the organization to the heights of success, showing unwavering dedication towards the organization, and improving funding charts are not the only things that make someone a great leader. With time, the definition has changed, and now there is a new community of leaders who are not only focused on organizational success but working to bring change with innovation that can improve lives. These are the ones who are striving to bring change with a positive impact on people, businesses, and society/communities. One such business leader is Nicole Carter, who understands and experiences the kind of leadership today's world needed early in her career. She is the Chief Executive Officer at Carter Consulting Corp and a renowned business leader with multi sectors experience.
The first-born daughter of a southern pastor and nurse mother, Nicole was taught at a very young age the importance of giving back to the community. After attending Alabama A&M and regularly volunteering in her community, Ms. Carter began taking public service roles with well a number established non-profits, The State of Tennessee, HUD, DHHS a few local government agencies. These positions included, state auditor, director of development, grant writer, compliance officers and director of operations and program officer. Her program experience includes Section 202 Elderly Housing, Section 811 Special Needs Housing, YouthBuild, Healthy Marriage, COPS, Transitional Housing, ROSS, FSS, Computer and Technology Lab Funding, CSBG, CDBG, Brownsfields, Food and Nutrition, COPC, HBCU, Drug Elimination, State Grants for Mental Health, and more. She also served as the Executive Director of a multi-state Housing and Community Economic agency with an annual departmental budget of nearly $1,500,000. Ms. Carter has also been serving numerous federal departments as panel chair and panelist since 2007 they include: Dept of Ed, DHHS, DOC, NIFA, US Treasury, DOL and HUD.
This vast range of experience serves Nicole well and gave her the tools necessary to found her own consulting business in 2010. Nicole understands comprehensively the needs of the minority community and has made it her mission to give back. Carter Consulting has enabled her to leverage her experience with development work, grants and community trainings and sustain and uplift those grassroots agencies and community stakeholders who share her vision.
A Proficient with Extensive Experience
For the majority of her career, Nicole has been a grant writer or grant monitor. It is allowing her to draw on exceptional experience in this niche field to support the clients she works with through her role leading Carter Consulting. She is passionate about creating grants that will make a true difference to the community and the lives of those living in them.
Nicole is a seasoned consultant, grant writer, and certified evaluator with more than 20 years of experience. She has proficiency in creating a wide range of legal documents that include Articles of Incorporation, By-Laws and Federal Tax-Exemption, SS-4, etc. She also holds the position on the advisory boards of several local organizations. She is the primary instructor for the well-attended regional community-training workshops: "Nonprofits and Federal Funds ". Additionally, Nicole has served as a Federal grant reviewer for more than 8 U.S. Departments; serving as panel chairperson and consultant for identifying and making recommendations for grantees.
Carter Consulting
Since it began in 1999, Carter Consulting has supported non-profit and faith-based organizations by providing technical assistance, capacity building, grant writing, resource development, program evaluations, and professional development training.
As a Women Owned Minority Business with SBA 8(a) and HUB Zone certification, Nicole is committed to excellence and creating innovative and flexible solutions for its clients. Carter Consulting, Corp is a Birmingham based firm specializing in technical assistance, incorporation, consulting, grant writing, compliance and program implementation. Nicole is accredited as a Section 8 Housing Manager, accredited in Leadership in Energy and Environmental Design (LEED) and certified as construction craft trade specialist by NCCER.
Nicole is driven by her motivation to help others and confront inequalities in her community. Under Nicole's skilled leadership, Carter Consulting has secured more than 50 million dollars for its clients, helped establish more than 32 grassroots or community-based organizations and facilitated more than 50 housing and economic development programs, including education and employment, crisis intervention, job training, counseling, emergency food assistance, housing and rehab, elderly care, healthcare, family development programs, and domestic violence interventions. For over 25 years Ms. Carter has used her business and non-profit experience to help socially-oriented organizations increase capacity and improve services leading to greater impacts in the communities they serve.
Impacts in the Community
In total Carter Consulting has more than 35 years of experience in the non-profit industry and has served hundreds of grantees from all over the country and abroad. The combined expertise of Nicole and her team secured nearly $10 million dollars in federal, state and local funding in 2020 alone.
Ms. Carter also leads a number of free services including a quarterly Grant Writing Class in low-income counties throughout Alabama. This class is widely attended and trains individuals on how to start a non-profit, the responsibilities it carries, where to find grants and how to write them. The class is essential to impoverished communities who can't afford Carter Consulting's paid services and is widely attended.
In addition to her work with Carter Consulting, Nicole is also the founder and Executive Director of a nationally recognized and federally funded 501(c)3 organization in Birmingham, The Institute for Community, Youth & Family Services, Inc.
Nicole's work with The Institute for CYFS enables her to lead her own social programs in the Birmingham community focusing on social and economic development. One recent example was the Department of Labor YouthBuild program in 2018, which designated $1.8 million to purchase a 24-unit apartment complex in downtown Center Point and renovate it so as to offer the units for 100% affordable housing. The program employed local drop-out and vulnerable youth who received career training, GED and educational training, construction experience and assistance with job placement. Although the YouthBuild aspect of the program was forced to halt last year due to COVID-19, the apartment complex is on track for rehab and will provide a large boon to Center Point's affordable housing market as well as helping uplift its downtown area once complete.
At any time Ms. Carter employs 6-10 team members to help her accomplish these remarkable milestones. She enjoys employing and training people, and has on numerous occasions found opportunities to employ struggling youth and other disenfranchised community members on a part-time basis. This dedication to her community has traveled with Ms. Carter throughout her career and she truly looks for every opportunity to give back.
Carter Consulting Corp is truly a labor of love as Ms. Carter feels it is an honor to assist so many organizations who provide essential life-services and resources to the communities they serve. Over 10 years of success are visible in numerous video testimonials on the business' Facebook page and YouTube channel. In 2019, Carter Consulting was proud to receive the Top 10 Most Influential Female Businesses in the Southeast award. Nicole Carter has also won 2019 Most Influential Businesses Woman from Acquisitions International, CIO Views 10 most successful women to watch 2021, as well as The 10 Most Inspiring CEO's to Watch in 2021 from Tycoon Success.
Roles and Responsibilities
Nicole is a determined business leader and has expertise in multiple sectors. At Carter Consulting, she has to manage from top to down so, there is no exception left with quality assurance. She supports non-profit and faith-based organizations by providing technical assistance, grant writing, capacity building, program evaluations, resource development, and professional development training. She has served hundreds of grantees from all over the country and abroad.
She helps in building the capacity of non-profits by analyzing the conditions that help or hinder performance, finding their roots, and creating improvement strategies to increase the impact of client services. Also, she works to provide grant and management services to agencies nationwide.
Established Base
In 2019, Carter Consulting was awarded more than 4 million dollars in grants and contracts. Among these years accomplishments included the 1st minority-owned hemp farm in Tennessee and the acquisition of 3 buildings for rental property. The firm also has a $500,000 apartment complex with $375,000 cash.
Nicole says, "This was a community effort which took critical thinking, strategic planning, and relationships. By collaborating with community organizations, the firm is able to meet the needs of its various stakeholders and provide the support that cannot be found elsewhere."
A Team of Experts with Years of Experience
At Carter Consulting, Nicole and her team always focus to support their clients. The company is leading with an expert team that has more than 65 cumulative years of experience in the non-profit industry and has served hundreds of grantees from all over the world which helps in saving more than $50 Million dollars.
The firm's executive staffs have high-level executives from numerous industry sectors including non-profit, government, construction, commercial, accounting technology, and primary federal contractors.