The 10 Most Innovative Business Leaders to Follow in 2021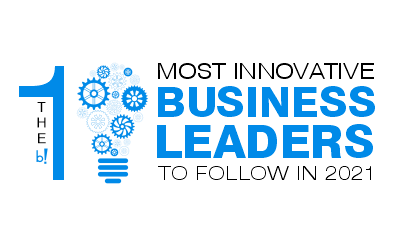 Leading the Way of Success with an Innovative Mind
The simple definition of innovation is the idea of creating a new method or product. Innovation is a fascinating concept that is not bound by qualifications, age, standards, titles or any other societal terms. It can occur to anyone, at any given point and can be a turning point for them. We have witnessed many great personalities who have had a light bulb moment and have redefined success based on it. Today, there are many innovative leaders in the world who are thriving on the basic concept of innovation. To come to think of it, innovation has been the key to success for most of the leading giants in business.
Applauding the creativity of these leading personalities, Beyond Exclamation has dedicated this issue titled, "The 10 Most Innovative Business Leaders to Follow in 2021" to them. Featuring on the cover of this issue is the success story of Kris Poria, Co-founder and CEO of EarlyBirds a Business to Business (B2B) platform for tech Innovators (Startups/Scaleups/Mature) and Early Adopters (Organisations looking for innovations) to exchange value early on. Kris is a successful and highly achieving international businessman who has combined a thirst for learning with a determination to improve business functionality throughout his career. Born in a humble farming community in rural India, at the age of 16, Kris spent three months at an English school with no understanding of the English language. His love and inquisitive nature of software saw him become a Microsoft Certified Solutions Developer and leave his native country to gain international experience in Europe and America. Kris did not turn back since then and climbed the ladder of success with hard work and passion, becoming a successful and innovative leader today.

In appreciation of innovation, we have also put together a few more inspiring stories of leading personalities from different industries. Inclusive are the journeys of Derek Friend, CEO of 3G Mobile (Pty)Ltd; Amine Zorgani, Head of Research & Development of S-Biomedic; Warren Richmond, CEO & Founder of Situ Live; Ferry van de Pasch, CEO of HTR Rubber and Foam; Kirsty Gordon, CEO of Anywhere in Africa Safaris; Ralf Russ, Senior Partner of Centracon AG; Imran Ladhani, VICE PRESIDENT – Head Of Investment Operations of Gulf Islamic Investments; Dennis van der Putten, Acting Chief Commercial Officer of ACTIAM and Nicole Carter, CEO of Carter Consulting Corp.

Happy reading!
Follow us on social media.