Kris Poria: Engaging Society in Actionable Innovation.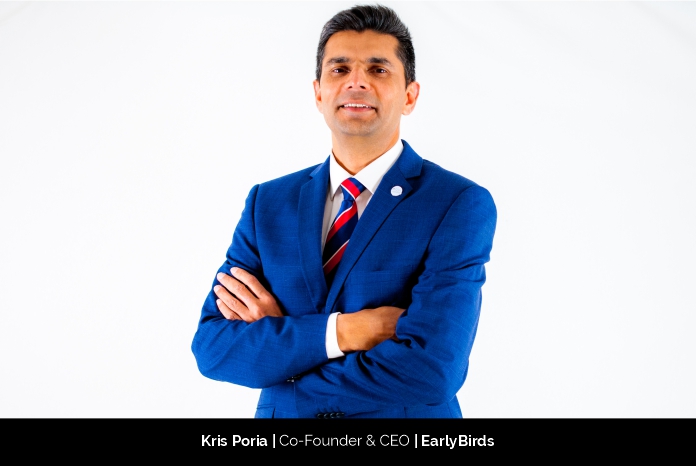 Innovation is essential for all businesses. Many a times, innovators have smart solutions, but these are not accessible to businesses. With an aim to bridge this gap, Kris Poria, co-founder and CEO, launched EarlyBirds along with co-founder and COO Jeff Penrose. EarlyBirds is a global platform and business model that connects innovators, including start-ups, scaleups and mature, along with independent experts, to share expertise and knowledge and to enable businesses to upscale within a lesser time frame.
A Global Platform
EarlyBirds is transforming organizations through self-learning by providing continuous learning across all business functions, resolving business and techical challenges promptly, exploring disruptions including new technology, process and models, and solving wicked problems. They deliver solutions with help of EarlyBirds Ecosystem (Innovators, Subject Matter Experts (SMEs) and Early Adopters) using platform and innovation programs – the Challenger and the Explorer. The Challenger program is to solve one business or technical challenge at a time and quickly by working with independent SME consultants and innovators. The Explorer program is to provide ongoing innovation as a service to the whole organization, to expose the latest disruptive solutions on a regular basis to a business function or a whole organization. The EarlyBirds platform is a dedicated ecosystem for ongoing collaboration and exchange of actionable innovation.
EarlyBirds platform scouts over one million global innovators and has over 100 SMEs and over 500 organizations are registered on the platform. It offers two options to the market – Self Service platform subscription where customers can search for innovators to identify solutions or innovations to solve their challenges and SME assisted programs where a solution to any business or technical challenges or ongoing innovation is delivered as a service.
Connecting to Enable Businesses
EarlyBirds helps companies by providing capability solutions within a trusted networking platform to millions of businesses around the world. The platform allows business or technical issues of Early Adopters to be solved quickly by experts providing solution options. This is complemented by innovation programs, products and services. These services allow newish companies to see what the global market is doing. Finally, SMEs are welcomed onto the platform to work with customers to deliver business-focused outcomes. This helps improve the innovation lifecycle. Eventually, this allows expeditious generation of products or services.
Aligning Values
EarlyBirds has built a global Open Innovation Ecosystem using its platform and by bringing together three parties – Innovators (startups, scaleups and mature organizations), Early Adopter organizations (private and public organizations looking to solve their business and technical challenges) and SMEs (domain and industry experts). Through the platform, they connect these three parties where the SMEs deliver the specific programs (the Challenger and the Explorer) to deliver outcomes to their customers.
The team at EarlyBirds is on a journey with their stakeholders where they ensure that their values are aligned with those of the stakeholders. The product roadmaps, that were initially aligned internally, are now fully aligned to deliver to their customers and stakeholders. This assures a culture of integrity as well as continuous innovation in the company.
Kris believes that all individuals and businesses are ultimately providing services to society. Our society is going through a journey to become a machine-enabled society in the coming decades and therefore EarlyBirds' purpose is "Engaging Society in Actionable Innovation!". Everything they do at EarlyBirds is enabling this vision with their Open Innovation Ecosystem.
A High-Achieving International Businessman
Kris belongs to a large family of farmers in rural India. It is a completely remote corner with no resources. The only option is to move to a larger city for education and employment. At the age of 21, he was supporting a family and running businesses while continuing his education. Software development piqued his interest and he made a bold decision to sell his business and start a career as an application software developer. He became a Microsoft Certified Solutions Developer and worked across many large cities in India before working in Europe, then the US and now he is settled in Australia. After working in the higher education and real estate sector, he started another venture in media called 'Invest in Australia', a magazine that promoted Australia for global investment. While completing his MBA from Macquarie Graduate School of Management, he got interested in assisting customers with large transformations while working with system integrators and large global product vendors like Fujitsu, Oracle, Unisys and HERE technologies.
The idea of EarlyBirds came from the challenge that Kris faced working on a large transformation project where a disruptive startup solution could have been used instead of creating an extended project to create new products from scratch. Why create a solution when it already exists? Big companies could work with start-ups and scaleups that had innovative solutions. There was no common platform or avenue that would connect these two enabling start-ups and Early Adopters to exchange value early on. And EarlyBirds was born!
The urge to explore new avenues has been the key to his global career.
He considers the success of his customers and their positive feedback as his best recognition. EarlyBirds co-founder Jeff Penrose and CFO James Palmer trusted Kris and encouraged him to trade his corporate job for a full-time opportunity at EarlyBirds. He cherishes this trust as a worthy recognition.
An Actionable Leader
As a CEO and co-founder at EarlyBirds, Kris is working on a roadmap and with all the stakeholders to align the customer outcome and commercial and technical success. In the day-to-day operations, he shares his responsibilities with the co-founder and COO, Jeff Penrose. They are equal partners in running EarlyBirds. Depending on the day, Kris spends time from customer engagement to collaborating with the Advisory Board, SMEs and the technical team to align their product and delivery. He defines himself as an 'Actionable Leader' who keeps working on progressing on his journey – personal, professional and spiritual.
He has his priorities clear in his mind. He chalks out and then adheres to executing a plan. At a personal level, he endeavors to deliver to his family and then his spirituality. He makes sure to spend quality time with his family. He is also particular about his physical wellbeing. He invests his time in regular exercise and he shares this time with his family. This way he balances his time and ensures family time along with good health. He also invests in reading and meditating spiritual texts.
He keeps himself motivated by continuing to work on his journey both personal and professional.
At a professional level, he endeavors to prime the organization and team to deliver success to their customers. He emphasizes that once we all understand we are serving our customers and our society, we generally tend to deliver our best for all stakeholders.
An Inspiration to Build a Business Model
Both Kris and Jeff share similar experiences with respect to their career in the public sector and their global exposure. EarlyBirds was conceived with an intention to bring together their experiences, passion and services. Their ultimate goal was to deliver better value to society.
Kris has vast experience in assisting customers with large transformations while working with system integrators. Once while he was working for a large systems integrator, he realized that the customer could not access or engage with a startup for an innovative solution. He needed a solution to manage a multi-cloud environment. During this time, Jeff worked for a startup that had a solution for multi-cloud management. The duo discussed possibilities and after several meetings, they finally landed on a strong solution for the client. Despite the existence of this solution, they could not get buy-in from the systems integrator. At last, the systems integrator built the solution in-house. Kris and Jeff identified that this was usually the case in the industry. They had identified that one challenge in the market was that some of the big customers could not access or engage with startups that had innovative solutions. Several businesses land up reinventing the wheel. The duo felt that the client did not receive the best solution. To avert this unnecessary delay and waste of expertise, Kris and Jeff discussed plausible ideas and started researching and cataloging the problems they faced while working with customers. This led to the idea of building a global platform. They interacted with tech incubators and accelerators globally. Their labor bore fruit, the platform worked well, and as a result, EarlyBirds was launched in September 2019. Today the EarlyBirds Ecosystem boasts 1M+ innovators, 500+ organizations joined and 100+ SME consultants.
Roadblocks Reveal Opportunities
Kris affirms that challenges offer an educational opportunity. They guide us along our journey and assist in producing patience and building agility.
Without a challenge, there is no opportunity. And without an opportunity, there is no success, no progress in our journey. Most of the roadblocks Kris faced, revealed opportunities to think differently, improve, learn and serve better.
When he started college, at the age of 16, the medium of instruction was English. This was his first introduction to the language. For the first three months, he could not obtain an iota of knowledge, because he did not understand the language. This did not deter him but taught him patience. At the age of 21, he was already running two businesses along with managing a family. This trained him to manage his time and priorities. Just when he got the hang of juggling his businesses and family, he sold his business and moved out. He relocated to a metropolitan city, a city different from his hometown in terms of food, language and culture. Here he started a career in software. This experience taught him to be brave and to take risks.
He has lived and worked in various global locations including Europe, the US, finally settling in Australia around 18 years back. This global exposure has enhanced his understanding of different people and cultures and taught him that success in anything starts with an attitude, not with skills.
He has worked in other industries like media and real estate, while completing a part-time MBA from Macquarie Graduate School of Management. This experience provided an additional context for understanding the workings of a business and economy.
He has led many customer engagement teams on large transformation projects. It was challenging to find solutions to unseen problems while managing teams across many countries. This taught him to focus on helping customers to solve their challenges.
Through the progression of his journey, Kris has demonstrated how to turn every challenge into an opportunity and every opportunity into success.
A Journey, Not a Destination
For Kris, success is not a destination; it is to understand that we are on a journey at both personal and professional levels.
At a personal level, Kris strongly maintains that we need to support ourselves and our family both financially and emotionally. His view is that you cannot serve others if you cannot look after yourself. He ensures his wellbeing through regular exercises and meditation. He also focuses on his spiritual journey.
At a professional level, success is the ability to deliver to the customers and the society in the long term. When we identify our key skills, passions and a way to assist our customers and society, then we are progressing in that journey.
Previously, Kris has established and led businesses for personal financial gain. He identified a need in the market and employed his skill to initiate a business. With EarlyBirds, his aim is to help customers and society. To achieve this aim, critical support and trust came from the co-founder, Jeff Penrose, the CFO James Palmer, the advisory team, investors, his family and ultimately, his customers.
A Persistent Effort
As far as future plans are concerned, EarlyBirds promises to deliver on its purpose "Engaging Society in Actionable Innovation!". They have coined a framework called Edzlity (Edge and Agility) that helps organizations to become self-learning organizations. They will continue to build products and provide services to deliver these outcomes with their platform, products and programs.
As a personal goal, Kris wishes to consistently serve society better with his skills, passion and business.