Ferry van de Pasch: Changing the Landscape of the Manufacturing Industry with HTR Rubber and Foam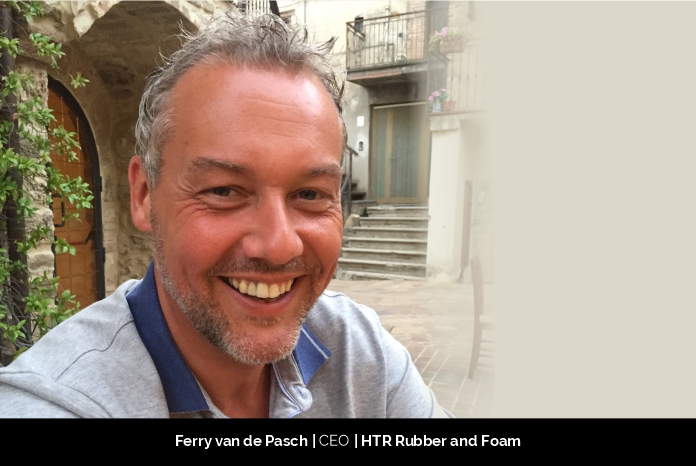 Having worked with a very small, medium-sized company, and huge multinational, Ferry van de Pasch, CEO of HTR Rubber and Foam, decided to take over the company and steer its wheel to the next level and beyond.
Leading a company upfront
In 1990, the owner of the HTR saw potential in Ferry and gave him a chance in the company as the junior sales engineer. He got the chance to develop his personality, skills, and character. Ferry started from the lower end and worked his way up to the top with his hard work, solid determination, and personal passion.
His determination and hard work paid off when he was selected for the role of Sales Director in a big corporate beast from the list of 90 applicants, even when he had a smaller knowledge base than the others.
Pushing his limits and believing in his skills and capabilities, Ferry took a chance at the end of the year 2004 and acquired 100% shares of the HTR company to lead the company upfront.
He believes that success is enjoying activities and fulfillment of ideas and goals which are based on joy, fun, satisfaction, health, happiness (family), and accomplishments. It is about trying to raise the bar to keep the challenge active.
After taking the lead role of the company, he structured a solid path for the company to pave to the top level. His dedication and smart strategies allowed him to grab the Best Entrepreneurial award in 2008.
Learning from the mistakes
After two years of leading the company in the right direction, Ferry was selected on a shortlist for the Best Entrepreneurial Vision Award in the southern part of The Netherlands. He was riding the high horse and basking in his glory. However, one year later, a huge financial crisis gave a hard blow to Ferry and his team. The company was heavily financed, and there was a huge upfront investment of resources with the launch of the new factory. With a serious part of their turnover lost in thin air, Ferry learned about the value of cash flow, liquidity, profit, and loss.
Believing in his own saying, "Recognizing a problem is half the solution," Ferry led the company to tunnel through the crises and achieved positive results.
Overview of services at HTR Rubber and Foam
The company produces and supplies products made out of rubber and foam and offers its clients a maximum added value to these products and with an absolute focus on TCO (Total Cost of Ownership).
A machining device worth USD 5000 is not functioning right as the seal, which costs USD 0.28, is not functioning as it is supposed to do. A lot of people source based on cost price and end up with material with only a low percentage of elastomer or constructed with inferior components, which creates a low-cost price for the product. The problem is that people can't tell the difference just by looking at it. The problem happens after usage and sometimes after a certain period.
The company focuses on the right fit for use, determining the right recipe, i.e., not using gold when silver does the job and vice versa. Furthermore, it offers products made from 5 different production techniques so the team can freely design the product.
Ferry states, "We have the knowledge and experience (we exist over 68 years), and we carry not only the ISO 9001 but also the international automotive standard IATF16949. We offer our clients tailor-made solutions with optimal assembly for high quality and the best pricing.
Infusing the power of innovating to grow
As Albert Einstein said, "The definition of insanity is doing the same thing over and over again, but expecting different results," Ferry also firmly believes that without innovation and adaptability to evolving changes, one is doing the same thing over and over again, and soon after some time, the business will fall behind the competition without any new spark. "Innovative ideas give you cutting-edge over others and allow you to mark your unique identity in the market. That makes a difference as you distinguish yourself from others," he adds. At HTR, the team is busy and involved in digitization, smart manufacturing, flexible manufacturing, smart services, digital chains, smart industries, and sustainable factories.
He expresses, "We want to achieve combinations between our 5 product groups and make a smart combination which makes the difference in our offers."
Fueling the growth of the company
Taking the onus of the role of CEO of the company, Ferry is mainly involved in all sales activities like business development and main customer account management. He knows his strengths and uses them flawlessly to fuel the growth of his company.
Having fun while doing his work and progressing forward is vital for Ferry. He once said, "Put me behind my desk five days a week, and I will not be happy. To me, having fun and pleasure in my work is everything as otherwise, I can't bring that confidence to my clients anymore." The pandemic time was a difficult phase in every aspect, but as the circumstances are normalizing, Ferry is working on his skills to attract more clients to the company.
He adds, "I believe in what we are doing, and talking to (potential) clients about this, fills me with more enthusiasm to work hard and have fun."
He even urges aspiring leaders to believe in their dreams and chase them with full determination. He quotes, "Do the thing you believe in and which brings you joy and fulfillment."
Knowing the importance of having a fun environment to work in, Ferry aims to maintain a cool environment where his employees can grow and have regular laughs. He states, "I truly believe that if the working environment is relaxed, there is RESPECT (a major thing for me), and people find themselves to be allowed to have fun at their job, their commitment and performance are optimal. They all have their responsibilities, and all can make decisions. I rather have a bad decision than no decision, and they all know it. If they make a decision, we will always back them up."
Visionary plans for the next phase of the company
With new strategic goals in place, the company has been investing and developing the set strategy and looking to improve the growth figures and create better results.
Ferry states, "We don't strive for turnover increases of 40%, we would rather do it a little more slowly to keep in control. Future acquisitions could be looked at. The same is that we are open for international cooperation with a company which could give us additional advantages strategically."