Kirsty Gordon: Leading the Best Safari in Africa with Remarkable Travel Offerings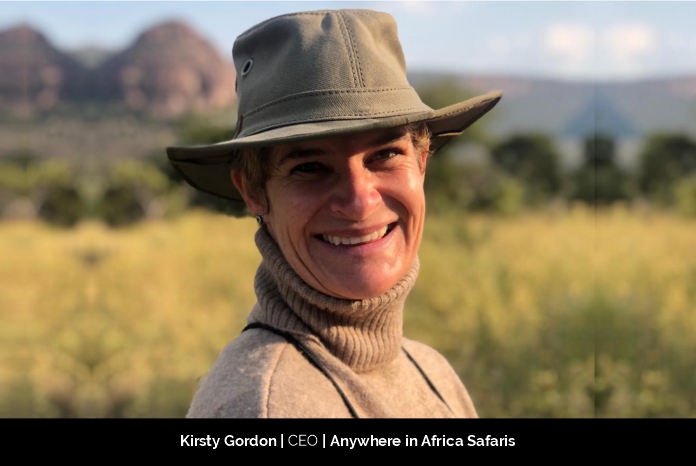 Travel is the best way to escape from worldly chaos and still reserve some quality time with loved ones. The experience becomes more mesmerizing when you are traveling towards nature and experience what mother earth has gifted to us. With 30 years of knowledge and experience of Africa with travelers from all over the world, Kirsty Gordon, CEO of Anywhere in Africa Safaris, has an eternal passion for travel/safari. She creates a personal experience for travelers and guests that they will treasure for a lifetime and her goal is to be the company of choice for unique wildlife and wilderness experience, in a comfortable unique atmosphere. She opines, "My love affair with Africa started over 30 years ago, on my first wildlife safari to the Okavango Delta in Botswana. Since then, I have explored and delved deep into the remote corners of Africa and the world, uncovering experiences and hand-selecting local experts to help me create authentic travel adventures for my clients."
Anywhere in Africa Safaris is focused on empowering clients and travelers to become Ambassadors for Africa. It is an independent, owner-run tour operator based in one of the most breath-taking cities in the world, Cape Town. The company provides exclusive plans that include bespoke, luxury travel packages to Southern Africa, East Africa, North Africa, Indian Ocean Islands, and even unique destinations abroad. The company states, "We don't do anything off the shelf, as we tailor one-of-a-kind journeys to suit your specific interests."
Success; when Your Work Brings Happiness
Kirsty's finds success is a journey that happens when one identifies and lives out his or her true purpose and feels fulfilled as a result.
She opines, "It also means doing what I love to do every day while making a positive impact on others. My passion is travel, people, and Africa so I am living my dream, and my purpose is to motivate people to travel to and explore all the incredible areas in Africa, and by doing so they become 'Ambassadors' for Africa."
Elephant Havens is a non-profit organization that is very close to Kirsty's heart. It helps in giving back not only to conservation but to the community. She says, "I feel like I've earned success every time a client is referred to me from a previous client for advice and help in planning their trip to Africa or Indian Ocean Islands. The same goes when a client returns from their trip and tells me that I helped to fulfill their bucket list dream of traveling to Africa, and they will be returning or will be referring my services to one of their friends."
The company also gives a small donation of each client's profit made to Elephant Havens in Botswana and giving back in other ways where it supports and sends clients to lodges that support conservation and community so the clients know the trips they have purchased has given back in many ways to various local organizations.
Business Challenges during Pandemic
As per Kirsty, having challenging situations in business and personal lives is common, but one needs to get calm and clearly define the roadblocks before reacting to them. She recalls her mentor's word, ''It isn't the problem but how you sort it out that matters".
The tourism business has certainly had its fair share of challenges since the Covid situation last year. She asserts,
"What has made me strong in this specific journey is that it has made me look out the box at the big picture issues that are facing the travel industry and the many tourism organizations that have been affected."
"You need to be open, flexible, and you cannot stay in your comfort zone. It is important to step back a moment and look at what is good for my business, professional, and personal journeys as they are all interlinked in the end," says Kirsty.
Love for Travel and Tourism
Kirsty's first job was working in a travel agency in Cape Town, in their corporate division doing flight bookings. Not long after she started this new job, there was an opening in the company's incentive travel division working with high-end corporate companies in Cape Town that were putting together incentives trips for their employees to reward or re-motive them. The groups ranged from 20 to 200 people traveling at a time. Kirsty says, "I applied and was offered the positive which was an incredible opportunity and huge learning curve."
Kirsty always has been an adventurous individual. In 2006, she was preparing to become a professional horse riding in the UK and wanted to represent South African in the Beijing Olympics for Eventing in 2008. Due to an unfortunate riding accident, she missed the opportunity. She returned to South Africa end of 2009 and had to think long and hard about staying in the travel industry. She says, "I realized once I sat down and did some soul searching is that I love Africa, I love people, and I love to travel so why was I looking at re-inventing the wheel and trying to change to something else."
The Dream Job
For Kirsty, her professional life isn't just a job but something that she has always been passionate about and loves doing. Being in the travel industry allows Kirsty to visit some incredible properties for business purposes. She considers, besides part of work, it is also a privilege to experience incredible venues that brings a balance of personal enjoyment and business. She states, "It is important for me to spend quality time with my incredible partner John Allen and our family and friends on weekends."
A To-Do List for Tomorrow
According to Kirsty, each day needs to have structure for everyone. To do that, every afternoon before Kirsty leaves work, she makes a to-do list for tomorrow (these boxes need to be ticked) and then a list of must-do's as time allows. But at the same time, she believes that one needs the flexibility to be built into the day. She says, "Something I feel strongly about is that there are times when you need to go into the board room and close the door, slow things down, catch up with what you need, reassess a booking or itinerary, and only then can you move forward more effectively rather than running around trying to juggle a whole load of balls and not getting anything done efficiently, stressing yourself and everyone else around you." She adds, "Stop the bus, take a step back to move five steps forward".
Adapting Changes as Required
In this ever-changing world especially with what the whole of humanity has experienced in the last year, Kirsty believes that it is essential to be open to new ideas, innovation, and flexibility for business progress. To allow the ideas to grow into incredible projects, you need to realize when the idea needs to be put to bed or moved to a future project. She further adds innovation isn't about necessary creating something new. She states, "My focus last year when the travel industry crashed was to re-focus my social media, website, and exposure to clients instead of slowing down on my social media marketing as many travel companies did to save money."
Kirsty has spent money and improved, changed, and stimulated the social media part of the business. Thus the clients and future clients know that Anywhere in Africa Safaris is still here, going strong, and ready for when the Tsunami of travel opens up again.
Endeavouring to Become 'Best Bespoke Safari Tour Operator in Africa'
Due to so much uncertainty in the travel industry, many people are fighting for business and sometimes bucking the system to get business. At this crucial time, Kirsty focuses on being honest, transparent, and accountable for Anywhere in Africa Safari's services that include travelers' safety as well. As a leader, she shows appreciation, recognition, and empathy not only for her team but also for the incredible suppliers, hotels, and lodges that support it. She says, "They are part of where I am and what Anywhere in Africa Safari's is today."
For the future, Kirsty visions on becoming more time-efficient in all aspects of the business. So Anywhere in Africa Safaris can achieve the recognition of MEA award for 2021 as Best Bespoke Safari Tour Operator in Africa. She asserts, "We have won the 2020 award and, now I would like to keep building that trust and confidence with my clients so when they think 'Travel to Africa' they think we need to contact Kirsty Gordon at Anywhere in Africa Safaris."
For more information please contact:
Anywhere in Africa Safaris
Kirsty Gordon
Email : kirsty@anywhereinafrica.com
Mobile: 0027 794745119