Derek Friend: The Telecom CEO Connecting Central Africa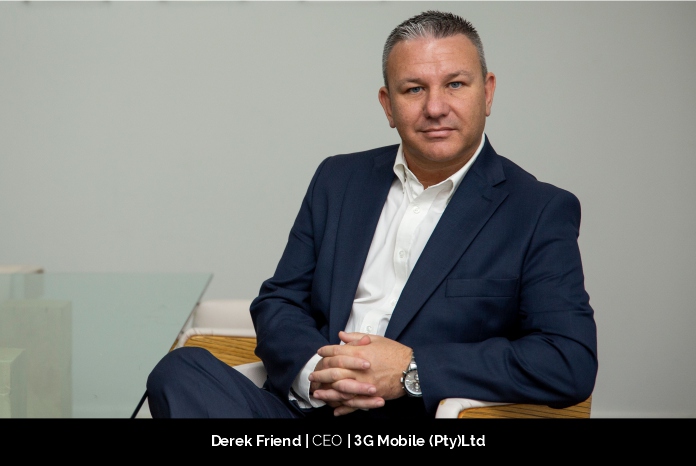 The Covid-19 crisis brought the world economies down to their knees. As a result, several organizations found it hard to sustain and had to draw shutters. For businesses to prevent themselves from shutting down and thrive in such trying times, offering competitive services alone is not enough. Instead, they must do so at rates that outperform competitors, especially in developing countries. With a vision to provide cost-effective and advanced means of communications for everyone, Derek Friend, the charismatic CEO of 3G Mobile Botswana (Pty) Ltd, has been driving a revolution in Central Africa's telecom industry.
3G Mobile Botswana (Pty) Ltd. is Africa's leading telecom handset distributor, repair centre, depot and warehouse, logistical partner and financier of mobile phones and complementary ICT products. It is the authorized exporter of leading brands to 9 SACU countries with exclusive distribution rights to leading retailers, telecom service providers, and operators. Ladies and Gentlemen, here's introducing the man himself, Mr. Derek Friend.
Blending Building Knowledge And ICT Infrastructure.
Derek carries a global management experience of more than 25 years. He has led multi-cultural teams in complex organizations in critical leadership roles. For Derek, leading a company, although rewarding, is a roller coaster ride not meant for the faint-hearted. Recalling his early days, Derek said, "I was studying building architecture and project management in 1994 when I was introduced to out-of-the-box thinking in design conceptualization and teamwork. I was fascinated with connecting buildings and infrastructure. I found my passion for connecting everyone and everything. My consulting career started in 1998, working at Heathrow Airport as an outsourced consultant at a very young age. I contributed to designing critical networks and site data connectivity between secure data centres, believing I could make a difference by blending building knowledge and ICT infrastructure. My inspiration was always to follow my passion."
Since then, Derek has worked with leading global ISPs to develop new lines of business and out-of-the-box thinking, connect data-driven infrastructure across leading global smart cities, and design wireless networks in remote areas providing connectivity and solutions. For Derek, reducing complexity is the key to simplicity.
Throughout the span of his career, he learnt a lot. Looking back at his journey Derek sees a lot of growth. "The biggest difference has been that in the initial stages of my career, I did not voice my opinion enough. However, today, I dare to step out of my comfort zone, challenge traditional beliefs, and take educated and calculated risks", he shares.
Recognitions Received for His Contributions to The Telecom Industry
Derek has helped various telecommunication boards implement communication strategies, standardize solutions through a professional approach, manage IT, governance, and risk audits, and promote privacy and professional and ethical standards in the communications industry.
Listed below are organizations Derek once worked with and those that now promote regulatory governance and IT auditing.
AFN (USA)
Directors Support Platform (Chairman 2019/2000)
ISACA – Advancing IT Auditing, ICT Privacy
SABC – South African Broadcasting Corporation
SACIA – Southern African Communications Industries Association
BOCRA – Botswana Communication Regulatory Authority, assisting with regulating communications equipment connected to the country's networks and internet and regulating the correct equipment use of broadcasting of wired and wireless connectivity.
Derek has also assisted several listed tier-one EMEA Telecoms/ISPs in bringing positive big picture innovative transformation, change management, and improvement in people, processes, and systems.
In Derek's words, "The biggest recognition is when global companies approach me to assist them with business turnaround strategies. I have been fortunate enough to present global communication strategies challenging traditional communication on international stages in Europe, Asia, Australia, and the Middle East while working with and mentored by some of the best industry minds".
"The best recognition I have received till date is acknowledgment from my industry peers at global ISP – CloudINX (Cloud Independent Network Exchange). It feels valued to be invited to company committee boards to promote a passion for the telecom industry and emphasize implementing service models & standardization".
The 3G Mobile board and its shareholders recently elected Derek as the regional executive CEO in Botswana to bring about positive changes in the SACU, MEA & COMESA regions.
A Typical Day
Derek's day as a CEO consists mainly of customer meetings, monitoring internal processes, striving for continuous improvements, and promoting OEM handset devices. According to him, "If I had to define myself in one word, it would be driven. I spend most of my time ensuring sound operational, commercial, financial, resource, and sustainable strategies, formulating policies with communication authorities, making board recommendations, and thinking about increasing investor and shareholder value. I spend the remaining time ensuring we expand our handset range through distribution and service partnerships such as Samsung, Vivo, Huawei, and Apple. More recently, I have started devoting my time towards the exclusive deals we recently entered into with leading brands such as Nokia and Packard Bell for expanding into the laptop and ICT distribution market to promote the work from home/anywhere strategy".
Derek is an intellectual who utilizes his free time efficiently. He loves to socialize with like-minded people and indulge in a game of Golf. In his words, "In my free time, I research, tend to read a lot, socialize with like-minded innovators, get to know my teams, encourage them to learn about new technologies, and coach them on business strategies. I also enjoy playing golf, as it allows me to network with people and channelize my thoughts".
Derek's Take on Success and Message to Aspiring Business Leaders
According to Derek, opportunities do not present themselves but are self-created. Therefore, it is crucial to keep oneself updated with new tech and business concepts to stay ahead of the competition. The key to success is to keep a great team around you, believe in what you offer, and always aim to provide a solution to a client's problem. It is a win-win situation that benefits all.
According to Derek, if there was one piece of advice he could offer to young and aspiring business leaders, it would be, "figure out what you love doing and then do it well, really well so that it never feels like work. Keep learning and keep innovating. That is all I have to say".