Naveen Rajkumar: Creating Thriving Communities of Happy, Productive, and Supported Businesses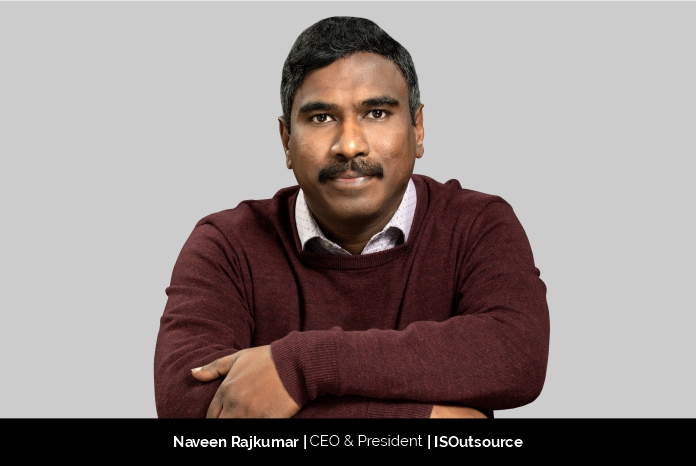 Client-focused, technical, and tactful thought leader Naveen Rajkumar is the CEO and President of ISOutsource. With an ideal blend of business and technology skills and over 22 years of professional experience, Naveen aims to achieve exceptional brand equity, and client satisfaction through ISOutsource, a modern technology consulting company. He has exceptional skills in managing large distributed teams, providing thought leadership in technology, operational oversight, and executive leadership. He is passionate about building high-impact teams, mentoring, and leadership development, and has a proven track record of growing businesses that he has been involved with.
Influencing Lives
Naveen chooses to measure his success by the positive impact he's had on the lives of the people surrounding him. He defines success with the words of John Quincy Adams: 'to inspire others to dream more, learn more, do more, and become more.'
Naveen believes that success is achieved by being a trusted advisor for all of his stakeholders. He has a great track record of helping his clients increase the probability of their success, he is an inspiring mentor who guides his team to reach their full potential, and he is intent on ensuring a great return of investment for the shareholders of his businesses.
Naveen loves John C. Maxwell's quote, "Leadership is not about titles, positions or flowcharts. It is about one life influencing another."
He also believes that one's success is not maximized if their impact is limited to their professional work; a leader's impact should ideally start at home, in how they inspire future generations, and extend to the places where they live, serve, and work.
Exponential Impact
CEOs have a great opportunity to make a lasting impact on the world around them. A CEO's sphere of influence extends beyond team members, shareholders and clients. Their work has an indirect impact on the ecosystem of each client and this could result in a multiplicative effect.
ISOutsource has over 85 team members and over 600 clients who are small and medium-sized businesses on the West Coast. Their clients serve tens of thousands of other businesses and the work they do impacts the broader community in tangible ways. When Naveen was offered the opportunity to take on the role of CEO and President at ISOutsource, he was excited about the possibility of creating thriving communities of happy, productive, and supported families and businesses. As the organization continues to grow and add hundreds of new clients and team members, he is confident that their impact on the community will be greatly magnified in future years.
Converting Challenges Into Opportunities
Naveen is aware that challenges push him out of his comfort zone. He believes that professional or personal growth does not happen when he chooses to stay in his comfort zone. He spent the first 11 years of his professional career at a growing organization in India and was experiencing fantastic career growth. However, it eventually became a very comfortable place and his learning curve plateaued. He encountered his first big challenge when he accepted a CIO role in a publicly-traded company in the US. There were enormous challenges in relocating a family across the world, learning a completely new business, and adapting to the demands of clients and shareholders of a declining business. In hindsight, this propelled him forward in his career and opened his eyes to all the different ways he could make an impact on the world around him.
The COVID-19 pandemic changed the way businesses operate. During such times, a natural response for most leaders would be to head down the conservative, low-risk route. However, visionary leaders who are optimistic by nature see those challenges as opportunities to innovate. Naveen saw the pandemic as a time to connect more deeply with clients and team members and listen to their challenges. He was intentional in being empathetic and spent a lot of time understanding their challenges. He learned that asking a simple open-ended question like "what keeps you up at night?" helped him understand the needs of their clients and team members. This in turn helped him to adapt and put the business in a position to address their needs.
Building Trust, Staying Optimistic, and Practicing Empathy
A key lesson Naveen has learned during the pandemic is to build trust, stay optimistic, and practice empathy. Economic downturns, pandemics, or natural disasters can lead to a sharp increase in anxiety levels. During times like these, people look for optimistic leaders who listen and can be trusted. He shares his thoughts on leadership with the following words, "Leaders keep their ears on the ground and eyes on the future." Leaders who do not stop to listen will lose touch with reality. Leaders who do not set their eyes on the future will get caught in the present and most likely stay there while others have moved on to the next best thing. Naveen has stayed true to these words during the pandemic, as can be witnessed by the many accolades ISOutsource has garnered during the last year.
ISOutsource: Helping Businesses Harness The Power Of Technology
ISOutsource is a Modern Technology Consulting Company. Their vision is to create thriving communities of happy, productive, and supported businesses. They do this by becoming Trusted Advisors for their clients and increasing the probability of their success by providing innovative and strategic technology solutions. ISOutsource helps organizations move up the technology maturity ladder and shift them from a 'reactive' mindset to a 'transformational' mindset. Most of their client business owners do not have a technology background and are experts in healthcare, law, accounting, construction, retail, hospitality, etc. ISOutsurce plays the role of their virtual CIO and CISO.
ISOutsource provides a wide variety of IT and Consulting services. They are usually tasked to manage the entire IT infrastructure of their clients. They look for ways to optimize the IT spend of the clients and redirect their savings towards strategic initiatives that help them reduce operational costs, mitigate business risks, or increase their profits. They offer tools and expertise to improve the defense systems of their clients and help them lower the probability of being exposed to cybersecurity attacks. Their security experts have been called upon many times by companies who have been breached by hackers and have been successful in restoring the client systems and their data to get them operational instantly. This expeditious service is rendered even to first-time clients. They have the expertise and the tools to navigate and troubleshoot their way into complex environments and provide the most complete, cost-effective solutions to their clients.
Their mission as trusted advisors is to empower clients to succeed by providing innovative and strategic technology solutions, strengthening communities one business at a time. They are client-centric, innovative, results-driven, and trustworthy. They empower their team members in their pursuit of excellence and client satisfaction.
A Paradigm Shift in Technology Consulting
In Naveen's experience working with small and medium-sized business owners over the last 20 years, he has found that the majority of businesses respond inadequately (or late) to the changing landscape around them and hence fail to reach their potential. His goal as a trusted advisor and a consultant is to help businesses proactively anticipate change, innovate, transform, and realize their full potential.
Managed service providers (MSPs) have traditionally focused on just IT services. Hence, client expectations on MSPs have historically been around the cost of service, average response time, resolution time, quality of service, etc. ISOutsource strives to usher in a new era for the Managed Services business. They are building technology platforms and frameworks that help their clients use technology in a transformational capacity rather than seeing it as a necessary evil to 'keep the lights on'. ISOutsource takes a consultative approach by striving to understand a client's business model and considering their opportunities/ threats landscape while proposing a technology strategy.
Navigating the Pandemic
The COVID-19 pandemic introduced a new set of risks that many small and medium-sized businesses were not prepared to handle. The volatility in the economy, uncertainty in consumer behaviors, inability to meet team members and collaborate face to face were just a few challenges businesses were facing at that time. Naveen perceived this as a great opportunity to use technology to help drive clarity about business opportunities for the clients.
ISOutsource promptly pivoted to helping the clients understand the use of technology to help with scalability, security, productivity, collaboration, business intelligence and governance. Small and medium businesses are usually averse to spending resources on technology, and the pandemic made them tighten up their purse strings even more. The ISOutsource Consultants are seen as trusted advisors whose knowledge and experience help clients see a compelling return of investment.
For ISOutsource, 2021 is shaping up to be the highest growth year for the business since 2017-2018. They were recognized as a 'Top 10 Security Solutions Provider' by a leading magazine and have won many other accolades during the year. ISOutsource has provided job stability as well as a growth path to their team members and has worked on various ways to address their needs in this unique season of life. Naveen asserts that it has been a gratifying experience thus far.
ISOutsource is well-positioned to serve and grow its client base in Washington, Oregon and Arizona. Their immediate focus is to expand their clientele in each of these markets. They are also looking at expanding into adjacent markets like Utah, Nevada and Idaho.
As CEO and President at ISOutsource, Naveen's responsibility is to define the strategic direction of the company and ensure that their day-to-day execution is in alignment with that strategy. His clients expect him to build a team of trusted advisors who can help them with their technology strategy. His team members expect him to create an innovative, creative, and fun environment to advance their careers. His stakeholders expect him to create value in the business, which is a combination of happy clients, motivated team members, revenue and profit growth.
Emerging Stronger from the Pandemic
Naveen is a firm believer in living life 'One Day at a Time'. His faith, family, and friends are a big part of his life. They keep him motivated to give his best in everything. He strives to 'do the next right thing' every minute of every day. He concurs with Michael Hyatt who said "You will never see the full path. The important thing is to do the next right thing."
Leadership during a pandemic boils down to doing the right thing one day at a time while continuing to look for opportunities to innovate and move forward.
ISOutsource is doing all the right things as they emerge stronger from this pandemic. They are well positioned to execute on their mission of creating thriving communities of happy, productive, and supported businesses.