Michael Gurney: Concept Systems Unveils How Robots are Transforming Technology featured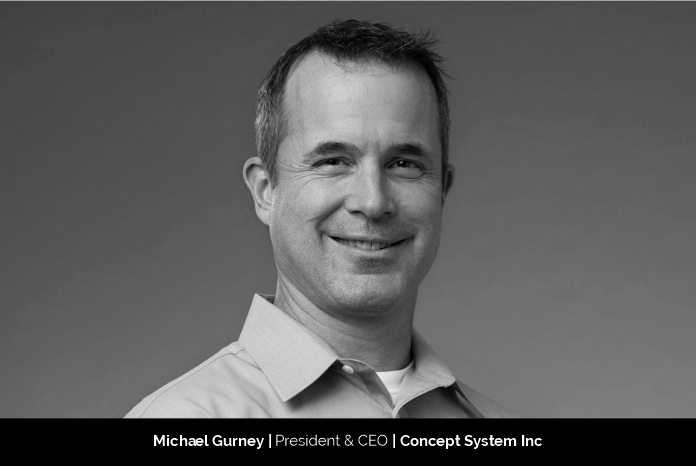 Technology has captured every industry and has enabled every business to grow and thrive in this competitive world. Fast and efficient technology is always a value add for any business. With advanced technological solutions and robotics techniques, Concept Systems Inc; is an Engineering Services Company that ensures optimal efficiency in manufacturing processes. From basic pick and place robotics applications, to advanced bin picking solutions and inspection systems using machine vision, Concept Systems Inc. helps manufacturers address their business challenges. As we highlight their incredible journey, we are also privileged to share a few insights from the CEO of Concept Systems Inc; Michael Gurney.
The Beginning of a Remarkable Journey
While he was founding the company Michael wanted a name that encapsulated the value that he was setting out to bring to their customers. He knew that with custom automation, you are typically starting with a blank sheet, and how you solve the problem can take on many forms. Therefore, he believed, to do it right, you spend a lot of time conceptualizing ideas, weighing those ideas against the customer's needs, and ultimately settling on the right system. With the right direction and a clear perspective, he moved forward and incorporated Concept Systems in 1999.
Concept Systems is an Engineering Services company, serving manufacturing/processing customers, focused on turnkey retrofits, new plant/line integration, robotic work cells, custom mechanical systems, manufacturing intelligence (IIoT/Industry 4.0) and on-going service and support. Concept offers services to handle complete projects from original concept, through design and development, to installation, commissioning, training, and on-going support. Concept will also offer these services individually in cases where they are not doing the entire project and the customer just wants them to supplement their team.
The Challenges and Setbacks of a Growing Business
Most of Concept projects are capitalized. The challenge is that they are large projects that require being budgeted, with many layers of approval. When the economy constricts, it puts a lot of pressure on manufacturers and makes them hesitant to invest. However, they have grown primarily through the development of long-term relationships with several key customers. They have also grown by adding service offerings and have also been successful in helping start-ups; those with an idea and a market but needing automation to bring the two together effectively. Concept's manufacturing partners are also very important to them. They partner with best in class suppliers to deliver their solutions. Being a Rockwell Solution Partner, RIA member, Platinum Integrator, FLIR Authorized Distributor, and a Certified CSIA member means Concept is committed to maintaining expertise in selecting and integrating the supplier's products. Concept has received several industry certifications/awards that are worthy of note; they have won supply chain awards as a top supplier from Bechtel in 2007, 2015, and 2019, they have received several awards from FANUC including the 2014 and 2016 Outstanding Sales Growth Award as well as the 2014 and 2016 Sales Leadership Award. In addition, they were Control Engineering Magazine's 2007 and 2016 Integrator of the Year.
These rewards and recognitions bear witness to their hard work and dedication that motivates the team to overcome manufacturing challenges.
The Distinctive Factor of a Successful Company
Concept is unique in that they have a wide breadth of services that they offer, technologies that they have expertise in, and industries they can serve. They also have a national presence with offices in Oregon, Washington, and North Carolina. Another unique aspect is a focus they have on 'productizing' their ideas for the benefit of their customers. Concept is often in a position where they are developing technology that can be of benefit to other companies, often in different industries. They are always looking for those opportunities, which allows them to offer very advanced technology at a reduced price than if everything was custom and one-off. They have several robot-centric products deployed; OnGuard, a collision avoidance software package designed to prevent robots from running into each other, or other valuable assets, Scan2Path, a laser scanning based system designed to scan parts and offset the part path based on its unique orientation.
The factor that distinguishes Concept from the crowd is their structured methodology, that ensures clear communication of project specifications and expectations through the life of the project. It is structured in that it requires specific project stop points that require customer review/approval (communication), prior to proceeding to subsequent steps. Concept is also very ardent about risk identification and mitigation. This begins as soon as they start conceptualizing their solutions and is carried through the life of the project; an on-going process, not a one-time event. Concept is also very structured in how they plan and schedule their resources, understanding of course that schedule adherence is a driving factor in client satisfaction.
The Mind of a Business Leader
Michael Gurney, President and CEO of Concept Systems has been in the integration business for 26 years, starting out as a control engineer. "It has been a long journey with us being in business for 20 years. We have been around long enough that we have seen significant changes in the market, and obviously a lot of technology advances.", he says.
Michael's job as CEO is to define the strategic direction of the company and drive the execution of that strategy. In general, this means he is looking at the services they provide, and how they can best provide them. With what Concept does, it also means continually being on the lookout for emerging technologies and how they can be applied for their customers' benefit. When those are identified it is often an opportunity to expand the service offering. There is value in being a one-stop shop for automation for their customers. That does not mean they do everything, but they are at least familiar with all aspects of automation and know where to turn for elements outside their expertise.
The Concept Journey Thus Far
The biggest change has been the adoption of robotics across all industries, expanding beyond automotive, where is about the only place they were prevalent when the company started. This change has come about due to the competitive landscape of robotics, the emergence of several suppliers, and the subsequent price reductions. With reduced prices, more and more projects pencil out from a Return on Investment (ROI) standpoint. Couple that with general familiarity and it is rare that manufacturers do not ask about how robots can benefit them. It is also important to note the advances of the technology, not just improved speed and payload performance of the robot, but the ancillary technologies that are combined with the robot to give them more 'senses', or functionality. Vision, laser scanning, and tactile feedback are just a few examples of how they are broadening the capabilities of robotics, and has made things like collaborative robots, bin picking, and collision avoidance a reality.
The Scope for Robotics from the Leaders' View
"I do not know that it is changing the business world specifically, as the business world has always sought out better ways of doing things using technology. Robotics just happens to be on the forefront of that revolution right now.", shares, Michael.
"We target robots in areas of repetitive operations that are currently carried out manually, or where existing equipment is one-off and unreliable. The net effect is generally, more repeatable results (higher quality) and improved efficiency (less waste). We cannot always capture improved productivity directly, as humans are relatively fast, but when you factor in fewer quality issues, it generally is not even close. This does not mean we are costing people their jobs! In fact, I would argue we are saving people's jobs. Automation, and specifically robotics, is enabling manufacturing to remain viable in the United States. Without automation, the labor cost disparity between the United States and some other countries, make manufacturing in the United States cost prohibitive. Without automation, those manufacturing jobs go away in the form of wholesale moving of manufacturing facilities. We have seen this take place in the past, and it is not until relatively recently that we have witnessed the 're-shoring' phenomenon, which is made possible by automation." he adds.
Concept's Ongoing Plan of Success
Concept is a leader in advanced robotics. They can handle simple pick and place applications, but also advanced applications that generally involve the combination of advanced technologies. A good example would be a vision guided robot, that utilizes laser scanning technology to build a 3D model of parts passing in front of a robot, and then dispatching the robot based on the unique features of those parts, as determined by a software algorithm run on that 3D model, all at a very high rate of speed. The advancement of these technologies, coupled with the advancement of the robot technology itself, and the downward pressure on prices all are creating a tremendous amount of opportunity for robots to be deployed on the manufacturing and processing floor. The only real roadblocks to these advancements right now are the perceived risk in robotics. In many manufacturers' eyes, robots are still new and therefore represent risk. And while there are certainly risks, with the right approach, those risks can be mitigated up front and project success can be assured. Over time, as more and more applications are performed with robotics, there will be more examples integrators can point their customers to see and gain assurance of the reliability of these systems, which reduces the perceived risk and makes it easier for customers to invest.
The Vision and Mission of Concept
The culture of the company starts at the top with a clear understanding of their principles. Their Mission Statement reads, "Team with our customers to achieve manufacturing excellence by delivering the right automation solutions". This is a very customer-centric approach to business, and it guides everything they do, from how they train their people, to how they conduct their start-ups. Every process they have in place, they ask themselves how it can provide value to their customer. Those answers drive them to how they implement their business strategies. As it relates to innovation, most of their customers do not have time to track advances in technology and how they can be applied to improve their processes. Concept has several programs in place that are designed to encourage their team to continuously monitor these advances in technology. When coupled with their deep knowledge of their customers processes, built on a commitment to establishing strong relationships with them, Concept is regularly bringing ideas to the table for their customers to consider for integration.
Concept's Vision Statement is, "Lead manufacturing through the automation age and beyond". They are motivated by being leaders in this industry, and they will maintain that as they continue to grow and expand their capabilities. Concept will never lose their customer-centric approach that has made them so successful in what they do.