Helping Design Healthy Lives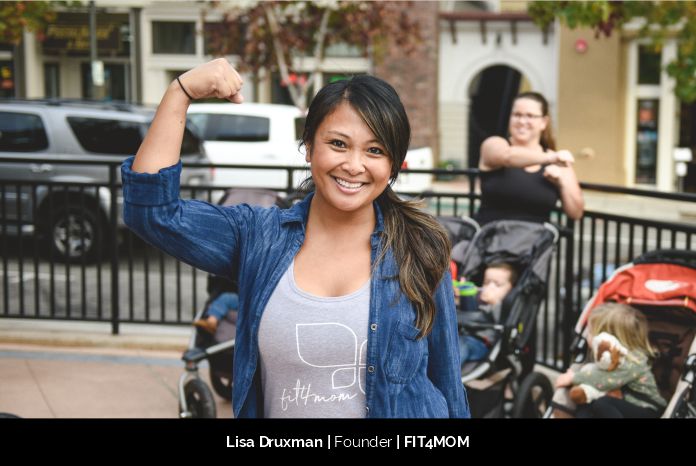 Without a true sense of idea concerning the purpose that guides us in our lives, we are bound to fall into an empty vacuum of mindless pursuit of business. This prompts the need for aspiring individual leaders to follow and decipher the question of 'Why' before jumping to a conclusion. Taking a page out of Simon Sinek's book Start With Why, Lisa Druxman had set out on a journey 15 years back. 15 years later, the journey has led her to build an empire around healthy motherhood.
Recognized as a thought leader and expert in the fitness space, Lisa is the Founder of FIT4MOM, which is the nation's leading prenatal and postnatal fitness program that provides fitness classes and a network of moms to support every stage of motherhood. The company has been instrumental in inspiring women of all ages, especially mothers, to focus on fitness and lead a healthy lifestyle. Featuring in this issue as a Successful Entrepreneur, Beyond Exclamation looks at the inspiring journey, the rise, and the story of Lisa Druxman.
A spark that enlightened a Lightbulb
You know when you hear about those lightbulb moments? That's what Lisa had. She recalls her experience, "I was on a stroller walk with my new baby and I was filled with the following thoughts…
"This is the best hour of my day. All moms should workout with their stroller."
" I don't know any mom who is happy with her body. I bet I could help them"
"I have so many questions about motherhood. Where am I going to get the answers?
" I so don't want to leave Jacob to go back to work."
And then the lightbulb lit!
"I could start a stroller fitness workout. I can help moms get back in shape and they can help me with everything I need to know about being a mom. I even named it on that walk. Stroller Strides."
And that's what Lisa did. She started a stroller strides workout down in her neighborhood. Initially, she just had a handful of moms but it quickly became her own village. Apparently, she wasn't the only one looking for a village as the concept took off.
"I hired local fitness instructors to teach more classes in San Diego. I didn't have to go back to my old work after all. By the end of the first year, we had 1,000 moms taking Stroller Strides classes. Within just a few months, we started getting calls from around the country; women were looking to join or start Stroller Strides. I didn't know how I was going to do it but knew that I wanted all moms to get the support and strength we got from these classes. And I loved the idea of giving other women the career opportunity that I had in running Stroller Strides. So we decided to franchise the business."
Today, FIT4MOM has nearly 2,000 class locations nationwide. And as her kids grew, so did the business. The company even added other programs like FIT4BABY, Stroller Barre, Body Back and even a run club for moms.
For Lisa, the last 15 years have been an incredible and story along the way. But as with any other business, irrespective of their size and industry, there is nothing like overnight success. "We have fallen down many a time and the lessons learned have often been hard ones. But when you have a passion and a purpose for what you do, you find a way around, over or under any obstacle that comes your way."
Speaking about the impact of WHY in her life, Lisa points out "We are big fans of Simon Sinek's Start With Why. Our why is to give women the strength for motherhood. This isn't just about sets and reps. This is about helping moms get out of overwhelm and in to a life that they love. All of our programs help moms achieve health and happiness at every stage of motherhood."
Fitness for All
Lisa got into the fitness industry as it was a great way to make money in college. She loved leading group exercises and inspiring people to improve their health. She translated that love into a vision and then into reality; a reality that has helped pave the pathway for women to find the strength in motherhood. FIT4MOM offers fitness classes for every stage of motherhood including FIT4BABY, a prenatal program, stroller strides and stroller barre, the postnatal programs, Body Back, the transformational HIIT workout. The company also has a new program called Strides360 and a new digital pre / postnatal program called Mama Well. All of its programs focus on the physical and emotional needs of a mom, and Lisa & Co. are proud to bring a community of moms together nationwide.
Speaking about the rise of the Fitness world, Lisa exclaimed "I love seeing the rise of boutique fitness. People really can find what they love. I think we are seeing community be a much bigger part of fitness. We all want, all need more connection and will have better exercise adherence if we have a village that we are a part of."
Make Failure Not Even an Option
Lisa is an entrepreneur, speaker, author, businesswoman, and a mother, yet she is able to balance between her professional and personal live and be successful in both areas. She mentions "It took a long time to figure it out. I reverse engineered what I wanted my life to look like. I figured out what was missing and put those things in first. I make sure to fill a "minimum effective dose" of self-care every day. I am now a master of blocking time; making sure there is time set aside for work, for parenting, for my marriage and myself and in order to do all of those things, I say no to a lot more!"
Lisa is proud on her journey and achievements as an entrepreneur, she believes to have barely scratched the surface of what she wants to do. "I continue to stay driven because I want to create a massive impact. There will never be enough time to get done all that I dream of doing," she explains.
For Lisa, the most critical skill of an entrepreneur is to dream and to innovate as one can always hire people who know how to create the strategy or how to operate but one needs to be the ideal person themselves. She continues "You need to keep getting up when you get knocked down and figure out how to get around obstacles. You need to love what you do so much that failure is not an option."
She advises aspiring entrepreneurs, by saying "Figure out your why. Why are you doing what you're doing? Why is it important? Your why will keep you going when things get hard. Keep learning and look for a peer group to support you along the way."
A Period of Evolution
For the first two decades of her business, Lisa did all the things that were possible. She figured it all out from the marketing process to the operations. However, now, she mentions "I am now at a point where i can truly focus on what I love and what I think is my gift. I can focus more on being a thought leader, speaker, writer, and podcaster. I am evolving from being a fitness professional by trade to helping people design their best life. I want to be known more for helping people find the joy of living than their lives with six pack."