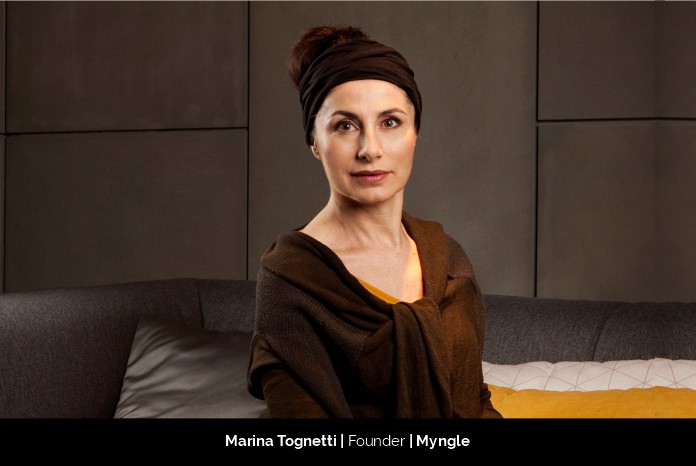 The toughest parts of an entrepreneurial journey are also the best once you overcome the challenges. It is a great motivation to know that no matter what challenges we meet along the way, we can always find a solution and if we are willing to take risks and make the hard choices there is nothing we cannot achieve. An entrepreneur who has established a pioneering status by providing live online language education is Marina Tognetti.
Believing that change is never easy and being innovative meant that there was no set path one could follow, Marina had to discover the way by herself, while keeping here vision clear and focused.
The beginning that paved way for her entrepreneurial journey
It all started when Marina was on the lookout for opportunities in China. The first step was perhaps to learn the Chinese language. But being a busy manager, finding the way to learn the language was not easy for her. She tried everything; from attending an evening school, purchasing CDs/ DVDs, appointing a Dutch teacher trying to teach Chinese, to even trying to learn from a Chinese student that failed to teach, and all these together frustrated her even more. "If I were living in China- I thought- I could easily find a good teacher! That was when the idea hit me: there are thousands of teachers all over the world, I just need to use the power of the internet to connect teachers with students. This is how mYngle was born. And languages were something I was passionate about!" shares Marina when asked about the beginning of her entrepreneurial journey.
Once mYngle had started, the biggest challenge was when she had to 'pivot' from the initial business model to a completely different one. Marina had launched mYngle as a marketplace, something she knew very well from her previous experience at eBay. She thought all of it to be perfectly positioned for her: Funding, Awards, PR, and a very motivated team. But something in their business model was not functioning as they Marina and Co had expected. "We listened to our customers and they gave us the new direction, from an open marketplace to a quality global online school. That brought us in a ''different place'' where companies more than consumers were interested in the service we were offering. The second 'pivot' was from B2C to B2B. That is the mYngle that you see now," she adds. The biggest lesson for Marina as she proudly recalls was change. "Change is an essential part of being entrepreneur." And that became the key to success for mYngle.
An adept solution for busy professionals
Today, mYngle has prestigious business clients and learners all over the word, with tens of thousands of lessons given each month and 95% of the learners rating the company's service as nothing less than excellent.
mYngle offers customized language training programs through video conferencing in 45 different languages anytime, anywhere. The lessons offered by the company are one-on-one, with highly qualified native coaches and is related to the job-position of the learner. Its virtual classrooms enable learners to take classes 24/7. Simply put, mYngle is the solution for busy professionals who need language training to be successful in international business, and for companies that want great learning results and a transparent and controllable learning process to make their investment a success. mYngle's lessons score is 4.8 out of 5.0, so the results speak for themselves.
Building a business from scratch is always challenging, and furthermore, building a tech start-up boasting the potential to disrupt a traditional industry like education is exponentially more challenging. The concept of mYngle seems logical and sound today, but at the time when Marina started the company, she had to resolutely push the idea forward as very few people initially believed in the same. "One thing that holds most of us back is that we care way too much about what others think. I never really cared much about this, so my motivation came from inside, not outside, from the strong belief that the vision was right, even if I would find a few challenges along the way," Marina emphasizes.
A journey of learnings
Before founding mYngle, Marina had a successful career at prestigious corporations like Procter & Gamble, Philips, eBay, The Boston Consulting Group and others. She believed her experience in managing large teams and wider budget pool, would make her task easier to manage a smaller sized business. Unfortunately, she was wrong!
Marina's entrepreneurial journey was completely different than what she had expected. "Being an entrepreneur changed me a lot. I have always been a risk-taker, as I lived and worked in different Countries, took challenging jobs in demanding Companies, travelled the world, backpacked for one year in remote locations, I like extreme sports… but now even more, as I know that with time and perseverance, anything can be achieved and, in case needed, adjusted or changed," Marina asserts.
Marina's decision and experience in founding mYngle, made her learn to make the toughest of calls in the easiest of manners. Building a company from scratch means that you have to be prepared to take decisions that have high consequences. "I toughen up during the company pivot/turn-around. But once I had done it, I realized that I was stronger than I thought I were."
A constant urge to improve and look for opportunities
When asked if she has achieved all that she had desired, she firmly denied. She mentions it to be in her nature to constantly improve, and it is in the nature of an entrepreneur to always see new opportunities or areas of development. Marina doesn't believe in standing still, which for her is equivalent to going backwards. But, she also believes that it is now easier to drive a company during its growth phase than during the initial turn-around. Her biggest challenge was to do a pivot together with a company turn-around, and the moment she realized that it all worked out well was when all the hard work had finally paid off.
Marina's advice to women in careers
Whether you want to start your journey as an entrepreneur or raise the corporate ladder: stop comparing. The stories you read about the few that 'got it all' are rare exceptions and often exaggerated for public appeal. "Women in particular tend to do injustice to themselves: if we are not perfect, we feel we are not good enough. Let go of that. Let go of trying to imitate the types of leadership you see around but which are not you, and be really true to yourself. Don't look around, look inside."
That is why when Marina talks about her experience, she tries to give the genuine picture of who she really is, including all her failure-induced experiences, as all of them have collectively brought her to where she stands today. A strong leader is not one without faults, we all have faults, but the ones who are confident enough to be able to show his/her vulnerabilities without being scared are the ones who make a difference. She advices all the young women who are on the verge of beginning their career to remember: confidence comes not from always being right, but from not fearing to be wrong.
A constant pursuit of rising above challenges
Going ahead, Marina believes that the future challenge for mYngle will be coming up with more innovations and staying ahead as the market shifts from being in its novice stage to being more mature. It is a critical transition phase, wherein it is easy to rest on what is achieved and ignore the new and emerging signals. "The best way to overcome this, is for us to keep on being alert about what is happening around and especially listen to our customers. Customers are critical to understand if we are delivering the right value, if the business is moving in the right direction. This is something that not all education companies have understood. It is one of mYngle core values, the first and most important. I believe it is the key for rising above our future challenges," Marina concludes.