Global Touch Inc.: Helping Businesses Gain Predictable Revenues, Growth & Profitability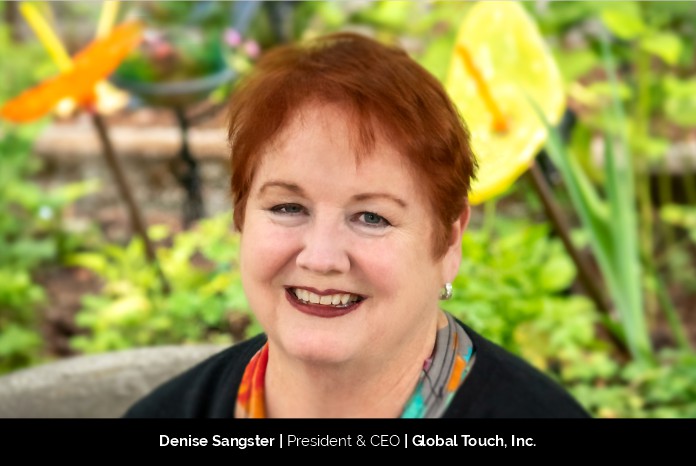 Adding value to its clients since 1990 by steering them from product-led into market-led companies
The IT industry has become increasingly more sophisticated and complex. The opportunities for success are enormous, but so are the failures. With more than 70% earned from partners in the B2B technology world, Global Touch Inc. has a successful track record of working with established companies or pioneering newcomers with out-of-the box ideas for the hybrid and digital computing world. This is why Global Touch has been named as one of "The 10 most trusted consulting firms to watch in 2021".
Since 1990, Global Touch has added value to its clients by steering them from product-led into market-led companies. "We do this by helping them build the right partner ecosystem, work with the best partners, and build a model that creates predictable revenue for the IT company and its partners, while helping build sustainable partner profitability to energize the customer lifecycle journey," says Denise Sangster, President & CEO, Global Touch.
Global Touch is a transformational management consulting firm that focuses on helping businesses become profitable and productive. For most technology companies, the majority of revenue is driven by their partner networks. And Global Touch knows partners! Led by Denise, the consulting firm has created game changer opportunities for clients who are investing in the moment to leverage the future.
"Our data-led management consulting services help technology companies create partner success. Our sweet spot is helping technology companies grow predictable revenue by unleashing the power of partners. Many technology companies continue to use strategies, programs and investments that worked fifteen years ago. These obsolete partner models are limiting the potential for success and opening the door to emerging and established competitors. At Global Touch, we look over the horizon to lead our customers through conventional and creative partnerships, while navigating unparalleled market dynamics and changes. We say the future starts today and we ask our clients if they are ready?" shares Denise.
Journey towards the thoughtful, well informed, data driven approach
Denise wanted to be like her father who was a successful American trial lawyer. Therefore, once she completed college, she wanted to take a few years off prior to starting law school. During this time, she worked for a large law firm and realized that "I liked the thoughtful, well informed, data driven approach to representing clients, but I did not want to be a lawyer. I wanted to be out in the field creating and building business opportunities with clients and not working with them when there was a problem," Denise recalls.
One of the top female attorneys in this law firm had a husband who started a Silicon Valley database start-up. He recruited Denise to head the international business even though she knew nothing about their business. It was a massive learning curve about the technology, international business, localization of product and documentation, marketing and sales activities, and developing partner ecosystems. The company was later acquired by Microsoft. In a way, "I grew up with the PC era and there is no doubt taking this first technology job was the greatest career step for me and one that changed my life."
Denise also served on the US Women's Olympic Committee for the sport of rowing for 8 years and worked as a US official at three Olympic Games. She rowed in college for UC Berkeley (or "Cal"). She also swam for Cal her freshman year before switching sports.
Venturing on her own and making it successful
Starting a business on your own is not an easy road to take. One is faced with different challenges, including but not limited to reputation, network, funding and so on. For Denise, there were two initial challenges: lack of a broad or global reputation beyond the database world and being an American female working globally. As soon as she started the business thirty years ago, three customers from her prior technology company retained her to work with them. All were located outside the US market. To expand her reputation, Denise started writing for several IT publications in Europe (UK, France, and Germany), Australia, and US.
She was then approached by a group of IT executives to create the first IT pan-European event for the IT industry that focused on a go-to-market through and with partners. The event, called "EuroChannels," was a big success, but it was met with initial resistance from some European IT leaders who did not want an "American girl" to help grow the European IT market. "I eventually won most over and some even became clients. The best part was many became very good and life-long friends, as well as their spouses and children. In fact, I have had four (adult) children of European technology executives work for my company over the years," Denise adds.
Growth, beyond revenue and profit!
Denise wanted to do something a bit different than just work for one company. "I wanted to participate in the broader establish and emerging market and build a consulting company that was on the cusp or ahead of market transitions. The only way to identify these transitions is to have deep, first hand market knowledge, and broad industry contacts that roll into many metrics focused on growth, profitability, and partner leverage." And Global Touch, Denise and her team really know partners! "Our broad industry contacts allow us to engage with them and understand their challenges and emerging opportunities."
Denise is also data storytelling obsessed. "We translate these market dynamics into business model and customer success. Having access to data is important, but wrapping a story makes data actionable and brings it to life."
As a CEO, Denise's role is to ensure the firm continues to fuel its clients' success and helps them stay a step ahead of changing market competition. Additionally, she treats her clients as clients for life and continually finds ways to add value to their business.
The unknown and the possible are the exciting factors of life
As someone who understands her market, Denise loves change. The unknown and the possible are what gets her excited about what she does every day. "If there was no change in the IT industry, we would be using typewriters and fax machines. Change leads us to where we want to go, even if we don't know where we are being led at the time. My great aunt used to tell me when I was a child that if there was no change, we wouldn't have butterflies," Denise shares.
When asked about future plans, Denise replies, "This is an interesting question during a pandemic. A year ago, my answer would be different. We are now in an "audibles world. This means what we plan to do and begin to execute changes nearly every day. And I don't believe this will change anytime soon. We are living in a Webex and Zoom world and I believe the new normal of how business operates will not look like the past. This means I don't expect to be flying for business until 2023 or later. I already miss being in the field on assignment, but I am also happy to be home after flying thousands of miles a year for decades!"
"The future is all about identifying what's possible in an audibles world, creating tools and strategies to get there, and bringing others along to join in the success. This is what I love to do and this is what we will continue to do to add value to our clients' businesses and their partners and customers," Denise concludes.