Bridging the Gap Between Technology, Systems, People and Silos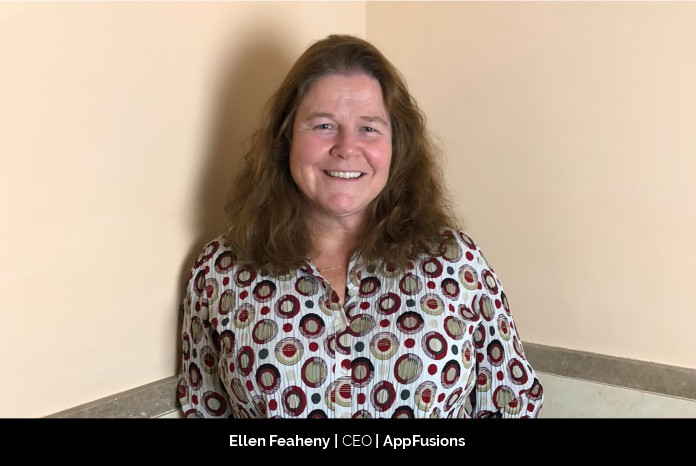 It is widely known and believed in the business world that customers are the king. But, the pathway from aiming for customer centricity to actually attaining customer centricity is a long and tiresome process. However, AppFusions stands out as a pioneering example with its solutions that puts the end-customer and their valuable time first. It does this while at the same time minding the complex and intricate technology integrations as well.
The company started out back in 2010 with a mission to build and mainstream common app integration patterns across the industry and since then it hasn't looked back.
The Inspiration Behind the Journey
For 20 years, Ellen Feaheny, the CEO of AppFusions, had worked across dozens of corporations, witnessing firsthand the commonality of systems and processes within them, but more notably, the commonality of disconnected silo'd systems, data, and processes at these companies.
She viewed the problem as simply illogical, more than technical; she thought it was ludicrous that vendors did not see the opportunity of being more connected with other vendors' products and that the value to such interconnectivity far out-weighed the complexity. She saw it as a product management "miss" across the industry. She'd worked with dozens of products, platforms, and SDKs over those years, but so many were missing it on being able to draw in developer communities.
The products lacked integration points or APIs – or worse, if they had these things, they threw them over the wall to the field, but internally they didn't force the use of same enablers. The overall problem seemed to be a matter of short-sightedness and lack of product management focus. Despite relentless extensibility requests from customers, there was a complete lack of ownership for vendors to properly implement holistic extensibility plays, strategies, and implementations.
More appropriately, priorities were elsewhere, despite the obvious need, which would soon become an even bigger problem with the entrance of SaaS/cloud products. As it pertains to integrations, the need and demand for integrated systems has only increased.
A Leader who has Been there, Done that
"In the early days of AppFusions, my broad perspectives after working in dozens of Silicon Valley startups and large corps alike over 20 years brought much energy to the initial challenges on hand. Simply, I'd been around and seen a lot. This experience, along with killer engineering, got us off the ground," Ellen recalls.
Over time, Ellen's role has evolved to being one of an overseer of the ship, the oars, the people oaring the oars, and most importantly the vision place for where the company is rowing to. Ellen is highly passionate and full of energy in sales and product management, and at the same time she is endlessly and consciously trying to evolve the team, grow their skills, grow leaders across the organization.
Ellen adds "This is by pulling back more than pushing in – which is hard for me. But I do realize, always, that I am nothing without my team – they are AppFusions' brawn and backbone. And we only got to where we are via the collective determination and spirit across the board. It's the combo that matters, always."
Services of Sheer Quality
At present, AppFusions has three main product-lines, including sustained services to support all areas:
AppSpokes integration app services, an iPaaS architecture and family (25+) of "just works" end-to-end packaged integrated app "spokes" that can be securely made available in any platform. The spokes include ready integrated experiences for platforms to connect with IBM, Microsoft, Box, Dropbox, Google, Salesforce, Zendesk, Atlassian, GitHub, GitLab, Slack, and more.
AlohaDXP, a no-code/low-code integrated digital experiences and workplace platform that brings together all of the AppSpokes integrations, and other key collaboration and digital experience capabilities, like content curation, business intelligence, personalization, machine learning, mobile supports, hybrid deployments, and more for unlimited integrated and contextual experiences, spaces, sites, portals, etc. (based on use-cases and audiences)
Atlassian-server-based integration apps, AppFusions' original sustained solution apps that have withstood the test of time (since 2010, ongoing). In fact, these initial products served as key PM experience and design inputs to the later AppSpokes and AlohaDXP micro-services solutions.
When Going through Hell, keep going
While enabling platforms to integrate easier is a logical expectation, even if it is a technical hurdle or challenge, through its journey Appfusions learned that it was the non-technical hurdles in its holistic integration strategy endeavors with platform vendors were a lot bigger hurdles and not always logical.
Understanding and navigating invisible but present politics or false strategic timing has been the company's biggest challenges in its journey, even as customers' frustrations grew. The market pressures seemed slow to pressure the larger vendors who controlled locked vs. extensible platforms, and it took the proliferation of SaaS solutions to gain a fever pitch and foothold in the industry before the problem started to be more seriously listened to by the larger vendors. But even at that point, not until 2017/2018, the underestimation or lack of understanding on HOW to create a holistic integration strategy ran rife. To this day, many still do not address this issue, while most are starting to dabble to learn – on a problem that in Ellen's opinion has been critical to business optimizations for over a decade already.
That said, AppFusions' persistence, perseverance, and "staying in the game" focus on its core mission has played in its favor. Winston Churchill had said it right: When going through hell, keep going
"We learned that hurdles and challenges overcome compound and become strengths, and the valued progressions over time is what got us the necessary experience we now have. We are glad we never gave up," mentions Ellen.
Change is Inevitable
According to Ellen, on one hand, the industry has changed a ton. On the other, the industry has changed not at all.
When AppFusions started in 2010, cloud technologies, models, approaches were even more in their infancy than they are now. Now, they are the way of the future, even if it is a painful reality for some to evolve into in their digital transformation strategies (as a customer or vendor).
So at a technology level, yes, indeed the industry has changed, and AppFusions benefits from these changes, with newer modern micro-services design, development, architecture, and deployment models (i.e., public cloud, dedicated private clouds, or containerized Kubernetes deployments for on premise private data centers).
On the other hand, change is hard – and many companies fight the change, or don't know how to change. AppFusions technologies are built on modern models, but as solutions, the company bridges the gaps between older techs and newer ones, agnostically and pragmatically. AppFusions is positioned well in this regard.
"Our solutions are comprehensive, thorough, patterned, and deep. In almost 9 years now, we have yet to been asked for our integration apps to be less functional or useful by being less deep," Ellen exclaims.