Total Green Recycling: Embracing Challenges is Their Success Mantra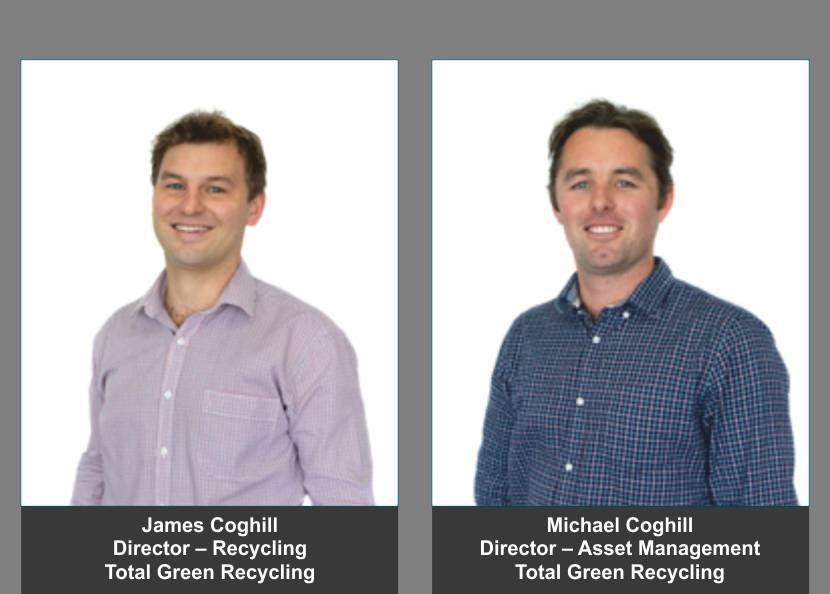 We often come across people following the noble practice of avoiding wastage. "Do not waste", is a virtue that is taught to us in school and stays with us forever. However, how about the idea of creating something useful from waste? How about the concept of making the waste worth it? How about the thought of recycling? We often tend to overlook the idea of recycling as it seems too tedious, strenuous or just simply boring. If we just took a few minutes off and understand the importance of recycling for our present and future, we shall be able to contribute in making the earth a better place to live. With a view to clean the environment and preserve its beauty, two brothers, Michael and James Coghills started Total Green Recycling that marked the beginning of an awe-inspiring journey. In a time where recycling is not yet a well-received concept, Michael and James have headed out to change the mindset of people. Their focus was to enter the relatively unknown electronic waste (e-waste) recycling industry. And today, after 11 years of passion and dedication, they have successfully managed to achieve their mission of putting a stop on the flow of e-waste to landfill.
The Start of an Exceptional Story
As they say, "Small beginnings are the launching pad to great endings", this quote perfectly describes the initial days of Total Green Recycling. Michael and James were two passionate individuals who desired to find a solution to Australia's increasing waste problems. With a well-defined vision of stepping into the e-waste recycling industry, the zealous duo started their company called That Guy's Recycling in their father's garage in 2008. They began testing old CRT computer monitors and extensively researching and developing a disassembly process for desktop computers. As they noticed the increasing e-waste accumulated daily at the side of the road, they sought this as an opportunity to initiate a recycling process. Michael and James came up with this concept while they were still studying and decided to act upon their ideas. They developed a business plan after completing their studies at the university. As budding entrepreneurs, they presented the idea to their father, who supported their business plan with the initial capital and their first company was born where they started providing services to local councils across Western Australia.
The business started picking up speed in 2008 after they bought a van. They started collecting from small businesses and two councils in particular; The City of Bunbury and The City of Busselton. These two councils were the steppingstones in the success of the company as they collected 20-foot sea containers full of e-waste, that the councils accumulated from their waste depots. They also started offering a small office collection service to businesses and were receiving about five small office pickups per month. After a year of the initiation, they collected over 50 tonnes of e-waste. This was the beginning of a successful company.
The Switch to Total Green Recycling
As the business was growing, they started receiving a good response from clients however Michael and James realized that they needed a larger space in order to meet the needs of a growing business. They also needed to get financially stable as they started suffering losses. The cost of recycling was way higher than how much they charged. Hence, to make their plan work and generate profit, they needed to start recycling in larger volumes. This idea led to the change in name from That Guy's to Total Green Recycling and they moved from their 400sqm facility in Bibra Lake to a much larger 1,000sqm shed in Welshpool which also offered extra space to store the e-waste. Total Green Recycling received its ISO 14001 accreditation in 2011, which was a great motivation for the development of the company. Just a year later they saw the introduction of the National Computer and Television Recycling Scheme, presenting even greater opportunities and further industry accreditation (AS/NZS 5377).
During this time Michael and James were able to find solutions to two major problems that they were facing; how to responsibly recycle the leaded glass from the old CRT screens and how to recycle the e-waste plastic. After extensive research and development, they were able to construct a process for CRT glass tubes which recovers the metals, separates the leaded glass from the non-leaded glass, and achieves a very high rate or recycling and resource recovery.
Another challenge that cropped up was recycling plastic especially large amount of plastic that was extracted from old televisions, printers and computers. However, passion and determination saw them through. They spent days and nights of research and ultimately came up with a solution. They modified an old granulating machine which they picked up from an auction yard and rebuilt to handle large quantities of plastic. While they were in the process of finding a solution there was approximately 200 cubic metre of piled up waste that took up 500m2 off the floor space, however, at this point the recycling duo had no other option. After they received the machine, they started working extra hours to clear up the stacked-up pile. They then started to export shredded WEEE plastic directly to buyers in China where they used advanced system to further recycle the plastic and reuse the maximum to make new products.
The Extraordinary Services of Recycling
Total Green Recycling is an e-waste recycling company that focusses on putting a stop on the flow of e-waste to landfill. They recover useful materials and redirect them into productive, profitable, green enterprise solutions. They support local communities with purposeful employment and education. Total Green Recycling strives to clean our environment and to reduce carbon emissions, one electronic device at a time. They provide collection services, asset management, data destruction and reporting and certificates.
Collection services include collection for small office, standard office, large office and more. The collection cost differs as per the volume of waste. They accept diverse range of products like servers, mobile phones, hard drives, modems and networking devices, I-pods, audio visual equipment, washing machine, vacuum cleaners, sewing machines, microwaves and much more.
Total Green Recycling's asset management services makes recycling convenient for businesses, government and enterprise clients with a complete IT Asset Disposition and recycling service. In addition to ensuring all your company data and asset information is properly removed, they can also provide a comprehensive IT Asset Disposition (ITAD) Report with every collection. The ITAD Report details key information that they use to track every serialized asset through their process all the way from collection through to the final point of disposition. This information enables them to provide a tidy report that you can then use to satisfy audit and compliance requirements.
Total Green provides you with safe, secure and cost-effective solutions to suit the requirements of your organization in order to eliminate the risk of data breach. They are committed to providing their customers with complete, transparent solutions and the very best of service. Blancco is widely recognised as the most accredited erasure solution on the market today. Total Green now has a volume licensing agreement in place with Blancco Australia Ltd which provides us with access to low-cost Blancco Erasure solutions for a large range of equipment.
The Growth of Total Green Recycling
A milestone in the Total Green's business growth was when the City of Stirling came on board in 2010. The support they received from Stirling was outstanding which made their collection volumes soar. It shot up to 1000 tonnes per year. This breakthrough in their business gave them remarkable recognition and placed Total Green on the map of WA as a legitimate e-waste recycler. As the business grew, so did the challenges. Flatscreen televisions started to replace the old bulky CRT screens which they had built our business on. They were faced with the enormous challenge of somehow investing and installing expensive machinery to handle this labor-intensive waste stream or they would soon be out of business. Labor costs were projected to skyrocket. Total Green is passionate and determined to face every challenge and overcome it.
Three years later Total Green designed, purchased and commissioned WA's first semi-automated and modular e-waste recycling plant which was advanced in every operation of large shredders, belt magnets, picking lines large high-speed eddy current separator and extensive dust extraction system which costed them more than $1million.
Recognizing the increasingly important nature of data security, Total Green began evolving their services in IT asset management and secure data destruction. Their business began widening throughout the country and today, Total Green offer services to businesses, government and the community a new way to manage sensitive data and safely dispose of hard drives.
Fast forward 11 years to today and Total Green is leading the way in providing complete sustainable e-waste solutions in WA. They have recovered 2356 tonnes of e-waste which accounts for 500,000 items diverted from WA landfills in 2018 and their staff has increased by 40 employees. The Total Green facility has become a place of inspiration inviting over 100 people who have toured the place including the minister for environment Stephen Dawson, several mayors and councillors from WA. As experts of their field, Total Green officially launched a campaign to ban of e-waste from WA landfills by 2020.
A journey of challenges, overcoming, achievements, learning and above all a journey of success. Total Green has lived it all and the team is extremely proud of their story. The passion and the will to change what is practiced and to bring about an awareness in the society for a better future has made Total Green Recycling one of the best in the market today. As they shape a better future, they are leaving trails of success stories that are an inspiration for the generation now and the one to come.