Clariter Offers Industry a Clean Slate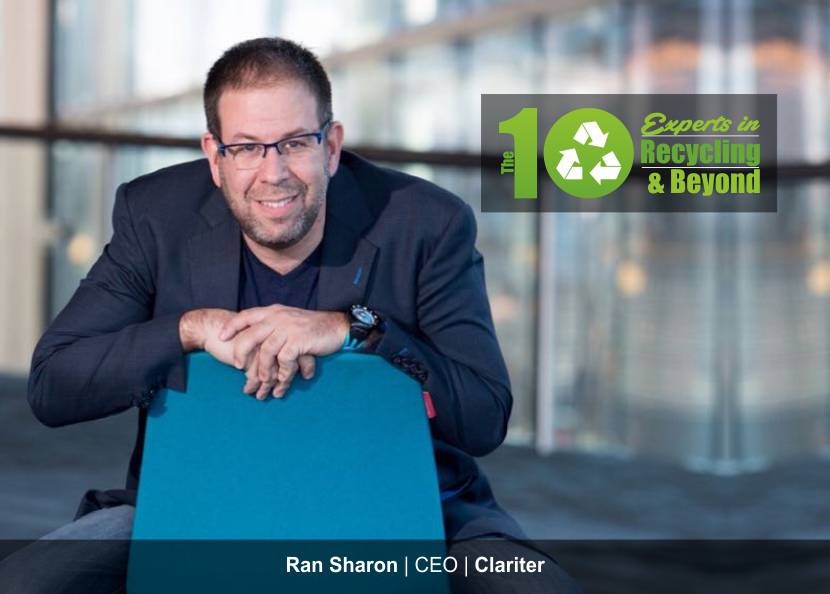 Sustainability. It is no longer a nice-to-have. It is critical for our life and its continuity. Everyone is striving for it. There is pressure from every angle – consumers, regulators, governments, global communities and investors.
Well, it was even more difficult some 16 years ago when Clariter, an innovative global group, embarked upon a journey to provide a solution to transform plastic waste into high value, pure products and drive sustainability to a whole new level. Despite the challenges, Ran Sharon was determined to take up this visionary work and make it a reality. We are privileged to have the opportunity to share the success story of Clariter with a few inspiring insights from the expert himself, their CEO Ran Sharon.
The Beginning of a Wonderful Journey
In 2003, living in Warsaw at the time, Ran was approached by a Polish Professor aged 87, who shared with him that he was working on a Process that transforms plastic waste into clean waxes and pure oils. As a serial entrepreneur and investor, it immediately made a lot of sense to Ran as an innovative and disruptive opportunity. He realized that with population growth and an ever-increasing convenience-based lifestyle, the plastics waste mountain would grow. Yet at the same time, also the demand for specialty products would increase and that society was looking at ways to reduce its dependence on crude oil. But to highlight, this was a journey that started more than 16 years ago. Then, the plastic waste challenge was certainly not something that received a lot of media attention, let alone interest from customers, companies or investors. Even the words "Clean-Tech" and "Chemical Recycling" were probably not widely used. Maybe one could say, both the Professor and Ran believed in the Clariter vision before anyone else.
Clariter was a real pioneer and it was a true challenge to motivate business partners to start developing the technology with them let alone to get funding for such a concept. Yet in hindsight, it also allowed them to understand the technology and process very deeply, further optimize it and they had time to file patents and develop greater know-how. Ran often says, "this is hard core industry with a twist, not two guys developing an app in a garage". Time has allowed them to scale now very rapidly and with confidence. Clearly, funding the Company for such a long time was not always easy, but with a resourceful team, relentless focus on the true critical items and an unwavering belief that this is a must-deliver opportunity, Clariter has made it and are flourishing today. Many of Clariter's angel investors invested significantly (mostly over $ 1million each) and many have become friends. All have supported Ran through the leaner times, and he is truly proud to say, all of them are still there, as they too believe this is worth the wait and worth the fight.
The Importance of Recycling and Clariter's Role
Large parts of the recycling Industry still focus on recycling plastics (packaging) such as shampoo bottles into (part) recycled new plastic items. This is called Mechanical Recycling where new plastics are being formed from discarded plastics. Clariter is active in the innovative Chemical Recycling space where plastic waste is chemically transformed into new products, ending the life of plastic. Most of their competitors turn plastic waste into other forms of plastic or Fuels like diesel or intermediate products which need to be further processed. They believe that those outlets are going to disappear in the long term with the planet converting to renewable energy and EVs. A much higher value can be achieved targeting products that we all will need for a very long time. Clariter is unique by making more advanced, pure products while producing net CO2 savings. They are not only greener but cleaner as they transform unwanted waste streams, leaving a cleaner planet and providing a radical new paradigm shift in industry. They are not your typical recycler, but rather an upcycler or even Cleancylcer.
Clariter also positively see that the Recycling Industry is increasingly understanding the complementarity of Chemical Recycling to their activities. Earlier this year, they were named Product Technology Innovation of the Year Finalist in the Plastics Recycling Show Europe Awards, which has traditionally focused on Mechanical Recycling.
Clariter turns plastic waste that no one wants into high value, pure products and ingredients that everyone needs. Through their revolutionary process they make snow white waxes, odorless and sulphur free solvents and white oils. These are ingredients in a vast array of end products ranging from cleaning agents, paints & coatings, leather conditioners, floor polishes, candles, shoe cream and many more. In time, they also foresee that their products will receive FDA approvals due to their exceptional purity and may find their way into personal care items such as body lotions, creams etc. Pharma grade could be next.
The Insightful Mind of a Successful Leader
Ran Sharon, the founder and CEO of Clariter, grew up in Israel, was educated in Hungary, and ran businesses in Poland, US and in the UK. He is a true global traveler. Every minute he asks himself, what can he learn from all these cultures and apply this into the next idea or venture. "In this way, I developed 8 business from concept to roll out. You know, there are many great ideas in this world – but most fail at execution. And key to execution is the right team. I remember reading for the first time this famous African quote ("when you want to go fast go alone, when you want to go far, go together") and then realized this is what I am doing. I seek out and work with people that complement my strengths and whom I can help to go further.", says, Ran
As CEO, Ran spend a lot of time thinking through the way forward, meeting talents and trying to build the best teams. He also spends a lot of time lecturing, from elementary schools to leading universities like London Business School and Harvard. "Let me be fully frank and say that this is the first interview I have done ever as CEO. Why? Because it is not about me, it is about delivery of ideas, and making them even better together with others. I believe the best learning is by teaching. To roll this out more formally, we are now implementing the Clariter Learning Academy where all our staff will be required to teach a few times a year. This can be simple or more advanced, it can be about Clariter or recycling or about a hobby they know much about. This is an important and distinguishing feature of the wonderful Clariter company that we are building." Ran shares.
The Team of Clariter is Driven by a Vision
Ran says, "I am really proud to say that at Clariter we do things very differently and we truly distinguish ourselves from many others active in our space. My most famous quote is by Master Yoda: "Do or Do not, there is no try". And this, is in our DNA."
Firstly, they simply do and are driven by a single focus to deliver this disruptive technology, because it is the right thing as it generates a significant impact for many generations to come. Secondly, Ran has built their international teams combining young talent just out of university who they are teaming up with experienced senior people – often near or in retirement. The youngsters bring fresh perspective and novel ideas and ask the challenging questions. The experienced staff have nothing more to prove and simply want to share their knowhow and leave a legacy. In this they all have the common DNA and vision, just like the Professor mentioned ealriler, it is not about age but about a state of mind. As an aside, Ran's father who is 74 years old now still works at the Company in exactly this way. They hired a top industry executive recently who said: "I have spent more than 40 years polluting the planet, it is now time to clean it up for my grandkids".
So, while they are different and the Clariter Solution is unique, they also remain humble. Alone, they cannot address and solve the plastic epidemic. But they can show the world a way forward. It's a huge challenge for industrial companies who use raw materials made of fossil fuels to be environmental heroes, but with Clariter they can reach a whole new level. They enable industry to make choices to buy ingredients which are not only sustainable but cleaning the planet. Transforming waste into value is a win-win; it treats the plastic pollution problem while creating exciting business opportunities. A thriving, competitive economy and a clean, livable planet aren't incompatible after all.
The Global Expansion of Clariter
The way Ran set up the Company is to make it truly international from day one, recognizing that the plastic waste challenge is a global phenomenon and to address this in a radically new way, they need the best talents and ideas and learn from different cultures and approaches. In the past, he has seen many times the challenge local start-ups face trying to export their technology or business model. He wanted to have a global business model – with local touches – from the beginning.
Currently, they have a R&D plant in Poland and an industrial scale plant in South Africa which they build in co-operation with the Industrial Development Bank of South Africa. The plant is producing products but its aim it not to be purely commercial. It is foremost a demonstration plant to their partners, customers and suppliers from across the world. Here too, they will experiment with various plastic waste streams to Address the highest standards of the industry needs. It is also a training ground for staff and here Clariter extend their R&D program beyond lab scale. Some of the Clariter Products they make, they will sell to local entrepreneurs/SMEs that can make end products for the local market. This concept which they call "ClariCluster" is an important value proposition for countries which want to provide new business opportunities locally. Additionally, Clariter plants reduce dependence on imported hydrocarbon products and / or give export opportunities for countries, wanting to earn hard currency. So, as you can see, Clariter provides both developing and developed economies a very attractive value proposition.
In addition to their operational sites, they have a business development and corporate team in Israel and in the BeNeLux. Together they have 13 nationalities and 22 languages are spoken across some 70 staff.
Clariter is now scaling up and target to build and operate some 5 full scale plants within the next 5 years. They currently focus on geographies across a single time zone, yet they have started to look at North America too. While their first plants will be partly owned by them, licensing their technology will allow Clariter to really scale globally quickly. Their base case growth scenario aims to produce annually over 1.1million ton of their unique products by end 2028. By then, Clariter will have cleaned the earth of some 2 million tons of unwanted plastic waste and delivered between 1.4-2.6 million tons of net CO2 reduction. This is their conservative base case plan. Clariter is currently being assertively approached by larger players notably from Asia to go even faster in the roll-out given their pressure to deliver plastic waste solutions.
If we must secure the future, we need to understand the importance of preserving our environment today. The team of Clariter has taken an incredible step under the resourceful hand of Ran, to take care of the environment, making the best use of technology.