ThePowerhouse: Redefining Fashion with the Power of Technology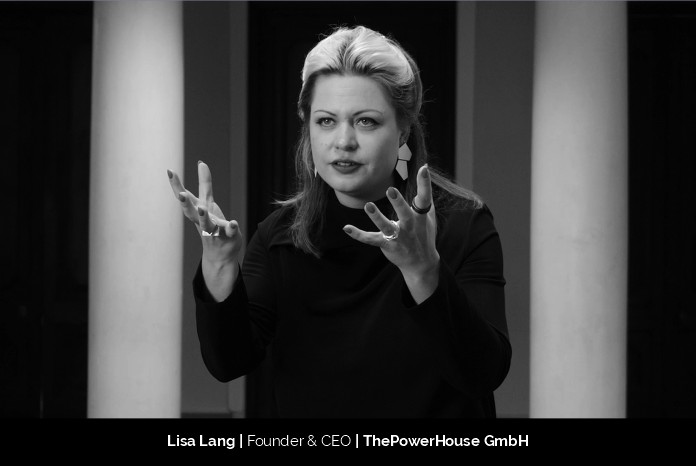 Fashion is an emerging industry with the introduction of creative and new trends every day. The fashion landscape has experienced an extensive change over the years that has made fashion a promising industry. An important dimension that has scaled the progress and growth of fashion brands is technology, which gave birth to FashionTech companies.
When Albert Einstein said, "We cannot solve our problems with the same kind of thinking we used when we created them", we might have just appreciated it as a great quote, but Lisa Lang based the foundation of ThePowerHouse on this innovative thought. Lang is the Founder and CEO of ThePowerHouse which is a leading innovation agency for FashionTech and wearable technology. Focusing widely on prototyping, consulting, matchmaking, research and education, ThePowerHouse loves taking on challenges and ideas that have never been created before. They understand the reality of manufacturing in the fashion industry and how technology fits and does not fit within the current manufacturing ecosystem.
Lisa leads her team of enthusiastic professionals into finding creative solutions to every challenge. ThePowerHouse is Lang's Entrepreneurial venture that has seen a phenomenal growth since its inception. Although her journey witnessed numerous impediments, Lang achieved every goal with passion and determination setting milestones of success after every challenge. The growth of ThePowerHouse is a proof of her success. Lang shares her incredible thoughts on the success of ThePowerHouse in this exclusive article that is an inspiration for every aspiring business mind.
The Foundation of ThePowerHouse
ThePowerHouse was born due to the success of the group's first brand, ElektroCouture. It all started with a focus on fashion technology and the idea that women can be beautiful and smart at the same time. Before ThePowerHouse, with ElektroCouture they were literally the light, and their mission was to make their things smart and shiny. Lang and her team started talking about it, while going on stage and shining with their creations and inventions. This attracted the interest of many fashion and technology companies who started approaching them for answers and solutions. ThePowerHouse saw an opportunity there. They saw the opportunity to merge the two worlds. The world of fashion and technology. Worlds that did not know how to merge.
Lang knew, the real problem was that the two industries do not associate with each other – specially fashion with technology. With this she also knew that somebody had to build bridges. "And as it happens, it is me, us, ThePowerHouse that connect the dots. The fashion houses had technology. The technology houses had no idea about fashion. It was very funny.", Lang shares. They then decided to be found ThePowerHouse as a basic consultancy agency and now, over the years, they are already involved in numerous international projects: they publish trends reports, they advise the European Commission, they have mentorship programs, and they help in education on how companies can evolve by adopting wearable technology.
Overcoming the Challenges
"We like to see our challenges as opportunities. But we had some obstacles along the way, of course.", says, Lang.
Lang thought when you want to start a fashion brand, you start by designing a dress, and usually you would go to a seamstress, or you would sew it yourself and then put it on the market. But if you create something at the intersection (in the middle of the world of fashion and technology) who will you turn to?
This surreal link between two opposite industries became the recurring challenge, over the years, that Lang and her team have been overcoming. Recently, in 2019, they felt the need to open a third company that solves the problem. That gave birth to OFundamentO, focused on manufacturing solutions and how to reprogram the machines. Lang has grown as a person and as a leader. From experience she learned that it is not possible to move a mountain during the day. Therefore, Lang now intends to move one stone at a time, with the understanding that changes come with time.
The Services of ThePowerHouse
The team of ThePowerHouse is responsible for innovating and helping their consumers to create new things, which according to the clients, were impossible.
ThePowerHouse offers education programs for companies that are interested in understanding how to innovate. So, they run workshops internally, where they explain it in a way, so they understand it. They also do prototype services and have a lot of universities seeking them for, development of new courses for a new form of education. ThePowerHouse also advise governments, museums, universities on new strategies. In fact, it is a classic consultancy agency that has been growing over the years and they have already had the opportunity to get involved in very interesting projects.
ThePowerHouse is not just a consulting firm, it is totally different. "We believe that, for our clients, we should teach them how to fish. Indeed, we do not simply give them a fish, which is the case for most consulting agencies.", says, Lang. ThePowerHouse knows the reality of manufacturing. They know the intersection. They are aware of how to connect technology with design in a unique and special way. ThePowerHouse love working with people; they are totally involved in each project, and always give extra and the best for their customers to ensure they are well and happy and achieve their goals.
The biggest asset that ThePowerHouse has is their network and contacts in the area, which is huge. As a result, they will always find someone known who will help them and get them in contact with the right people. "So, that means that you could end up in a room with an astronaut, robotic engineer, biotechnology scientist and the old couture designer because that is the team (and this is not just the beginning of a bad joke).", Lang titters.
The Scope and Growth of FashionTech
Technology represents new opportunities and ThePowerHouse believes that the job of the designer is to learn technology. Technology is a tool, and you must learn a new tool like you have to learn to use a needle or the sewing machine. According to ThePowerHouse this will be the new normal which defines the scope of technology in fashion. Lang feels, perhaps fashion needs rethinking, have a new function, and go beyond what it simply is. Is it not the future that dresses change color? Just think, the one dress instead of 5 identical pieces with just different colors. Do we not want clothing that suits our body? We do not simply have an S, M, or L body; we are all different. This is the importance of technology in design and fashion. Change things. Innovate. Provide more functions and make lives simpler and easier. In a short answer, technology will give new life to fashion.
In the fashion world, technology is an important and innovative strategy for finding new products and new markets. As a leader of this industry, Lang has observed that innovation is the biggest change.
"We at ThePowerHouse are helping people to make that faster. Because, after all, our merchandise is time and experience.", she adds. Using their experience with their network and ability, helps people very quickly by saving time. And time is important, because you must be very quick to understand what has changed in the industry. Speed is the secret, and that is what ThePowerHouse has that is different. With the introduction of new technologies, the exchange of information has increased. Consumers are much more impatient. And this constant change and alteration in the market, puts enormous pressure on companies. They cannot afford to start from scratch.
And that is why, ThePowerHouse, arrived like a rocket and helped them innovate.
The Role of a Responsible Leader
Lisa Lang is the CEO of ThePowerHouse and is passionate for its growth. Her role at the company is essentially to give her team the right tools and provide them with the best environment and the best culture so they can be the best and can deliver their best work.
"I like it and I want to feel that people are happy, that they learn something in the company, and that there is a purpose in everything they do.", Lang shares. "In fact, at ThePowerHouse they are all like a kind of birth mother or coach, who help their consumers to give birth to their new babies. And yes, all of our work comes with a lot of pain, dedication, and long hours of work, but always with a lot of joy. And that makes everything so rewarding and fulfilling. Not just for me, but for the whole team.", she adds.
The company has seen an exponential growth under her resourceful guidance. Their success is measured by the impact on their customers. Lang can confidently say that in the last few years, everything that has been around the themes of wearable technology, specially fashion tech, ThePowerHouse has been involved in some way.
"Actually, for me, success is the impact we had with our work, though not everyone knows we were a part of it. But for me, it's enough that we know we've been a part of it.", says a successful business leader, Lisa Lang.
The Roadmap for the Future of ThePowerHouse
Although Lang cannot reveal her whole idea for the future of ThePowerHouse, she can confirm that they will continue to work even more with Policy Advisory, Education Advisory and with interesting and relevant research. They are working on a whole new concept of the new age of education. So, they need to focus from next year onwards as the powers will be a lot like technology education in the creative industry sector.
And that means there must be new rules, new setups, new people, new teachers, new students, and you must write new concepts around that. And that is what ThePowerHouse plans to do. In other words, ThePowerHouse will be busy writing the future.
ThePowerHouse is already living their vision each day. Every day they work towards their vision, essentially increasingly becoming experts and advisers to governments and rethinking new strategies for fashion tech. Their vision basically involves doing what they already do today, but logically, always stronger, with more people, more companies, and more partners. And above all, always more beautiful and smarter at the same time.