Deandra Grant: Balancing the Scales of Justice and Redefining Success in the Courtroom and Beyond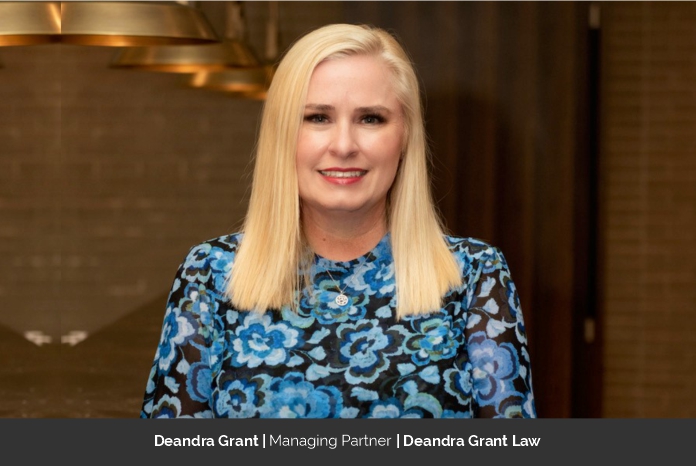 Earning nationwide recognition as an authority in DWI (Driving While Intoxicated) law, Deandra Grant's expertise and dedication are unmatched. Her comprehensive knowledge, acquired through extensive training and education, contributes to her sterling reputation. Among her accomplishments, she holds a graduate certificate in Forensic Toxicology and a Master of Science in Pharmaceutical Science, both from the University of Florida. Moreover, she has been distinguished as an ACS-CHAL Forensic Lawyer-Scientist, demonstrating her proficiency in DWI testing.
Every year since 2011, the esteemed attorney rating service, Super Lawyers®, has named Grant among their select list. This rating service recognizes lawyers across more than 70 practice areas who have garnered peer recognition and exhibited remarkable achievements. The Super Lawyers' distinction is limited to a maximum of 5% of lawyers in any state, underlining Grant's exceptional standing. She has also received a 10.0 rating from both AVVO and Justia, further underscoring her professional accomplishments.
Additionally, Martindale-Hubbell® awarded her an AV® Preeminent™ rating, their highest honor, which acknowledges attorneys for their ethical standards and significant contributions in their respective fields.
From the commencement of The Texas DWI Manual in 2011 to its first release in 2013, Grant has dutifully updated this invaluable resource annually. After graduating from Trinity University with a B.S. in Business Administration, she later earned her law degree from the SMU School of Law. Grant began her legal career as an assistant district attorney, where she gained valuable insight into the strategies and evidence used by prosecutors. This invaluable experience now forms the foundation of her defense approach, enabling her to challenge prosecution evidence and strategy effectively.
"You must keep your mind on the objective, not on the obstacle."
Encompassing hundreds of hours in training courses and programs, Grant's operator and testing experience is extensive. She has completed numerous dosing experiments and operator certification courses, including for the Intoxilyzer 5000, the breath-test device formerly used in Texas. This hands-on approach to understanding the science behind DWI testing allows her to challenge the validity and accuracy of the tests in court.
With a remarkable career spanning nearly 30 years in criminal defense, Grant has represented thousands of Texans charged with various offenses. Her expertise extends to violent felonies, sex crimes, and particularly offenses involving allegations of intoxication. Her prior role as a prosecutor provides her with a unique understanding of prosecution strategies and evidence.
Embracing a role as a dedicated educator, Grant imparts her knowledge and skills to other professionals. She serves as a national speaker and teacher on a wide array of topics, including trial skills, jury selection, cross-examination, gun laws and forensic breath and blood alcohol testing. Outside the courtroom, Grant passionately supports Living the Doxie Dream Rescue & Sanctuary, acting as their Vice President. Additionally, she is an avid wine collector and painter.
Deandra Grant Law, where Grant serves as the Managing Partner, has been a beacon of justice since its establishment in 1994. Under her leadership, thousands of clients have seen their criminal or DWI charges reduced or dismissed. As an international speaker on DWI law and the author of The Texas DWI Manual, Grant's influence extends far beyond her practice. Her comprehensive understanding of the criminal justice process and her ability to devise intelligent, strategic, and persuasive defenses underline her commitment to securing favorable outcomes for her clients.
Grant's Success Mantra: Unyielding Hard Work and Sharing of Expertise
Rooted in unyielding hard work, Grant views success through a unique lens. She finds her success deeply rooted in her ability to assist clients effectively while concurrently imparting essential trial skills and scientific knowledge to her fellow attorneys. For her, the essence of success lies in the confluence of diligence, service, and knowledge sharing.
The Pillars of Deandra Grant Law: Strong Presence and DWI Expertise
Incorporating a statewide presence, Grant's firm, Deandra Grant Law (DGL), distinguishes itself as a remarkable criminal and DWI defense entity. With six strategically positioned offices throughout Texas, the firm manifests a robust infrastructure ready to serve its clientele.
Daring to Grow: The Rapid Expansion of Deandra Grant Law
Charting a path of growth and expansion, Grant exhibited exceptional courage and determination. Embracing opportunities and navigating risks, she led her firm from a mere two offices to a powerful network of six, all within just three years. This bold leap of faith serves as a testament to her audacious leadership and unwavering commitment to her firm's growth.
Overcoming Adversity: The Strength Found in Challenges
In her early career, Grant confronted adversity, encountering those who doubted a woman's ability to excel in DWI defense. Unfazed by this skepticism, she moved forward, outperforming their expectations. For her, these roadblocks were not setbacks but opportunities for growth, strengthening her resolve and underscoring her unwavering faith in her abilities.
Expertise and Fighting Spirit: The Winning Combination at Deandra Grant Law
An unwavering commitment to a comprehensive understanding of the science and the law is the driving force behind Grant's firm's growth and success. They tackle each case with a readiness for trial unless their clients indicate otherwise. Fostered within the firm's culture is the spirit of perseverance, the embodiment of true fighters.
Beyond the Courtroom: Grant's Endeavors in the Legal Field
Grant's contribution to the legal industry is not confined to her firm alone; it extends to the wider community as well. She took on the mantle of charter member of the DUI Defense Lawyers Association—an international bar association established in 2014. Not only did she aid in forming this notable institution, but she also witnessed its growth to over 800 members today. Beyond her organizational responsibilities, Grant authored the comprehensive and annually updated The Texas DWI Manual, which is now in its impressive 10th edition. Moreover, she channels her expertise to educate others across the nation.
Journey to Influence: Grant's Initial Strides in the Legal Industry
Embarking on a journey of influence within the legal industry, Grant cites her initial strides to prominence as two key accomplishments. Engagements as a speaker outside of her home state, coupled with the successful publication of her book, became instrumental in her ascent. These endeavors not only paved the way for her career growth but also fortified her reputation as a potent voice in the legal sphere.
An Induction to Remember: Grant's Most Cherished Recognition
Accolades and recognitions are no strangers to Grant. Her expertise and leadership have earned her virtually every honor in her field. Yet, among her numerous acknowledgments, a particular one stands out: joining the faculty of the prestigious Borkenstein Drug Course. In her view, this remains one of her most significant accomplishments.
From Law School to Leadership: The Resilient Journey of Grant
Reflecting on her journey, one quickly perceives that Grant's formidable legal career has been a constant since her early days in law school. The inception of her firm dates back to 1994, which indicates her relentless dedication to her profession. On being asked to define herself in a single term, "resilient", she states. This word not only defines Grant as an individual but also encapsulates the spirit that has led her law firm to its current stature.
Balancing Scales of Life and Law: Inside Grant's Success
Achieving harmony between personal and professional life might seem a Herculean task to many, but for Grant, it's a reality. As a dedicated mother of two, with one child already pursuing college and the other in high school, she embodies the essence of work-life balance. Her commitment extends beyond the courtroom and into her marriage of over two decades. Embracing the world's diversity, Grant and her family invest considerable time traveling whenever work allows.
However, this is not all. In addition to her law firm and family, she also co-manages a dog rescue and sanctuary, displaying a nurturing side to her resilient personality. In the professional realm, she cultivates a supportive environment. Encouraging out-of-the-box thinking, she ensures her team feels valued and secure.
At the Forefront of Operations: Grant's Typical Workday
At the helm of Deandra Grant Law, Grant juggles multiple roles with finesse. She oversees case management, investing time in reviewing and strategizing pending cases with lead attorneys. Apart from her legal responsibilities, she runs the business and marketing facets of the firm. These tasks demonstrate her commitment to her profession and the firm's continued success.
The Unticked Box in Grant's Dream List
Looking back, Grant has fulfilled many of her dreams, but one remains – teaching. She aspires to educate budding legal minds part-time at a law school.
The Road Ahead: Strategic Growth and Personal Goals at Deandra Grant Law
Grant charts a dynamic course for the firm's future. The blueprint includes amplifying their current markets and contemplating the addition of one or two attorneys in the upcoming two years. She has set a firm objective: a ten-strong attorney team by 2028. On a personal front, Grant eyes the year 2029 with anticipation as she hopes to enjoy a portion of the year working remotely from Belize.
Work Hard and Keep Learning: Grant's Message to Future Lawyers
Seizing opportunities is a mantra that Grant keenly advocates. To her, the pursuit of knowledge should be ceaseless. Aspiring attorneys, she believes, should make it a habit to attend seminars, to read extensively, and to constantly learn. Above all, she underscores the importance of hard work in the path to success.
Conclusion
Navigating through the captivating narrative of Deandra Grant's career journey offers invaluable insights. Her relentless drive and calculated strategy have resulted in a unique blend of legal prowess and business acumen. Her approach, as the Managing Partner of Deandra Grant Law, showcases her dedication to not only managing cases, but also molding the strategic direction of her firm.
Her leadership prowess is evident as she fine-tunes case strategy, meticulously reviews pending cases, and collaborates with her team. Her focus on trial preparation underlines her commitment to excellence and readiness. In her own words, she "leads from the front," a testament to her unwavering commitment and resilience in the dynamic world of law.
While her professional life is bustling with responsibilities, she has not lost sight of her personal goals. A notable one is her desire to further expand her team, aiming for a ten-attorney ensemble by 2028. Furthermore, she harbors aspirations of operating remotely from Belize by 2029, a testament to her commitment to maintaining a healthy work-life balance, a quality as admirable as it is rare.
Her unyielding pursuit of knowledge distinguishes her from her contemporaries. Whether it's through attending seminars, reading incessantly, or encouraging learning among budding lawyers, her zeal for education is unmistakable. The simplicity of her mantra, "work hard," belies the immense power it holds, reinforcing the essence of perseverance in the quest for success.
On the horizon, Grant envisages her firm growing further, marking more territories in the legal landscape. The thought of bringing more attorneys on board illustrates her willingness to harness fresh talent and new perspectives. It's a clear indication that she values growth – personal, professional, and organizational.
This comprehensive narrative of Grant's journey offers a glimpse into the life of an accomplished legal professional. She continues to inspire many, embodying the essence of hard work, tenacity, and continuous learning. Her story is a testament to the fact that with determination, clear vision, and a little audacity, one can scale impressive heights in their chosen field.
In conclusion, Deandra Grant represents the epitome of modern leadership in the legal profession. Her journey is filled with invaluable lessons for aspiring lawyers, young professionals, and even seasoned practitioners. From the way she handles her role at her firm to her future ambitions, she sets a sterling example. A key takeaway from her story is that the pursuit of excellence, coupled with relentless hard work and an insatiable thirst for knowledge, can propel any professional to dizzying heights. As we continue to watch her ascend in her career, there's no doubt that her story will continue to inspire, motivate, and educate future generations.