Carissa Reiniger: Being the She in Shepreneur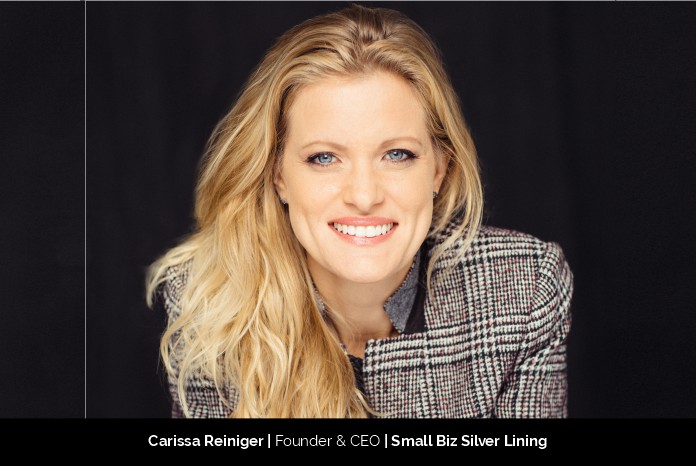 Over the past 13 years, she has been a millionaire and almost bankrupt. She has been on the cover of major publications, and she has dealt with lawsuits from people trying to put her and her business down. Her journey is a marvelous mixture of ups and downs, and she wouldn't trade any of the experiences that entrepreneurship has offered her with anything else on the world.
The Shepreneur is proud of the fact that she has employed people in 15 different countries and has helped over 10,000 small business owners across 14 countries to become more profitable and sustainable. A striking total of 80% of small business owners who have used her program have hit their financial goals and objectives.
Meet Carissa Reiniger, the Founder and CEO of Silver Lining. Carissa is an extremely dedicated entrepreneur and growth expert who has helped various small business owners succeed through her inspiring programs and ideologies. On a personal level, Carissa is extremely committed to building a lifestyle that includes all the basic amenities of life – rest, travel, good health and a lot of family time.
Continuously learning, tweaking and adjusting
Although Carissa was very clear and adamant of wanting to make a difference and help people, she did not grow up thinking about being an entrepreneur. But today, she believes that owning a business is one of the most powerful ways of making an impact. However, back then, according to her, "Ignorance was bliss."
She was young and inexperienced and honestly just wanted to help small business owners who were struggling to make money in their endeavors. At the age of 22, Carissa had started Silver Lining. With ties with various corporate people who have sacrificed their passion to make money and small business owners who have sacrificed money to pursue their passion, Carissa decided it was time to make money and do what she loved while helping others happy and satisfied.
Today, Carissa is proud of her 22-year-old self who saw a problem and decided to do something about it! "I have come to realize that there is no such thing as life – that all of us need to keep making the best decisions we can, based on the information we have at any given time. The secret is to continuously learn, tweak and adjust over time," Carissa exclaims while speaking about her past.
A personal development journeys.
For Carissa, building a business was a serious journey of personal development. Prior to Silver Lining, everything she had done had been successful and she had never had to bear the full responsibility or the burden that comes with being an entrepreneur.
At the onset, she believes she made many mistakes but was too embarrassed to ask for help when she needed it the most. It took her about five years to realize that she had to give up on this idea of being perfect and try to let go of her pre-conceived notion of knowing everything!
She allowed herself to become vulnerable and started to ask for help. The impact of something so simple was tremendous on the success of her business. More importantly, figuring out that everyone needs help, even her, opened her eyes in a powerful way. She no longer felt alone, and, through this process, she has created and strengthened ever-lasting relationships with her partner, friends, family, and staff.
Helping achieve financial peaks.
Carissa started Silver Lining in 2005 on a mission to help more people make money doing what they love. She developed the Silver Lining Action Plan (SLAP) methodology – which is a 5-step process that helps small business owners by acting out their very own business CRM and growth training platform. "Think of it as your very own control center to get an overview of the health of your business at any given time! Receive in-depth behavior analytics and reporting and start making data-driven decisions that will concretely help you reach your financial goals," Carissa shares.
She is extremely grateful to have been able to touch millions of small business owners through her Global Movements like Thank You Small Business, which was all about supporting and celebrating the tenacity, passion, and commitment of small business owners.
Last year, Carissa's company launched its Silver Circle Economic Justice Initiative and collectively they have already raised over $200,000 through funding. Silver Lining promises to match this numerical figure and offer small business owners across under-resourced neighborhoods the opportunity to go through its program, that provides a platform for all regardless of one's gender, race, religion or location.
Inspiring entrepreneurs through penned down words of wisdom
Alongside spearheading Silver Lining, Carissa serves as an advisor, investor and a board member of numerous other businesses. She wrote her first book in 2008 called Stories from Our Black Books and ended up turning it into a company that included a play version of the book. Since then, she has written four other books titled, Inspiring Entrepreneurs: How to Build Your Business to Its First Million, I Will: The Mentality and Systems of an Entrepreneur Who Gets Things Done, Thank You Small Business.
However, her experience of writing books has been a lot different than many of her friends'. For many people, it is an arduous, complicated process. But Carissa approached it very practically. "For all the five books, I blocked out a week, put myself in a room at a retreat center and got a first draft complete before I left. Then I did edits with the help of an editor. I self-published with the help of a company who takes care of all the logistics, and I launched a marketing plan to sell it. I focused a lot on bulk sales instead of just one by one – and all in all – it was a pretty easy and fun process. I am working on my next book now and following the same process – it works!" Carissa recalls.
Curious, Passionate and Driven to Succeed
When asked if she has achieved all that she had desired, Carissa passionately exclaimed, "Of course not! If you are someone who is curious, passionate and driven – you will never learn and accomplish everything you would like to. I see a massive world, with hundreds of millions of small business owners who are not realizing their full potential, incredible economic injustice and so much work left to do! Every time I hear success stories about one of our small businesses who is exceeding his goals when I see a shift in our data that tells me one of our small business collectives is starting to perform better or even when one of our team members is excelling, it makes it all worth it. That is when I know for a fact that all my hard work is paying off! I used to think that there would be a moment where I felt like "I made it." Now, I believe it's important to celebrate the progress and accomplishments every single day but also to hold space for what is left to do."
Committed to economic justice.
Going ahead, Carissa and her team at Silver Lining will continue to double down on their product development, continuously thinking about how they can leverage the power of technology to increase value and remain accessible for small businesses. Moreover, the company is exploring many new ideas at the moment including an online small business bank, using personality assessments to customize the experiences of customers and introduce data analytics in the mix to help small business owners see the relationship between their actions and their results.
Personally, Carissa is incredibly committed to economic justice and sees herself continuing to run Silver Lining and investing significant company resources into her newly launched Silver Circle Initiative to help small business owners from under-resourced areas to get equal access to knowledge, technology and financial help.