Terri Braun: Fitness is the Catalyst for Transformational Change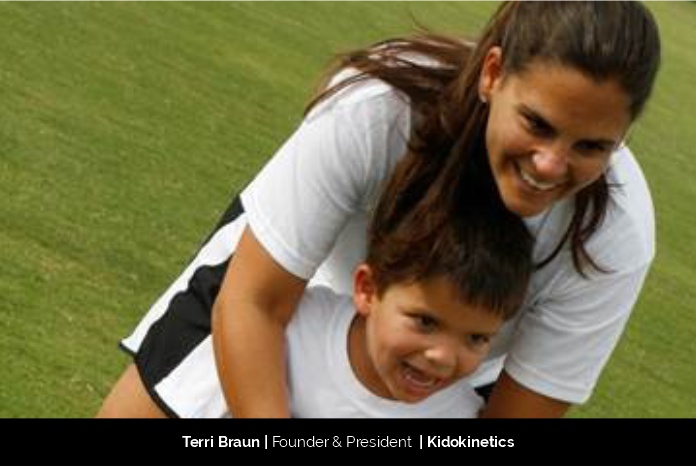 Any entrepreneur who has succeeded has momentum within themselves. The more they tend to draw on the scale of succeeding, the more they want to succeed further, and the more they find a way to succeed without turning back. On the contrary, when someone is failing, the tendency is to get on a downward spiral that can even become a self-fulfilling prophecy. Upon seeking her definition of success, Terri Braun who is the founder and president of Kidokinetics exclaims that success to her is waking up every day and realizing that she is doing something that she longs to do and is wholly passionate about, in her case, it's changing the viability of her children. She reckons that her family, her husband, and her three children are the major chunk of her successful journey. She adds that their constant support and belief pushes her to walk more than where she was yesterday. Leaving a meaningful impact on your surroundings doesn't matter if those individuals are associated with you directly or indirectly are the pavement of success. Having all the factors aligned, success is just working out to fall in place. Her true success was starting her own business with negligible monetary consideration and building it up to where it is today is what counts as her accolade of success.
The robustness measure for kids:
It is evident that outstanding leaders travel an indistinctive path just to boost the self-esteem of their personnel. If any such similar individual develops faith in themselves, it shall be bewildering to witness what accolades they can accomplish. Upon seeking the foundation of her passion and what led her to commence her own venture, Terri claims that she had a passion for teaching children and she always wanted to create a difference in their viability. Her main goal was to ensure that every child was competent at all the sports activities and are physically fit so that there shall not be an opportunity when someone makes fun of them. She wanted to build a wall of confidence and empower them to make them believe that they have the potential to do anything and everything. She reckons by stating that individuals who are adults have their option to visit the gym and workout to stay fit and also release stress which children have no access to. She also states that while she was training, teaching, and competing in karate from a young age, she realized that not every child would want to do karate and that's what lead her to develop a program where kids can learn different sports and still focus on coordination, concentration, discipline and get so much out of what they are doing.
Redefining her height of triumph:
It is inevitable that major of the success takes place outside the comfort zone. Terri has had also encountered several boulders and roadblocks along the way of her entrepreneurship journey. Her major provocation was losing her mother to lung cancer the same year she was launching Kidokinetics Franchise. She strongly believes that an obstacle shall never be easier but could be met paralleled if you encounter them, following this, it has developed a "never give up attitude" into her nerves. Her series of challenges also includes her unconventional height of 4'11 and any individual doesn't always take their wisdom on a serious pitch. "If I could do this all over again I would. I would not reverse them as I think most of my mistakes have been learning curves and learning opportunities and made me resilient and successful.", Terri, shares.
There is a very rare stance of developing such core values that incessantly drive an individual to stand on the most difficult circumstance even when they are facing the stark realization, that they will likely perish in the standing sooner than later. On the contrary, in the most rarer realm, there is still evidence of those individuals who will surrender all to protect such principles. Yet, the rudimentary principles of following the passion and liberty pristinely untarnished by greed and selfishness took captive the hearts of indistinctive individuals and raised this entrepreneurship up from untamed wilderness and unchecked tyranny. And let those undimmed be warned that without renewed adherence to these principles, they will rapidly return this entrepreneurship to the untamed wilderness and unchecked tyranny. Upon reflecting on the core values that Kidokinetics is adhered to, Terri surfaces us on them:
Fair Play – She believes that everybody gets to play, and everyone is treated with equal respect whatsoever.
An attitude of Gratitude – She strongly condemns that we shall be grateful for getting the chance to work with kids and entrepreneurs to improve the fitness of kids everywhere through amalgamation.
Inspire Action – We aim to inspire lifelong habits of activity, wellbeing, and success.
Respect – Treat all people with dignity and value the collective power of teamwork.
PLAY – If you aren't having fun you are not doing it right.
It is also evident from the point of view of entrepreneurs that sometimes the feelings of vision don't leave any room for fairytales. Terri shares her vision for her venture in a most subtle manner, she envisions building and expanding her organization into a large franchise system and she also is working her level best to get 1 million kids active each year in the field of sporting activities.
The happenstance of progression:
All of the successful entrepreneurs have had one characteristic in common: it was the willingness to confront unequivocally the major anxiety that their competitors had at the instance and overcoming them before they do. This, and not much else, is the essence of building a fortune 500. Drawing to her daily activities and her balanced day of personal and professional life, she claims that she usually wakes up before everyone does and makes sure to refresh her mail and ensure that there is no burning fire that is needed to be put out. Other than that, she rolls out to working out and checking in on her kids. She is working from home and she attempts to step out of her office and have lunch together with her kids if she is not too busy or vice versa. Other than that, her major activities consist of some teaching during the week, speaking with franchise prospects, and she is also currently working on a new re-brand and sooner shall come out with more details ahead as she progress. She likes to shut down her office at the end of the day and spend time with her husband and kids. In her concluding pearl of wisdom, If she has to define herself in one word, it would be "resilient!"