Lori O'Brien: Happy Customers make a Successful Business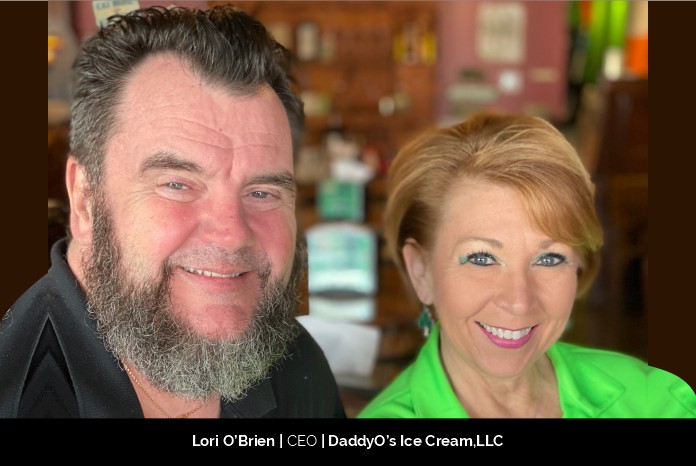 Franchising is a proven marketing strategy that is said to have the best results in terms of business growth. However, more than that, it is the vision that truly makes a business grow and thrive. Lori O'Brien, the Executive Leprechaun of DaddyO's Ice cream, LLC, was led by a defined vision to make happy customers by delivering outstanding services. Well, this inspiring vision has not only helped the growth of DaddyO's Ice cream, LLC but has made Lori one of the leading women in franchising. Franchising is witnessing an influential change with the rise of women in the industry and Lori shares her exceptional journey with us in her own wonderful words.
Every leader has a unique definition of success. Tell us about your thoughts about success and why do you feel that?
My definition of success is happy customers that come back time and again. Monetary success in the restaurant business is extremely hard to achieve. So money was not our goal. We have a unique product and watching our customers roll their eyes back and say "Oh my God! That is the best ice cream I have ever tasted" is success to me.
Leading a company to success is not an easy road to take. What inspired you to take the step of faith? What laid the foundation of DaddyO's Ice cream, LLC?
We are entrepreneurs and we have a talent for making the best alcoholic ice cream on the planet. DaddyO and I have always "walked on the water." We are used to taking risks. We knew our ice cream was "cold gold" so we are walking in faith again.
Challenges make you stronger. What is your take on this? What were the roadblocks that taught you valuable lessons in your professional journey?
There will always be challenges and roadblocks. So expect them. Challenges and Roadblocks are like the Valley of the Shadow of Death. With God, you will WALK THROUGH them. My philosophy is – if you believe in it, then JUST DO IT. Don't give up, be tenacious until you get what you want.
Tell us in brief about the services of DaddyO's Ice cream, LLC. Share with us your views on the franchising industry.
DaddyO's Ice Cream is our concept. It is a new, unique, hot concept of a restaurant that specializes in homemade gourmet alcohol infused ice creams. Our award winning recipes are created by DaddyO and are insanely delicious! We believe there should be a Daddy O'Brien's in every city and franchising is the way to achieve that. Anyone interested in a franchise can choose to do the full pub/restaurant/ice cream shop brick and mortar or they can do the Ice Cream Only concept. Our concept will be successful in any location that has great foot traffic and vacation/tourist areas.
What are the core values of DaddyO's Ice cream, LLC and how has franchising helped the growth of the company?
We value quality. Our customers always comment on the rich, creamy texture and the flavor of our ice cream. Our food is freshly made per order and MommyO has created each recipe. Soups, cakes, soda bread are all made from scratch. DaddyO uses the finest ingredients – when we give you pistachio, you get a ton of real pistachios, not some flavoring and artificial color. Franchising will grow our brand without sacrificing the quality of food. We chose not to open a mass manufacturing plant, but instead to have each of our franchises make the ice cream on site to preserve the quality of homemade ice creams.
As a visionary and a business leader, what is your vision for the company?
I envision Daddy O'Brien restaurants/pub/ice cream shops across the country in years to come.
Tell us about your life before DaddyO's Ice cream, LLC. I have always been an entrepreneur.
My husband and I started our first business in the 80's – a DJ service in CT. Then we moved to Atlanta in the 90s and started Atlanta Special Events, a full service event company. We have a great reputation for event planning and have won 7 Consumer Choice Awards and a Pinnacle Award naming us in the Top 25 Small Businesses in our county. I was also a professional vocalist and sang across the nation.
What has been the best recognition that you received in your career?
I was truly blessed when a delegation from Saudi Arabia made a trip to the USA to interview me as a successful woman owned business for Atlanta Special Events.
What are your responsibilities as the Executive Leprechaun at DaddyO's Ice cream, LLC? Walk us through your regular day at work. Also, define yourself in one word.
In the first couple of years, I came in to the restaurant every day, managing, scooping, waiting tables and basically running the business. Now that I have an incredible staff, I do not need to be at the restaurant every day so I can spend more time on building the business.
How do you maintain a balance in your personal and professional life? How do you keep your employees and yourself, motivated to deliver the best services?
I make sure I get up and go to the gym 3-4 days a week. That is my time. I try to visit my son and his family who live nearby and see my other son mostly on holidays and birthdays since he lives a little further out. DaddyO and I have created a loving atmosphere at Daddy O'Brien's and it spills over to our employees and customers.
What are your plans for the future of DaddyO's Ice cream, LLC in franchising? Also tell us about your personal goals as a businesswoman. What is your message to aspiring businesswomen?
I hope to get several franchises going on my own and then hire an ambitious person to take over the training, sales, etc. that will grow the business. I am getting close to retirement age so I have achieved my goals of being known as a businesswoman who gets what she wants. Tenacity is the key. Never give up and JUST DO IT.
As Lori inspires us to 'never give up', she has epitomized this quote throughout her professional journey. Well, as for the future, she looks forward to leading customer centric business and success will just follow.