Emma Dickison: Raising the Standard for Exceptional Home Care.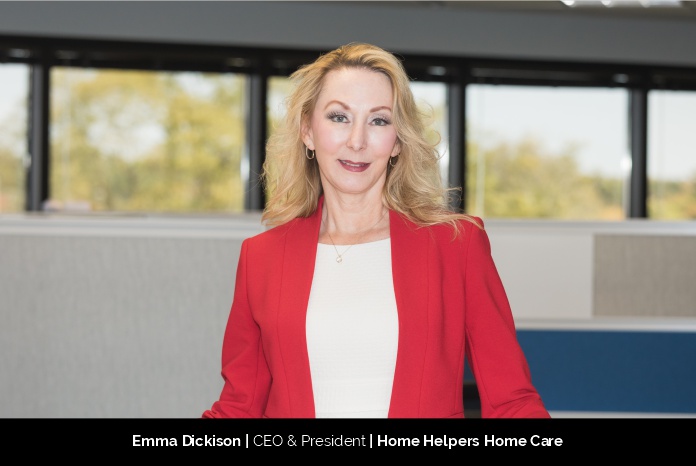 "When you believe in what you want to do and know passionately you are the right one to do it, there is a compelling force that drives you. It makes you bold and willing to take the leap of faith." – Emma Dickison. Emma Dickison's belief that Home Helpers® Home Care can be truly exceptional and provide dignity and independence for people who need assistance is the driving force that compels her dedication.
As CEO and President of Home Helpers Home Care, Dickison sets a bold vision for the organization, driving growth and excellence in a growing industry. According to her, success is not an easy road. She shares, "I am reminded of a picture I keep in my office. It is a picture of a ballerina from the shins down. One foot has her ballet slipper on, all neat and beautiful. The other foot is bare; it shows the bruises, cuts, and bandages. The caption reads. Everyone wants to be successful until they see what it takes. Anything you want to achieve in life will be through hard work; otherwise, you are simply average."
Her story is a true inspiration of hard work, dedication, and the passion for bringing change with world-class home care services. Knowing that leadership requires vision, commitment, and empowering her team, Dickison continued to expand Home Helpers. Right now, Home Helpers has agencies in 41 states serving more than 1,000 communities in North America with the help of her brilliant staff.
Home Helpers® Home Care – A Truly Comprehensive Care Model
"To lead in this industry requires a competitive advantage. When you ask our clients what makes Home Helpers exceptional, you will undoubtedly hear it's our Caregivers. We take great pride in hiring professional, experienced, and compassionate people who are called to serve. Then matching clients and Caregivers both based on the needs and interests of the client. This incredible process of matching clients and Caregivers creates a truly unique bond between them," shares Dickison. "There is no question that I am proud and humbled by the work of our Agencies and Caregivers. And as the CEO, I want to be sure our care meets the needs of our diverse client base."
Home Helpers® Home Care provides in-home care for seniors and those recuperating from illness or surgery, individuals with different abilities, and new and expectant mothers. This care includes companionship as well as personal care. "Our personal care services are the key to maintaining independence and preserving dignity," continued Dickison. Personal Care consists of all matters from feeding, dressing, bathing, and more. Personal care is just the beginning – Home Helpers rounds out their service offering with reliable transportation, meals and wellness, medical and non-medical monitoring solutions, and wellness calls and reminders.
Dickison shared, "To fulfill on the goals of preserving independence and dignity has meant we've had to add to our service offering. At this point, I believe that Home Helpers offers the most comprehensive care program in the industry."
It all starts with an In-Home Care Assessment; this is a free service we offer to all prospective clients. By assessing physical, emotional, and cognitive needs, every Home Helpers agency develops a fully Customized Care Plan.
"Each Customized Care Plan starts with our Exceptional Caregivers. Our Caregivers undergo extensive training to ensure safety, especially as it relates to dressing, bathing, mobility, sitting, standing navigating stairs and bathrooming."
From there, Home Helpers can layer in as needed:
Nutrition planning and preparation – including meal planning, shopping, and meal preparation. Home Helpers also offers ready-made meals to help provide additional support when a Caregiver may not be in the home.
Wellness Calls & Reminders include medication reminders, hydration and meal reminders, morning or evening check-ins, and companionship calls. Failure to stay hydrated and/or take medications are 2 of the leading causes of preventable hospitalizations.
Monitoring services – Home Helpers® Home Care offers a proprietary monitoring service that provides emergency response, biometric feedback, and fall monitoring to ensure care is only the touch of a button away when our Caregivers are not in the home.
"With this mix of services, our clients are truly cared for. Our comprehensive care plan can truly make the dream of aging in place and living independently become a reality for many. These services, in addition to our exceptional care, enable us to help support more complex care needs ranging from Alzheimer's and Dementia, Parkinson's, and individuals managing chronic illness."
Maintaining a Leadership Position
Every entrepreneurial journey is marked with challenges to the growth and improvement of the organization. When asked about her thoughts on getting ahead and maintaining that leadership position, she shared what she believes has led to her success.
"No path to success is simple or easy. The challenges we each encounter enhance our abilities, force us to adapt and innovate." She adds, "I have been fortunate to have cultivated a circle of trusted advisors that fall into four categories: a counselor, a challenger, and cheerleader, and a chaplain. As I mentor people today, I always suggest they work to identify these individuals in their life. It is important to surround yourself with a group that will challenge your creativity and mindset, stretch what you think is possible, keep you true to your moral compass and cheer you on!"

Achieving work-life balance with finesse
"My role as CEO is to work with various stakeholders to achieve the company mission, vision, and strategy while driving the organization's enterprise value. This requires relentless effort and a tremendous time commitment."
Dickison believes that to take care of others, you must take care of your own well-being. Inspired by the famous adage, "Healthy mind resided in a healthy body," she follows a structured regime to get the most out of her day. She exercises daily to keep her body fit. She shares that regular exercise allows her to maintain good physical and mental health. It allows her to re-energize her body with positive energy, which favors her emotional and spiritual health.
Being backed up by strong faith to help others, she steers her business to incorporate new ideas to help the community. She treats her business as a family and motivates her team to grow together without leaving anyone behind. She believes that, together, they can come with better solutions to tackle every problem and do good for the community. Helping each other in the family will reciprocate, and together they will climb new heights of success.
Leading passionately towards a bright future
Qualities like Teamwork, Integrity, Quality, Customer Excellence, and Diverse Team involvement are the core values of Home Helpers® Home Care.
"As a highly respected, national franchise brand, the business model is proven. Franchising allows us to bring this essential service to more communities," said Dickison. "We're proud to have had such success, both in growing the company's revenue and footprint. We must continue to employ a strong spirit of innovation as we continue to grow, add new service offerings and gain market share as we approach the next 20 years." It is evident in talking with Dickison and her team that the principles she shared in this interview are valued throughout the organization and inspire future generations' innovation.