Jennifer Desloges: The drudgery and perseverance of stomping the Franchise Industry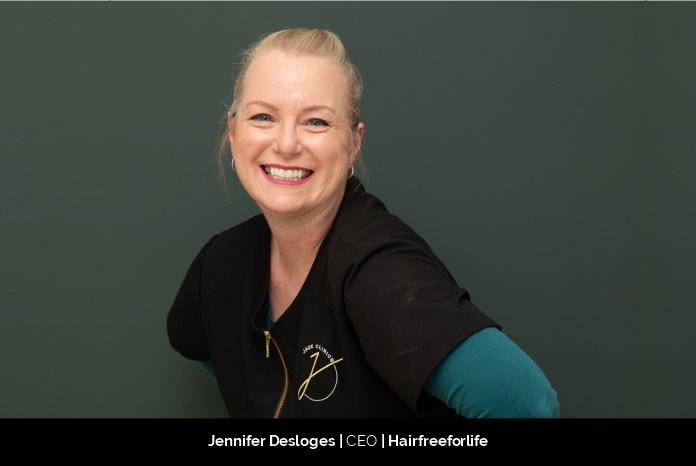 Any individual who chooses entrepreneurship over any professional pursuit isn't someone who finds their paradigm in recluse rather are someone who is a visualizer and actualizer. They have the tendency to visualize indistinctively and the moment they sacrifice their idiosyncratic nature, they build automation of the entire process to market ahead. In a conversation with Jennifer Desloges who is the Founder and President of Jade Clinics proclaims her definitive meaning of success wherein she believes that being successful means that everybody who is directly or indirectly associated with the organization including their clients/franchises/practitioners/staff and vendors is happy with the quality of service and support they are perceiving and the organization is providing.
It is evidentially a matter of being convinced that a major portion of the pie that distinguishes between successful entrepreneurs and non-successful entrepreneurs is the outcome of their own struggle and perseverance. There is a similar incident that has had led Jennifer to discover this profession while she was indeliberately struggling with her unwanted hair. The outcome of the realization she has had encountered and the moment of discovery that electrolysis has given her the passion to pay the mission forward and solve the problems for others struggling with unwanted hair and going through the similar pain she went once, marked the foundation stone of her commencement of entrepreneurial journey.
Any individual who has been in the constituent bubble and ecosystem of entrepreneurship journey knows and believes that their work shall fill in a major portion of the viability and the only measure that can be converted into a successful action is to truly and madly work on something that brings satisfaction and outcome that has the potential to create a huge impact on all others viability who are directly or indirectly associated with the bubble mentioned. This result shall only be attained if the entrepreneur is able to perform the great work with utmost passion and dedication rather than forcing themselves to work for wherewithal. If they haven't found it yet, they should continue to skip and keep looking. They should never settle because they need to. As with all matters of the heart, they'll know when they have found it since that won't smell like regret ever. The hugest boulders that Jennifer has had encountered after she found the smell of her passion that has captivated her brain was to have to work in private practice for the commencement of her career. She exclaimed that it was difficult for her to transition to leading a group of practitioners on a recurring basis. She has had spent approx 2 years making mistakes and educating herself on how to lead effectively when she is on her own at a later date, and to this day she is still learning. She quotes further as a source of motivation that, "Roadblocks though challenging at the moment are opportunities to grow, learn from and improve."
The quality attained through the utilization of a product or a service by the end consumer is not what the supplier or the manufacturer has instilled or put in. It is the notion of what exactly the end consumer is able to attain through the utilization and the monetary consideration they are paying to obtain it. There are multitudes of factors that cause this differentiation since the quality that is obtained and not instilled in any product or service is because it is hard to make and costs a lot of money, as manufacturers typically believe. Upon sharing the range of products and services of Jade Clinics, Jennifer states that her venture is offering more than just electrolysis hair removal services. With the introduction of variants of new offerings and services on the list like body sculpting and skin rejuvenation services, Jade Clinics is disrupting the franchising service industry at a rapid pace.
It is often advised to an entrepreneur that whenever they have had made their mind to do a thing, it is inevitable that though it can never be known but to themselves, they should often ask themselves how they would attempt to act if the entire universe has had set their eye looking at them, and act accordingly. Reminiscing her core values of the organization, Jennifer mentions a few pointers for our perusal:
We value every client relationship.

To be honest and have integrity in EVERYTHING we do.

To educate thus providing comfort and clear expectations.
If an entrepreneur has had made a pact that they shall be aiming to attempt and are going to achieve excellence in big things, they also have to develop the habit and amendments of the same factor in little matters. Excellence is not an exception, it is a prevailing attitude that is practiced without failure to not deviate from the aim. In her pearl of wisdom, Jennifer exclaims that Franchising gives them the opportunity through rigorous training of a committed individual to duplicate their hard work and success in the market that works best for them, without physically being in every franchised location ourselves. The opportunity for growth in the franchise model is what attracted them to this system and they are thriving hard to be the best in it.
There is no entrepreneur in the spectrum of business that has been able to lay the foundation of a great business if they want to perform all the activities and line of actions and keep taking credit individually. Jeniffer mentions that her employees and franchisees are granted a very high level of autonomy when they join Jade Clinics. They have full control of their schedule, allowing them to choose which days they are willing to work and the hours of the day they prefer as per their convenience. They rely heavily on the amendments of the recruitment process while selecting the individuals that can thrive with this level of freedom. The training builds heavily on these personal characteristics to thrive. At the end of the day, their clients keep them honest and are the best motivation. This according to Jennifer is extremely rewarding, when a client tells her that she has changed their life in a positive manner. Marching ahead to her roadmap, Jennifer proclaims that she is planning ahead to award 3 franchises a year till they hit 25 total franchises. At this stage, she is planning on reinforcing her head office operations by hiring a qualified support team, with the ultimate goal of retiring. She is looking forward to fulfilling her dream of doing this by 2027. In her conclusive pearl of wisdom for all the aspiring woman entrepreneurs, she leaves them with this simple message: "Never let anyone decide your future for you, follow your passion and break down every wall that is stopping you from fulfilling it and never look back."