Laura Rea Dickey: Leading the Franchising Industry with Innovation and Intellect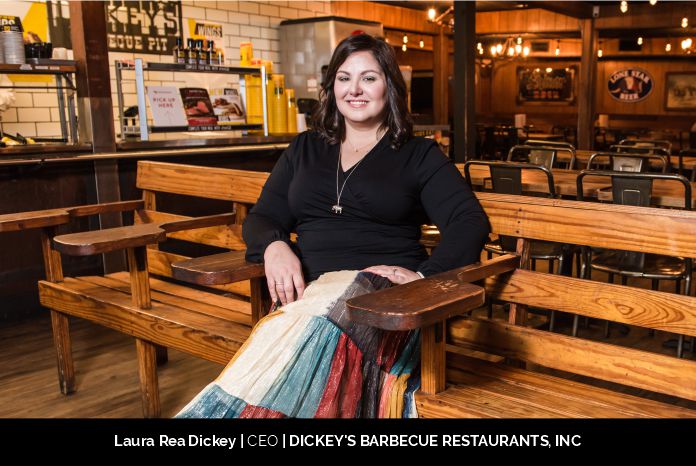 When Laura Rea Dickey, the CEO of Dickey's Barbecue Restaurants, Inc. stepped into office, she knew that she had a legacy to carry on. She not only outshone her capability as a woman in lead but also extended the company with her knowledge and experience to 500 successfully running locations throughout the US. Laura has received several accolades for her phenomenal contribution in the franchising industry and is spearheading into the future to make Dickey's Barbecue Restaurants, Inc. a global brand.
Every leader has a unique definition of success. Tell us about your thoughts about success and why do you feel that?
Success is positive impact that is seen, counted and then felt. True success is when you can see the difference something or someone is making, then you can measure its impact and finally you can feel the importance or improvement in the business, the brand or the team.
Leading a company to success is not an easy road to take. What inspired you to take the step of faith? What laid the foundation of Dickey's Barbecue Restaurants, Inc.?
Dickey's Barbecue Pit started as a dream and a passion for slow-smoked barbecue for Travis Dickey in Dallas, Texas in 1941. Since then, the world's largest barbecue chain has grown to over 500 locations across the United States and internationally.
When Travis Dickey returned home after serving his country in World War I, he turned his love of authentic, slow-smoked barbecue into a business. Travis worked the butcher block while Miss Ollie Dickey served sandwiches. The menu was limited to beef brisket, pit hams, barbecue beans, potato chips, beer, bottled milk and sodas. The original Dickey's Barbecue Pit location in Dallas, Texas is still open and serving guests today.
Travis' son Roland Dickey stepped in to run the family restaurant in 1967 after his father's passing. In 2006, his son, Roland Dickey, Jr., took on the role of head pit-master and CEO and later went on to become CEO of Dickey's holding company, Dickey's Capital Group. The 500 locations and counting are now spearheaded by Roland Dickey's daughter-in-law and CEO Laura Rea Dickey.
Challenges make you stronger. What is your take on this? What were the roadblocks that taught you valuable lessons in your professional journey?
Challenges and how you navigate them are absolutely the most important part of a professional journey. They cost a lot in learning, but they are invaluable investments for a better future. I've learned from a pandemic, a data breach, a sausage supply shortage, a failed tech launch, a set of badly handled meeting notes and a poorly written thank you letter. All have taught me the importance of being timely, assertive, detailed, flexible and humble. These challenges have also taught me to always be kind, have a sense of humor, and a pair of jumper cables.
Tell us in brief about the services of Dickey's Barbecue Restaurants, Inc. Share with us your views on the franchising industry.
At Dickey's, we make food meant to be shared over conversations, laughs, celebrations, and playoff games. We pride ourselves on cooking authentic, craftsman-style barbecue and comfort food that the whole family can enjoy. And we make it easy, too. Between dine-in, take-out, delivery, holiday meals, and catering, our guests have endless ways to get a hold of Dickey's famous barbecue. Our tender meats are slow-smoked over hickory wood for up to 14 hours and we are committed to sourcing high-quality meats that are anything but artificial. Franchising is a great way to grow a business and brand as you have committed, aligned partners and a shared roadmap.
What are the core values of Dickey's Barbecue Restaurants, Inc. and how has franchising helped the growth of the company?
Dickey's core values are:
1. Serve as many folks as we can the best barbecue possible every day
2. Grow our family and our fans
3. Share our story
4. Do both well and good in the communities in which we do business
Dickey's is in both the food and the people (folks) business and we have to have the best of both for continued success. This is particularly important and true when inviting franchisees into our family. Our owner/operators have been instrumental in helping us have a personal, authentic presence in so many new communities.
As a visionary and a business leader, what is your vision for the company?
Dickey's digital investments coupled with a strategic approach to building sales have positioned the brand to achieve same-store positive growth throughout the pandemic, so Dickey's has a ripe future. In addition to stellar domestic growth, Dickey's just announced a letter of intent to open 50 locations in Australia. International expansion has been a focus for the brand, with expansion also planned for Pakistan and the Republic of Georgia. Dickey's already has overseas agreements in Abu Dhabi, Dubai, Brazil and Egypt.
Tell us about your life before Dickey's Barbecue Restaurants, Inc.
Laura Rea Dickey has worked in the marketing and information technology fields for over 20 years, and has led the marketing, IT and training teams at Dickey's Barbecue Restaurants, Inc. during her time there.
After graduating from Texas Christian University, Dickey went on to work at agencies such as Murray Brown Creative Group, The Richards Group and The Point Group. Through her years of agency experience, Dickey worked with brands such as W Hotels, American Heart Association, Blue Mesa, la Madeline and Chick-Fil-A. Dickey also led marketing for the Student Housing portfolio for Fairfield Development. Dickey's specialty is the intersection of technology and marketing, turning data insights into brand and business solutions.
Dickey was named to the 2019 Nations Restaurant News Power list. She has been named among Fast Casual Magazine's Top 25 Mover and Shakers executive list for the past four years. Dickey was recognized by The Dallas Business Journal as a top Woman in Technology award recipient in 2015. Dickey was also named to D Magazine's Top 500 CEO's list for 2019. Dickey received the Lifetime Achievement Award from Hospitality Technology in 2019 for her work utilizing Amazon's voice technology in restaurant operations in partnership with IOLAP. Additionally, she has shared her expertise and business acumen to a national audience on Fox Nation, Fox News, CNBC and Cheddar. Dickey serves on the board of the non-profit, The Dickey Foundation that supports first responders and their families.
What has been the best recognition that you received in your career?
Our restaurants and our food bring people together and serve as a place for friends and family to gather and celebrate important moments, whether that's something big or an everyday dinner. It's so impactful to hear how we've touched people. I received a hand-written thank you note for a wake we catered, and a personal thank you email from an operator who had been in a challenging situation but had turned a corner. I've also received a letter from a mom who was sharing that her son's only request after being deployed was to have his first dinner home in five years be Dickey's and he loved it. A picture of a Christmas Tree made from Big Yellow Cups in Scottish Rite Children's Hospital just warmed my heart. We love being a part of the communities we serve and seeing how we've been able to do well and good makes everything we do worth it.
What are your responsibilities as the CEO of Dickey's Barbecue Restaurants, Inc.? Walk us through your regular day at work. Also, define yourself in one word.
As CEO, I'm responsible for steering and overseeing the direction of the company, fueling growth and stewarding resources. My daily routine consists of emails, coffee, meetings, coffee, Zoom call, coffee, restaurant visit, coffee, emails, coffee, meeting, tea.
One word that describes me is curious.
How do you maintain a balance in your personal and professional life? How do you keep your employees and yourself, motivated to deliver the best services?
Work life balance is a myth. You constantly have to prioritize, balance, make trade-offs, and steal minutes. You have to decide the most important things each day and give those your time and attention first, then get to as many other things as possible. But I do read for at least one hour every day and spend 30 uninterrupted minutes with our two pugs.
I hire motivated folks; motivation comes from within, no one else can give that to you or do it for you, but I do share transparently our commitments, progress and why what we do matters daily.
What are your plans for the future of Dickey's Barbecue Restaurants, Inc. in franchising? Also tell us about your personal goals as a businesswoman. What is your message to aspiring businesswomen?
Never worry about being the only woman at the table, just focusing on being the best at the table and be nice to everyone. You will never regret being kind. Also, I look at the single biggest advantage a competitor or an advisory can give you is to underestimate you; so, if that happens because you're a woman take the advantage as a gift, they'll never see your success coming and you'll floor em. Then smile and wave as you pass them.