Sudipta Sarkar: Bridging the Gap Between Consumers and Brands with AI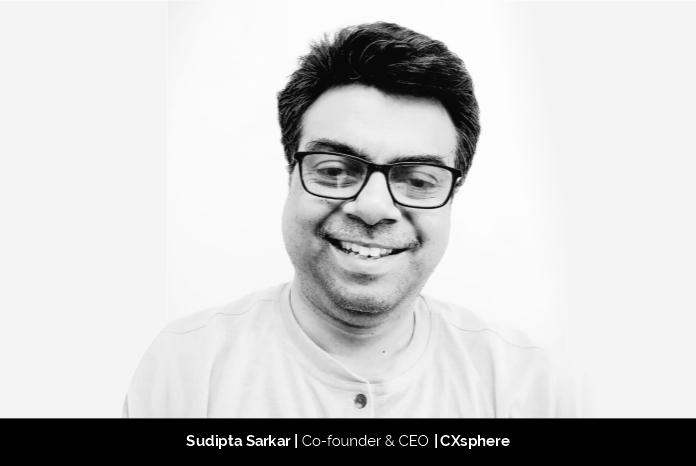 Online commerce is the new norm. The customer is engaged with a particular brand, from initial awareness to post-purchase care, through a computer screen. It is a challenge to keep the customer engaged while maintaining complete privacy. This challenge inspired Sudipta Sarkar, an INSEAD business school alumnus and a technology industry leader by vocation, to conceptualize CXsphere. As a co-founder and CEO of CXsphere, Sudipta knows that is imperative to build next-generation commerce solutions by bringing brands and customers closer together.
Life Before CXsphere
Sudipta started his career as a Civil engineer but soon was drawn to the opportunity of Information Technology. He pushed himself to learn both the business and technology side of the industry.
Over the course of his career, he has held several engineering roles, shouldered managerial responsibilities, dealt with customer engagement, handled product management and developed digital technology. His career has also provided him the experience of living and working in eight countries across three continents. In very practical terms, every new country throws up challenges in terms of integrating with the unique elements of local culture. This has broadened his perspective and made him stronger as an individual and a professional.
Foundation of CXsphere
Throughout his career, he has focused on the real-world applicability of innovation. His early exposure to customer experience and intelligence opened his eyes to the opportunities that existed. Along with a classmate, Sudipta conceptualized CXsphere. The idea took further wings when they met their third cofounder in Canada. They were the top finalists in the Irish government's international startup competition among thousands of startups. They gathered a team of senior professionals who were willing to contribute to the cause and CXsphere started moving. From there they initiated their work and found very positive market validation for what CXsphere is building.
CXsphere works with a globally distributed workforce and customer base. So Sudipta has to interact with the team and clients in Asia. Likewise, considerable attention is given to meetings and directional push with North American clients and investors. They also have fortnightly meetings to assess progress and to realign strategies to course, where required.
CXsphere: Helps Customers, Helps Brands
Through AI built with privacy and trust at its heart, CXsphere's tools give brands better analytics and greater data insights directly from people. Simultaneously, they also provide individual customers a more personalized commerce experience when interacting and buying from brands.
The product suite spans full engagement and commerce systems that helps brands:
offer more personalized customer engagement from AI-based prediction throughout the customer lifecycle
generate new customer leads through incentivized individual user activity
accelerate and capitalize on the convergence of digital and physical commerce to drive hyper-local commerce with more convenience for customers.

drive 1×1 engagement with end customers with consent and privacy at the core
Privacy In It's True Spirit
Today's customer experience is fragmented and sparsely compliant with customer privacy. There are more than 8000 Martech companies that are overly dependent on a mostly reactive and unidirectional customer engagement. CXsphere is changing that.
Trust and integrity are key factors in CXsphere. The company trusts every individual on the team. The vision of what they are trying to achieve is shared with all team members. They are encouraged to contribute to the core product offerings. To innovate consistently, innovative thinking must be embedded throughout the organization. This is accomplished by listening to the customer, hiring people with the ability to think critically with a product mindset, understanding the big picture vision and empowering people to experiment. This leads to improvements, both small and large.
Pace of Innovation
As a startup, CXsphere's survival depends on the pace of innovation. With a focus on addressing evolving customer needs, they have launched 4 new interconnected products that create value. Many companies focus more on their competitors and as a consequence, they end up becoming a follower rather than a leader.
Cxsphere's team employs a mix of professional and industry experiences that challenge conventional approaches. This leads to fresh thinking and the creation of new tools and approaches that drive innovation. While Sudipta is aware that they need to stay abreast of what the competition is doing, he firmly asserts on focussing on the customer. By having the right focus, they are aligning the company's output to meet the customer's needs.
Leading Through Innovation
"You look inward to draw strength from your mind and experiences when life throws a curveball at you. The more you expose yourself to reality, the more experience and circumstances you can draw from to get through tough situations", Sudipta exclaims.
He believes that success is about being able to challenge and break the perceived boundaries in one's own mind. It is the leader's responsibility to grow and guide the team through the journey of success, to the best of their abilities. To succeed, it has to be sustainable. This is achieved by helping others along.
He recognizes that the best recognition as a leader is when people look up to you for support and guidance. He feels great when people get back to him for advice and feedback even if it has been many years since your last interaction. He states, "This is a very big recognition, and it humbles you in the process."
Big Picture Keeps You Motivated
Sudipta has his share of indulgences which keeps him balanced. He is an avid chess player, occasional cook and an amateur painter. He loves to travel and has a newfound interest in movies and music. Cxsphere's big picture and its possibilities keep him motivated. He believes that sharing the vision and roadmap with the team is crucial. In a startup, the cause is bigger than anything. Cxsphere has an exceptionally motivated team that has always delivered high performance. This has done wonders for the enterprise. The team is aware that they will also reap the rewards as Cxsphere grows.
Conquering The Global Ecosystem Of Commerce
CXsphere intends to be the global ecosystem of consent-driven customer experience and commerce. They aspire to focus on growth across multiple countries in the next 12 months.