Leigh Rust: Creating Legacy in Product Manufacturing by Providing Quality Air Solutions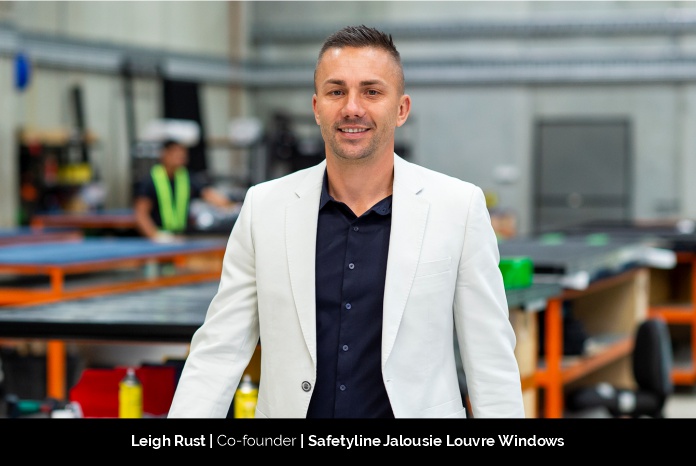 Entrepreneurship is the game of risktakers who have great self-confidence and want to create something unique to call their own.
Leigh Rust, the Co-Founder and Director of Safetyline Jalousie, started his louver window manufacturing company to bring advancements in a range of built environments their products are used in.
Mr. Rust was raised in a family of business leaders and entrepreneurs. He says, "Business and entrepreneurship have always been ingrained in my family, which certainly shaped me growing up." After spending a decade working in their father's manufacturing company Vergola, Leigh Rust and his brother Nathan established Safetyline Jalousie.
Mr. Rust recalls the time when he considered taking over the reins of the company, before he realized that despite how far he advanced in the business, it would never be his own. He points, "This realization inspired Nathan and me to take a leap of faith and create something of our own – a decision we're proud to have made."
Safetyline Jalousie is an Australian-made and owned manufacturing company that produces high-performance louvre windows. Its louvre windows are based on a system Mr. Rust and his brother came across in France which they brought back to Australia to offer a niche, quality product the market hadn't seen before.
Mr Rust said the company's focus is on improving ventilation in the built environments their louvre windows are used in. Key benefits of louvre windows include a reduction in energy consumption and cost, which in turn reduces the carbon footprint.
By allowing for greater natural ventilation, Safetyline Jalousie's products also improve health, productivity, and learning outcomes. The company supplies products to various projects across the country government, schools, sporting complexes, housing projects, aged care facilities, and multi-residential developments.
He states, "Making moves towards greater sustainability is something we're passionate about."
Success Comes From the Way You Can Impact and Improve Lives
The measures of success are different for everyone. For Leigh, success is about freedom and the impact you're able to have in other people's lives as a result of being able to be present. This belief is something that's embedded at Safetyline Jalousie too. As a company, the team has always been passionate about being there for each other and giving back to causes close to their hearts like MND Australia and the Children's Cancer Institute.
He also considers, "I think a great sign of business success is about being known within your industry and leaving a positive mark. As a young manufacturer and entrepreneur, I am proud to be championing sustainability in Australia's manufacturing industry."
In defining personal success, Leigh says it involves maintaining a great balance between many facets of life including family, work, and fitness. He adds, "I'm passionate about personal and professional development and am always working on these areas of my life to become the best version of myself possible."
Overcoming Challenges and Adapting to Change
Mr. Rust believes that facing challenges makes you stronger in life. For business leaders and entrepreneurs, challenges allow you to develop new insights and perspectives that allow you to better navigate issues in the future. He adds, "Over the past 11 years scaling Safetyline Jalousie I've certainly faced a lot of challenges that have taught me some great lessons."
One major challenge the team at Safetyline Jalousie faced and overcame was the changes in building regulations that were introduced in 2019. When these changes were introduced, the team had to go back to the drawing board and re-design the company's product offerings. He says, "Working through this showed us there will always be external things in business you can't control. We also learned to monitor the industry closely so we could operate as proactively as possible, rather than reactively."
Covid also enforced the importance of adaptability and flexibility in business. Leigh said that based on the company's previous experiences, they were able to operate through this time of uncertainty with great success and come out in a period of growth.
Boosting the Economy through Supporting Local Manufacturing
With regards to adaptations in the industry, Leigh said he is passionate about seeing two changes. The first being to have more companies support Australian-made suppliers, and secondly, for people in the industry to consider elements of sustainability and long-term quality when selecting products, rather than making decisions based on cost alone.
Leigh states that off the back of Covid, there has been a greater focus on supporting local, Australian-made manufacturers something that helps to bolster the country's workforce and economy. He deems, "This is something we hope will continue well into the future."
Growth and Learning During the Pandemic
The pandemic created a great opportunity for growth for Safetyline Jalousie. As a local Australian-made manufacturer, the company could continue to transport its products on time as the company was not impacted by international supply chain issues like other companies operating overseas were.
Off the back of last year, Safetyline Jalousie was in a period of great growth. Mr. Rust states, "We recently moved into a much larger, 2,000sqm facility to accommodate this growth, we've launched a new product, and have plans in place to export to additional markets overseas."
According to Mr. Rust, the pandemic highlighted the importance of adaptability in business. He asserts, "I learned that the companies that can navigate these challenges well, and think on their feet, are the ones that'll come out on top."
He believes another thing that became apparent during the pandemic is the importance of frequently checking in on your team, especially when people are working across the country as Safetyline Jalousie's team does.
A Relentless Business Leader
Mr. Rust defines himself as a relentless individual. He is always looking for opportunities for personal and professional development. He finds it difficult to feel content if he is not striving towards a new goal and thinks it's this 'never take no for an answer attitude that has helped Safetyline Jalousie witness the great success it has to date.
As the Director of Safetyline Jalousie, Leigh oversees a range of departments in the company including operations and logistics, marketing, finance and accounts, office administration, business development, and sales. As the spokesperson for the company, he also speaks and writes on issues surrounding manufacturing and sustainability in a range of industry publications.
He asserts, "I'm also currently in the process of spearheading a global sustainability movement called Suppliers Declare, designed to connect suppliers and manufacturers as we work towards achieving shared objectives."
Balancing Work and Life's Responsibilities
Speaking on maintaining a balance between your personal and professional life, Leigh says that to achieve work/life balance, he divides his daily responsibilities into separate 'blocks' something that allows him to get the most out of his time. For instance, in the morning, he sets aside time for the gym, and when he gets home, he dedicates a few hours before work to be with the family; without being distracted by work.
At work, Mr. Rust works with the mindset that as he has a limited amount of time to get everything done, this makes him work productively and efficiently.
At the end of Leigh's days, just like before work, he dedicates time to be with his wife and three kids.
Future Trajectory and Growth
For the future of Safetyline Jalousie, Leigh plans to expand the company by adding new facilities and products. He says, "With our new factory, we're well equipped for great ongoing growth including new product launches and entering additional markets overseas."
Finally, he adds, "If the past 11 years are anything to go off, I'm looking forward to seeing what's next for the future of Safetyline Jalousie."