Marc Rippen: Providing life-saving aid to diabetic patients with Alertgy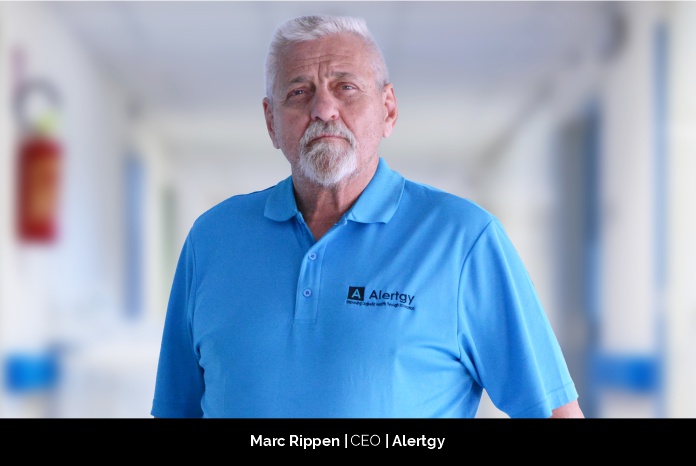 Climbing the ladder of success is not easy. One has to cross several hurdles while finding the next step to climb up. Marc Ripper, CEO of Alertgy, realized that only hard work, conviction, and resilience could create a difference between the two extremes. There is no substitute for making mistakes along the way and, most importantly, learning from them.
He expresses, "Success in life is refining your failures because they are the constant in business and life in general. But one has to have fun along the way because it's all about the journey. If one can't cry about it, one has to have the ability to laugh about it."
Journey to success
Prior to Alertgy, Marc handled different roles that allowed him to gain valuable experience and several arrows to his quiver.
He pivoted to the healthcare industry because of a personal tragedy. He found his wife nearly slipping into a diabetic coma and became unresponsive due to being in a prolonged low blood sugar state. No doubt, he managed to normalize the condition, but this incident sparked a fire in his mind. To protect his wife in the future and help others tackling the same situation, he took the matter into his own hands and marked the dawn of Alertgy.
Fighting diabetes with Alertgy
Alertgy provides the first non-invasive wearable continuous glucose monitor and alert system to measure the true blood glucose. It sets people with diabetes free from thinking about taking glucose measurements by allowing for fully automated, continuous monitoring with pre-set alerts for low or high glucose levels, as set by the user. The medical device and diagnostic industry are constantly growing and changing, with new technologies being introduced to the market all the time.
Marc adds, "We are entering a new era of medicine that will be significantly impacted by the incredible growth and breakthroughs in wearables, cloud-based IoT sensor systems, application of AI 10, and digital health. Our vision is to provide a product and service to save and improve the quality of life for diabetics and help those that are borderline diabetics from becoming diabetic."
Tunneling through every challenge on the way
In the initial phase of growth, the team encountered some roadblocks. Initially, they had to determine the correct placement of their device to maximize their accuracy and reliability over a long-term period. After this was established, they have focused on sensor development in order to get the highest quality data and stability within their device.
Marc mentions, "It is an ever-evolving process inside our research and development team. We will continue to improve our device to deliver the highest quality product to our customers when we begin manufacturing."
Then COVID-19 pandemic disrupted everything at a global level. However, Marc and his team smartly tackled the pandemic.
Everyone has learned that COVID 19 forced us to change the way we live, communicate, consume, and do business. Nowhere is this more evident than in healthcare. From the healthcare provider perspective, digitization of services has come to the forefront through the use of IoT, wearable diagnostic devices, and enhanced use of AI. The advent of telehealth with a focus on prevention is the real game-changer.
Marc states, "We feel that Alertgy is uniquely positioned to take advantage of the post-COVID-19 world. Our product DeepGluco is perfectly positioned at the crossroads of digital health, wearable diagnostics, IoT, and AI that can save the lives of millions of patients and, more importantly, help control the onset of diabetes among billions of people worldwide. "
Deploying smart strategies during the pandemic to push forward
Rather than fighting COVID-19, the team took advantage of the change. The diabetes monitoring industry is behind the curve and is ripe to implement Alertgy's technology to address a major unmet need in the mature market, a non-invasive, cost-effective digitally-enabled continuous blood glucose monitor and alert system. Millions of diabetics throughout the world need an easier and simpler way to manage and monitor their blood sugar without the pain and hassle that today's products bring. In the future, they believe they can reach new industries and customers by applying our patented technology to many other forms of diagnostics.
They focused on raising funding for their further development and clinical trials. The team feels that their technology continues to garner a lot of attention among the investors.
Marc states, "We were asked by NIH to submit a proposal to develop a device to allow for detection of Covid virus as this has been identified as a potential application for Alertgy technology. Alertgy can become a leader in diabetes care and diagnostics and monitoring for a plethora of diseases and ailments such as COVID 19."
Life as the CEO of the company
Taking the onus of the CEO of the company, Marc handles several responsibilities.
He adds, "I am responsible for finding each person's strengths, helping them achieve their professional and personal goals, and providing the vision that is needed to move the company in the best direction. "
On top of this, he is responsible to his investors for ensuring a reasonable return on their investment and providing the hundreds of millions of diabetics a system that will greatly enhance their quality of life and reduce the worry for their loved ones.
Achieving work-life integration
Marc values his family as he gets his constant dose of motivation from them. While spreading the roots of the company, he makes sure that he makes ample time for his family. He loves to spend time with his wife, children, and grandchildren.
Sometimes, he likes to travel on his own to refresh his mind and body and get ready for the upcoming challenges.
Future plans for Alertgy
Marc mentions, "We have a unique ability with our technology to significantly affect the lives of over 90% of the 420 million diabetics in the world population with a way to manage their disease easily and effectively."
The team provides them with an effortless means to measure their blood glucose continuously without the need for invasive and expensive systems. They will be pursuing an alert and surveillance application approval for this from the FDA.
Given that 1/3 of the world's entire population are borderline diabetics, Marc believes that Alertgy can help them better manage their lifestyles to keep them from becoming diabetic.
He expresses, "In the future, there is no limit to what our technology can provide in the way of monitoring and diagnostics. Published research indicates that our technology has the potential to track other metabolites and cellular markers within the body for other diseases that could pave the way for Alertgy to be a premier leader in diagnostic technology."