Petar Reshovski: Revamping the market research industry with Williams & Marshall Strategy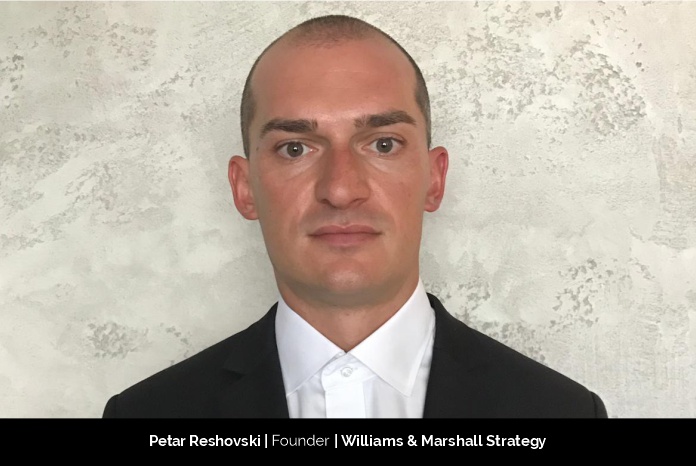 With over 11+ years of extensive experience in the market research and business consulting industry globally, Petar Reshovski, Founder and General Manager of Williams & Marshall Strategy is on his way of thriving innovation in delivering actionable insights to clients. The company helps its clients make informed commercial planning and strategic decisions that impact their business growth.
In this exclusive interview, we have shared the journey of Petar Reshovski and how his company Williams & Marshall Strategy is creating an edge over the market research industry.
Every leader has a unique definition of success. Tell us about your thoughts about success and why do you feel that?
There are many definitions of success, each applicable to the different stages of our lives as people and to the development stages of our businesses. In line with the goal of this interview and the immeasurable impact the pandemic has had over the world of business globally, there are a few definitions that first come to mind, which can actually be combined – Success is believing you can, overcoming fear and not giving up. This leads us to another great definition of success – it is learning something new each day. The pandemic has reminded us that there will always be unexpected bumps on the road but hard work, perseverance and improving yourself every day can lead us to overcome anything. Besides that, for me personally, success is doing what you love and learning something new each day.
Leading a company to success is not an easy road to take. What inspired you to take the step of faith? What led you into the market research and consulting industry?
Having crossed paths with the consulting industry early on in my professional life (in my first years of university), I have always been fascinated by it. It was very clear for me that this is what I want to pursue and I just had to figure out how. I accumulated quite some international experience while studying and then I just had to develop the necessary skills for success in this industry.
Challenges make you stronger. What is your take on this? What were the roadblocks that taught you valuable lessons in your professional journey?
Now I know from experience that success is not a good teacher, but failure is. In fact, there is no greater teacher than failure. I have made almost every possible mistake in the business, so I have learnt really a lot. The roadblocks I have hit are not different from the ones others have – trusting people who proved unworthy and disloyal, fighting with my own fears and ego, not believing in myself enough, not dreaming big enough, misjudging certain opportunities and threats, to name a few. But what I have learnt is that in the way you deal with failure lies the difference between successful and unsuccessful people. And that to every problem, there is a solution.
Tell us more about Williams & Marshall Strategy and its services. Tell us about your contribution in redefining the market research strategies.
We help our clients understand the market(s) they are interested in, how they are moving and the reasons behind those moves. We provide intelligence that helps our clients make informed commercial planning and strategic decisions and so timely tackle the complex challenges and maximize on the opportunities that impact their businesses. We provide intelligence that drives the generation, evaluation and implementation of powerful growth strategies and helps our clients be always a step ahead of the competition. Our contribution lies in our unique methodology, processes and the thinking we apply in analyzing the data we have.
What is the significance of innovative ideas in the company and how do you stay abreast with the growing competition in the industry?
I strongly believe that innovation is a constant and endless process and if you do not innovate, you will surely get out of business by the competition who does. Innovation should be among the top priorities of every company, because there always is a way to make things better, even those that seem to be running perfectly. We are trying to keep an external and unbiased look on our work (including our people, processes and strategies) and constantly look for things that can be improved upon. This mentality is what kept us running during the crises and what guides our main moves – we just want to be better tomorrow than we are today.
How has the ongoing pandemic affected the growth of the company?
The pandemic hit us very hard and killed the great momentum we were enjoying. There were a few months of shock, in which very few people globally knew what was really going on and no one could realistically assume how long the pandemic will continue and how much we all are going to lose. During these months, many businesses globally decided to stop many existing projects, especially those, not related to their primary business activities. This meant that any plans for development were frozen without a clear plan or timeline and all spending for things that were not of first necessity for the business existence was halted.
What are the new strategies implemented to cope with the pandemic?
On the other hand, the pandemic taught us all a lot. It showed us that being flexible can be much more important than being big or strong. It showed us that the right mentality can get you out of anything and that every problem has a solution. We were very quick to react to the pandemic and in just a few short weeks were able to re-organize our working process and update our whole catalogue (more than 80,000 titles) to reflect the new reality. We introduced some new methods that allowed us to improve on the efficiency and effectiveness of our processes and provide even better service to our clients. Last but not least, the pandemic showed us that tough times don't last, but tough people do.
Tell us about your life before Williams & Marshall Strategy.
Before starting Williams & Marshall Strategy I was able to accumulate international experience in the sphere of business consulting in a few different countries and international environments. I was also able to start and develop other service-related businesses and find out where my true passion lies.
Tell us your views about the current state of the market research industry?
The market research industry has been moving at a rapid pace recently. It is constantly innovating, there are always new things, technologies and methodologies that can be utilized and can improve on our everyday work. I believe that in the medium term, the market research industry will develop even further and will be able to bring even higher added value to all its clients.
What are your responsibilities as the General Manager of Williams & Marshall Strategy? Walk us through your regular day at work. Also, define yourself in one word.
As a General Manager of Williams & Marshall Strategy, I am responsible for everything regarding the business. I am responsible for the quality control of everything we do, but most importantly – keeping our team and our clients happy and satisfied. We are working with clients from more than 50 countries and from all industry verticals, so every day we face new challenges and no two days are the same. I believe my main responsibility is finding and attracting the best talent and keeping them motivated. Also, promoting mentality of constant learning, innovation and improvement. If I have to define myself in one word, I would say tough – I really love what I do and face everyday challenges with the attitude that each barrier is a step towards the goal and an opportunity to become better and learn something new.
How do you maintain a balance in your personal and professional life? How do you keep your employees and yourself, motivated to deliver the best services?
Maintaining a balance in personal and professional life is something most entrepreneurs (including me) find very difficult. If you are competing on a global scale, you know that 24/7 the competition is working to get better than you and get your business. That is why I believe it is very important for people to do what they love, because if you are good at it, the work is only getting more, which can be very stressful if you are only there for the money. To keep myself sane from the really long working days and weeks, I regularly do sports and read lots of books. I also love travelling and see it as a lifetime investment rather than spending. Travelling helped me discover the great benefits of meditation, which is something I learned with the patient help of Buddhist monks a few years ago and still do to this day. As for the team, I believe every person is different and for me as a leader, it is very important to know what motivates each individual person. This allows me to find a different approach toward everyone and keep them happy and inspired. This is the moment to thank everyone in our team for all the incredible work they do every day, for their trust, loyalty, support and understanding.
What are your plans for the future of Williams & Marshall Strategy?
The immediate plans for the short term include growing our business further by attracting new talent in the team and also expanding our current portfolio. We are already covering thousands of markets globally, but we are adding soon some new industry verticals and titles none of our competitors currently offers. We are also working on our own internal software and streamlining a few of our working processes.
Petar is on the path of adding more and more value to his client's businesses in this fast-pacing market research industry. He is sure that adapting to new changes and keeping innovation as a benchmark will keep them ahead of the curve in the future.