James Michael Lafferty: An Inspiring Leader and Motivating Fitness Coach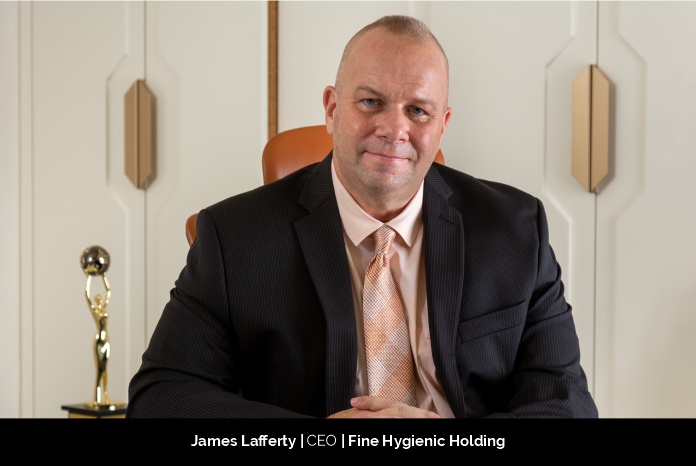 True inspiration comes from people who are real-life achievers. Their success stories are a true motivator and work as an energizer, boosting enthusiasm in others. Such is the story of James Michael Lafferty, CEO of Fine Hygienic Holding (FHH). Lafferty started his career as a fitness coach, and it's his perseverance that led him to the helm of a group known for its innovation in the wellness industry.
Fine Hygienic Holding was founded on a core belief in "Doing the right thing. Always," and this principle can be seen across every aspect of the group's operations, from industry-leading wellness products to business culture, to commitment to customers, employees, communities, and the environment. Lafferty opines, "Everything we have achieved in our more than 60 years of business, and everything we will achieve in the future, can be traced back to this foundational pillar."
Success Comes to those Who Ready for it
Lafferty believes that true success is characterized not only by willingness and desire to win, but also by a refusal to rest on former glories. While working as a fitness coach and engaging with extremely talented and disciplined athletes, James discovered that the main trait that separates true champions from occasional winners comes down to mindset. As he explains, "The greatest athletes will treat each contest as a new challenge every single time they enter the field of play, and that same attitude plays a huge role in business success."
From Fitness Coach to CEO
Before entering the corporate world, Lafferty was a professional track and fitness coach, and in 1984, he was hired as a fitness instructor for Procter & Gamble. In 1985, one of his clients, who also worked in brand management, encouraged him to apply for Assistant Brand Manager at P&G. Recognizing a good opportunity, James applied for the job but was rejected after the interview. He refused to take "no" for an answer and decided to try another approach. He says, "I looked up the name of the HR manager and sent a letter explaining why I deserved a second chance."
He adds, "That perseverance paid off: three months later I received a call back for an interview. Shortly after, I began working for the company that would help me launch my corporate career. That experience taught me the importance of perseverance and fighting for my goals, and I have carried that same determination with me ever since."
After gaining experience as a brand manager, Lafferty's career took him overseas, to North Africa, Central and Eastern Europe, the Middle East, Western Europe, Africa, and Asia, where he worked with multinational corporations like Coca-Cola and British American Tobacco.
In 2015, Lafferty joined Fine Hygienic Holding as a board member and later assumed the role of CEO in 2018.
Hygienic Offerings
Fine Hygienic Holding is one of the world's leading wellness groups and the MENA's leading manufacturer of hygienic products. The group offers a diverse array of products including sterilized hygienic paper products such as facial tissues, kitchen towels, toilet paper, baby diapers, adult briefs, and jumbo rolls, as well as away-from-home products designed to accommodate all types of private and public institutions. FHH also produces innovative personal protective equipment (PPE), long-term germ protection solutions, and a varied line of health supplements.
Leading the Industry with New Approaches
"Our aim has always been to improve the lives of consumers, and now we are taking the opportunity to do more than ever before to help the people we serve," says Lafferty. During the COVID-19 crisis, FHH acted quickly and shifted its focus to safeguarding the health of consumers by developing its protective anti-viral line, Fine Guard. Since then, others in the industry have begun to move in the same direction. In that regard, FHH has already started to reshape the wellness industry, and plans to continue disrupting the industry and leading as an innovator. The group is determined to expand and diversify its portfolio into other areas of wellness.
Converting Challenges into Opportunities
According to Lafferty, in 2020, due to the pandemic, the supply chain was disrupted, which led to a delay in the shipment of raw materials needed to manufacture the group's products.
However, the team was able to act quickly, adapt, and ultimately build stockpiles of key materials while simultaneously expanding FHH's supplier base to increase options. He further explains that while the pandemic has been an extremely difficult and challenging situation, it also created an unexpected opportunity that has led to positive change for the company. In just over a year, FHH pivoted strongly into new areas of wellness with its advanced germ protection line, Fine Guard that has opened the door for exponential growth.
In addition to implementing strict health and hygiene protocols across its operations, FHH has invested heavily in a complete digital transformation, which has included everything from upgrading to cloud-based software and overhauling IT and security systems to launching the organization's e-commerce platform, www.thefineshop.com.
Leading with Honor
The responsibilities of a CEO offer new challenges every day. According to Lafferty, there is no "average day," which is one of the factors which brings him excitement. He says, "It challenges you on so many levels, while simultaneously making you improve upon your own skills and abilities." He believes in continuous improvement, and to achieve this, he insists that a person needs more than just attitude: they have to put themselves in situations that push their abilities and limitations.
The one word that Lafferty chooses to live by is "honour." For him, honour is the most important of all virtues. "I am not perfect, but I try to be 100% honourable every single day," he says.
Discipline is Key
Lafferty follows a very specific daily routine and excels at time management. He ensures every day that he sets aside time for himself and his family. He adds, "It's a matter of discipline; I am very focused, and I don't spread myself too thin." According to him, he has five key roles in his life that he focuses on: husband, father, mentor, CEO, and personal fitness coach. He never lets any of these responsibilities fall to the wayside, explaining that people run into trouble when they try to take on 10 or 15 different roles; it's simply not possible to spread yourself that thin.
A Vision to Make the World a Better Place
On a personal level, Lafferty wants to make the world a better place. He sees his position as CEO of FHH as a way to help the world and the people around him. He asserts, "By introducing life-saving products like Fine Guard, or improving health with products like our Motiva supplements, I get enormous joy and a sense of purpose, knowing that we have saved and improved lives."
On a group level, Lafferty and his management team have big plans for 2021, including entering new international markets and expanding Fine Hygienic Holding's new and innovative germ protection product line, Fine Guard. And those aren't the only reasons that this year is slated to be a crucial one for FHH: the team is currently preparing to become a publicly listed company on the London Stock Exchange.