Sandra Dillon – A Talent Development And Future-oriented Leader Passionate About Sustainable Business And Society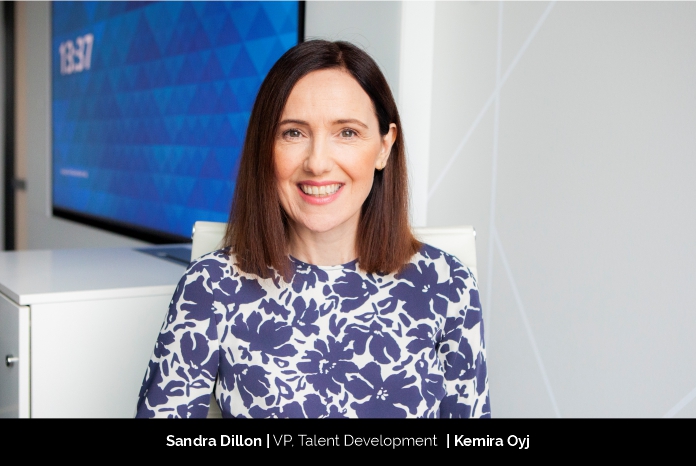 We are not products of our circumstances. We are a product of our decisions. There are many different tactics for how to be successful in life, but the strategy that works best for you depends on your view of success itself. Similarly, every leader has a unique definition of success.
Sandra Dillon, Vice President, Talent Development of Kemira Oyj strongly believes in the fact that growth is about reaching your own definition of success whether it makes sense to someone else or not! It's about being a good human being and leaving behind a legacy of some kind that you would be proud of. "You can be very ambitious and at the same time be a good role model to lift others. I have strong values of integrity and these I take with me into my definition of success and everyday life. I refuse to compromise my integrity in pursuit of my goals," she says.
Sandra has always been a person who strives for success and often tells herself "I am not there yet! But if I am honest I have achieved good success in many aspects of my life." The reason is both nurture and nature. She has experienced many varied people and life circumstances, ups and downs and setbacks which have transformed her mindset & behavior in a good way.
Inspiration to take a step of faith
Sandra is passionate about people at work and interested in how the economy works as well as the functioning of society. She has always been naturally curious about business performance and likes to be part of successful companies and has passion to make them better places to work and be sustainable.
Stepping in and growing in the talent acquisition industry
"I have an eye for spotting talent in people and enjoy the talent scouting/hunting it requires you to be creative and resilient!" exclaims Sandra. She always knew she wanted to lead people and growing people comes quite naturally to her. Of course, having the right people in the right jobs is a big investment for companies. She has also seen the reverse – the impact of poor hiring decisions. In the beginning, she wanted to make a strategic impact with every hire and has been working towards doing that daily.
Challenges make you stronger
Some people seem to be successful without many challenges but Sandra claims that in her experience, the challenge is character building. To achieve results, you have to accept making mistakes as a natural part of the process and evolve with them. But how you learn from those mistakes, react, and treat others matter much more than the mistake or the challenge.
In the business world, every company has been in trouble and when you are in the deep end trying to make it through those challenges as a management team you need to dig deep and build trust. "I have had my share of challenges and at some point have realized that they have shaped me. I've been lucky to have had strong mentors and role models in my life," she states. Having good people around you, courage, and integrity you can make it through. When you build trust and empower others to actively contribute you indeed succeed together.
Growth and comfort do not coexist
"I have had to work my way up from local companies into larger global organizations to prove I was serious, capable, and ambitious. As a younger woman, I might have been judged/taken less seriously based on the positions I have held and my passion for success," says Sandra. She thinks the main roadblock navigating the business world was probably staying true to her purpose and herself. She's had to show that she can still deliver or to move on if it wasn't happening for her." I typically haven't had these challenges in global roles. I like to work for companies that respect your contribution based on merit and have strong role models of integrity," she says.
Sandra's life before Kemira Oyj
Sandra has a dynamic history of business life and has enjoyed many opportunities. She chose to change companies and sectors which gave her courage and curiosity about taking
new directions. "I have worked in the HR field across FMCG, IT, Packaging, Telecommunications, Professional services and now Chemical industry about 25 years – with brands like Kemira, EY,
Dell, Digicel. I have traveled and lived in many countries living outride Ireland for the last 14
years or so and I love to travel. I have held, local, regional and global roles and traveling is a
regular part of my work life," she explains.
Her first few years as a specialist in Training and Development were interesting but she says she was missing the bigger picture, especially in talent acquisition so when the opportunity came up she moved into recruiting leading a team at the heart of the action. Since then she has never looked back following her passion across different roles working with people and leaders in seven different companies and dozens of countries.
Redefining the industry with innovative ideas
Talent acquisition has evolved to a strong position now where employer brand, candidate experience, and talent ecosystem are very agile. Innovations from startup experience are now been adopted in mature and in companies in transformation. Sandra has been an early adopter of digital HR, social media, and differentiating channels, adopting new technology, adopting design thinking to transform employee and candidate experience, and co-creating solutions. Talent leadership is at the heart of a company's strategy and Sandra states she feels fortunate to have been able to pilot new tools and lead these for companies she has worked for differentiating their employer brand and employee experience.
Right now Sandra is leading the implementation of their new leadership principles in Kemira which is an important part of their sustainability transformation for profitable growth. As a professional/ leader, she wants to continue to be a high performer and grow. She promises to ensure that she stays ahead by developing and embracing challenges head-on. This means having a growth mindset and staying open to new things and innovation.
Best recognition received as a leader
"One of my best recognitions as a leader has been allowed to design our leadership frame for Kemira in our strategy process. A complex project, fully remote, in covid, trusted to deliver!" Sandra says.
She also states that working with the various stakeholders across the company and with its Board of Directors was amazing. The project was a great success. "I feel proud of it! I received recognition for my unique capabilities being appreciated, embracing the opportunity to create new concepts and be part of sharping the future leadership!" she exclaims.
Maintaining a balance in personal and professional life
Sandra's responsibilities as VP, of Talent Development of Kemira Oyj are Talent Management and Succession. She defines herself as a 'curious' individual.
She is a morning person. A regular day involves quiet time for planning and thinking, collaborating with colleagues, and typically sparing with at least one key stakeholder. The other part of the day is researching, co-creating, and experimenting. "My work style is that try to think ahead and plan so that adapting fast is much easier," she says.
Maintaining a balance is something she strives for every day. "Good routine, discipline, and exercise. I also try to keep a good routine in my personal life, with a son in school, routine comes naturally in my workweek," she says. She is a person who has typically a good work rhythm and good boundaries. To keep her team and herself motivated, she says it is important to have trust, communication, and good planning. Making time
for listening, keeping the channels open, also respecting their boundaries, empowering the team, and recognizing progress are key.
Sandra's Personal Goals
Sandra's personal goals are to continue to enjoy and treasure motherhood and her family. She tries to keep it simple, healthy, and happy. "I don't strive for perfection but I try to prioritize my personal goals in equal measure with my career – sometimes I am guilty of putting personal aside but I am getting better at that," she says. Her role as a mother is very important to her. She states that she is fortunate to have a healthy son and work for a company that matches her expectations of professionalism and lifestyle as a working mother. The hybrid work model is working nicely.
Her message to aspiring business leaders is: to be good human beings and treat others with respect no matter how high you climb the corporate ladder. Build a good network. Know ( learn to ) and respect yourself. Don't give up even when you fail, actually learn to embrace failure as a learning process. Be open to working with different people so that you learn early in your career how to adapt to different people, it's important to get along with people from all walks of life to collaborate professionally and be successful.