Lisa Inserra – Amping Up Employee Experience And Growth At Sodexo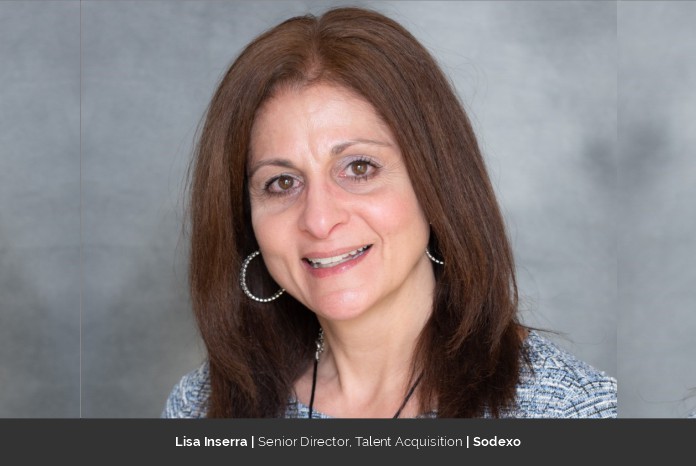 Leadership Is Not a Title, It's A Behavior
The basic definition of leadership is the ability to take charge, guide people and lead the way. But successful leaders are influencers who can inspire, motivate, and get the best out of their people. Lisa Inserra, Senior Director, Talent Acquisition for Sodexo believes that a leader's primary responsibility is to lead, and the foundation for great leadership is trust. A leader does not assume a leadership role simply because someone hands them a title; instead, a true leader is born when trust has been established on both sides, and the team looks to the leader to lead them.
The Competitive Industry of Talent Acquisition
Lisa's decision to get into talent acquisition came after seventeen years of being in operations. She felt ready for a career change, but she did not want to leave Sodexo. She contemplated different positions and ultimately ended up deciding to move into recruitment. "I will always be an operator at heart, and I know how incredibly important the right talent is for Sodexo to successfully provide services and meet financial obligations. I wanted to be in a role that would directly impact the success of the business," she states. She exclaims that there is no better way than being in recruitment for her to directly impact the success of the business.
Challenges Make You Stronger & Roadblocks Teach You A Lesson
Lisa agrees that there have been many roadblocks over the years. She has a very strong work ethic and is determined to achieve goals, so she does what she needs to do to find a way. "I try to focus on the fact that things will pass so when things are going well enjoy it because inevitably the 'other shoe will drop' and then you must deal with the challenges or issues," she says. Lisa tries to focus on "this will pass" hence she tries to not get too caught up in the stress or the challenges that come with it. However, this has not always been the case. It was something that she had to learn, and she thinks that it makes a big difference.
Lisa considers herself to be lucky to be working for the same employer for more than thirty years. She spent the first half of her career in operations working in Sodexo's University segment in the metro New York area. The last position she held in universities was a District Manager position. She then transitioned over to Corporate Human Resources working virtually for the last 15+ years as a Senior Direct for Talent Acquisition. "Talent Acquisition is a moving target each year. The war for talent takes on different forms each year so we are constantly evolving and creating new strategies. The job title has remained the same, but the strategy and deliverables are constantly evolving," she explains. Sodexo is responsible for more than 6,000 professional hires each year and it is critical to the success of the business that they provide a very high level of candidate service including high touch from senior recruiters, intuitive technology and targeted employment branding and marketing to ensure they attract the top talent in their industry.
Lisa's Contribution in Redefining The Changing Landscape Of The Industry
The biggest and most significant change in the world of recruitment is the shift to a candidate-driven market. For the first time, there are more jobs available than there are candidates, and therefore the applicants hold more power than ever before. With so many employers in desperate need of the same skills and talent, candidates have more options than they have had in a long time and can also leverage more on salary and benefits. This means that recruiters and talent acquisition professionals will have to work harder to stand out and attract top talent. "The same tried and tested tactics may no longer be enough to win the race for in-demand talent. So, in 2022, we can expect to implement a range of recruitment strategies, whether it's sourcing tactics, data-driven recruitment marketing, or imaginative employer brand communications. The world of recruitment is about to get a whole lot more exciting, and those who experiment and take risks are likely to win the race," exclaims Lisa.
As talent competition rose rapidly, Lisa says that they realized the importance of how both candidates and existing employees perceive them. In 2022, they plan to work on redefining Sodexo's EVP by taking a deep dive into their culture to decide what makes the workplace unique and ensuring that candidates thrive there. They think this is important to improve retention and talent attraction and hope to attract the best talent by tailoring their messaging to resonate emotionally. "We are trying to hold onto our talent in any way possible. Retention is on top of our mind; from benefits on offer to company culture and rewarding loyalty," she states.
The landscape for remote work, virtual interviews, and recruiting has drastically changed over the past year. Because of COVID-19, employers are becoming more open to these flexible work
options. Some positives come with this, including hiring employees from different places instead of limiting a company to hiring locals. However, this also comes with disadvantages, like not meeting in person and experiencing different collaboration styles. Lisa believes that this is the right time to sell Sodexo and show candidates that they are flexible with remote work, that they value work-life balance, and that employee satisfaction is their priority.
The Journey And Responsibilities As Senior Director
Lisa, who defines herself as a self-driven person, joined Sodexo three months out of college – and was promoted within ten months. She continued being promoted every eighteen months to two years until she moved to transversal HR. "For me, the best recognition I can receive as a leader is to see my team be promoted and grow their career – it is the most rewarding work that I do," she states.
As one of three Senior Directors of Talent Acquisition, Lisa and the Talent Acquisition team is responsible for the hiring of approximately 3,000 external exempt level positions and 3,000 internal lateral transfers/promotions. They have a department of approximately 75+ people who work directly under the recruitment function. "My team supports our Education Segments (UNIV and Schools) as well as all Executive, Sales and transversal function hiring. We are responsible for end-to-end recruitment: sourcing, screening, presentation of candidates, guiding the hiring manager through the interview process and assisting the hiring manager with creating an offer," explains Lisa. Once an offer is accepted, they pass the onboarding on to their People Center team.
Lisa's day is filled with calls – working with her direct reports and stakeholders, engaging candidates while also working on recruitment strategies to improve their process from recruitment technology to branding advertising to sourcing techniques. Each day varies and the only common theme for all working days is the hours of video calls.
Balance In Personal And Professional Life
"This is an area of opportunity for me to improve -balance- especially during COVID – when
everyone was transitioning to working at home, I had already been working from home for more
than 15 years," says Lisa. She further states that it became harder because the workload increased, the headcount decreased, and the house was full of teenage children. Lisa claims to be a naturally motivated person. She has always been energized by her work and has a passion for delivering a high level of service and solutions. She also has four daughters watching her. She wanted to be a role model for them. Lisa wants her children to say that their mom is a strong mom and they are who they are because of her strength and dedication.
Future Plans In Talent Acquisition
Lisa says that Sodexo plans to keep coming up with creative ways to support the recruiters and hiring managers and to engage candidates. Sodexo has to offer an EVP that separates them from their competitors. She is looking forward to continuing her career in the Talent Acquisition space as it's important for her to be in an environment where she is challenged. The company is committed and financially investing in talent.
She encourages aspiring leaders to take advantage of the opportunities presented to them. "If you don't feel like your career is growing with your current organization do not be afraid to take another opportunity with another company – but ensure that you move positions every two to five years; do not let it go past five years," she explains. Changing jobs every couple of years used to look bad on a resume. That stigma is fast becoming antiquated—especially now with the effects of the pandemic on the workforce. Candidates want opportunities to continuously learn, develop, and advance in their careers. This sentiment is different than the belief of past that you cling to an employer over a lifetime in the hopes that your long-term employer will treat you fairly.
Lisa further states that one should take advantage of mentor opportunities. Taking care of your people is equally important as they take care of business.