Dawnita Wilson – Charting the Path for Diversity, Equity, and Inclusion in Real Estate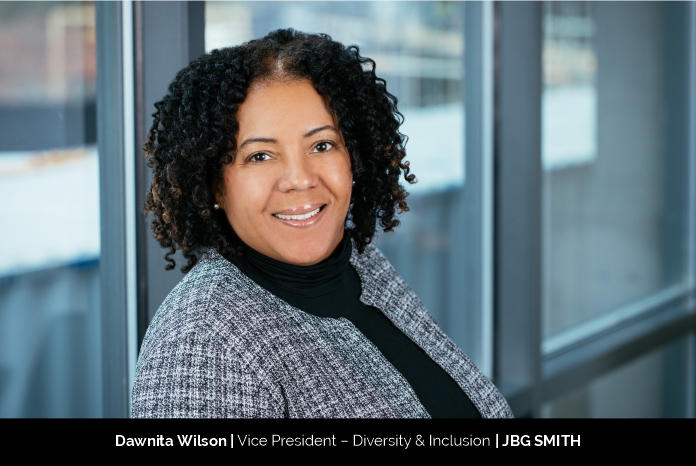 A leader is one who knows the way, goes the way, and shows the way; just like Dawnita Wilson, Vice President – Diversity & Inclusion at JBG SMITH. Right out of college, Dawnita started her career in Retail Management, which eventually led her to doing talent acquisition and recruiting. After succeeding in both of those areas, the people and leadership skills she developed, coupled with her passion for helping connect diverse talent to meaningful career opportunities, landed her in the diversity and inclusion space. She's now been leading strategic diversity and inclusion for almost 15 years and is loving every minute of it.
What led her to JBG SMITH was the opportunity to work for a well-established and respected company that was ready to solidify its commitment to diversity and inclusion. And being able to do the work in an industry that has plenty of room for improvement when it comes to diversity, equity, and inclusion, has allowed Dawnita to really see and feel the fruits of her labor, which is important to her.
Defining Success
Success can build confidence, a sense of accomplishment, well-being, and hope. Dawnita thinks success is important because, in many cases, it provides us with the inspiration and motivation we need to keep going – whether it's at work, home, school or just in life. She also believes that success is in the eye of the beholder. Her definition of success may be different from someone else's definition of success, but to her, it's all about perspective.
Dawnita has viewed success differently at different phases of her career. She says that earlier on, success was more about achievements and accolades. But as she's advanced in her career, it's become more about doing good work, making a difference, and inspiring others to do the same. However, one thing that has remained consistent about her views on success is that it's personal. "It's up to all of us to decide what's important to us and how we want that to manifest. I personally
believe success is in the journey, not the destination," she states.
Barriers On the Road to Success
Setbacks are a vital part of growth and Dawnita absolutely agrees. She also believes that setbacks build character. She has experienced quite a few setbacks throughout her professional career. Everything from being downsized due to budget cuts, to working for unsupportive and at times toxic "leaders".
Regardless of the situation, she has always leveraged setbacks as learning opportunities. Whether an opportunity to reflect and think about what she could have done differently, or simply a reminder that it was time for her to evolve and move on, every setback led her to a bigger, better place. "I honestly don't think I'd be where I am today without them," she exclaims.
Diversity and Inclusion at JBG SMITH
JBG SMITH is an S&P 400 company that owns, operates, invests in, and develops a dynamic portfolio of high-growth, mixed-use properties in and around the Washington, DC area. Their focus is on placemaking and cultivating vibrant, amenity-rich, walkable neighborhoods throughout the Capital region, including National Landing where they now serve as the exclusive developer for
Amazon's new headquarters. Their portfolio currently comprises 17.1 million square feet of high-growth office, multifamily and retail assets. They also maintain a robust future development pipeline throughout the region.
For JBG SMITH, prioritizing Diversity and Inclusion is the smart thing to do because it's not just important to them, but to their tenants, residents, and stakeholders. "We can't achieve the level of service and excellence that we've come to be known for if we aren't inclusive; and that requires us to consider the diverse needs of everyone, across all aspects of our business," Dawnita explains. A recent study from McKinsey found that the most diverse companies are more likely to outperform their less diverse peers on profitability. And adopting systematic, business-led approaches to diversity, equity and inclusion can lead to impressive gains. So, JBG SMITH believes a continued focus on it is something that simply makes good business sense.
Since joining JBG SMITH in late 2019, Dawnita has successfully developed and executed a comprehensive, multi-year Diversity and Inclusion strategy, focused on sustainable cultural and
behavioral change. With a focus on 5 strategic pillars, this transformational framework has been a catalyst for advancing Diversity and Inclusion companywide. From building competency and driving accountability, to implementing more inclusive systems, practices, and processes, she has been committed to breaking down exclusive structural barriers, creating equity, and striving to change the narrative around Diversity and Inclusion in Real Estate. Fortunately, their CEO and the other great leaders and employees across the organizations have made this work a lot easier and have really embraced the journey. She states that anyone who leads Diversity and Inclusion knows that it definitely "takes a village" and she feels lucky to have such a supportive one at JBG SMITH.
Dawnita says that she's hopeful that JBG SMITH can lead the way in changing the narrative around diversity and inclusion in real estate. With that in mind, her vision for them is to set the standard for what exceptional diversity, equity, and inclusion work looks like in the world of real estate investment trust (REIT) companies.
Supporting and Empowering Women
Being a woman in corporate America certainly has its challenges. Dawnita would go even further and say that being a Black woman in corporate America adds an additional layer of complexity to those challenges. "At times, yes, it can be difficult to thrive as a woman leader. Especially in spaces where you are few and far between," she further states. That is yet another reason why diversity, equity and inclusion work is so important. Because women can't thrive if everyone isn't intentional in their efforts to lift them up and keep them there.
As far as empowering women, Dawnita says that if we're truly committed to advancing Diversity, Equity, and Inclusion, it's important that all leaders – men and women alike – take some responsibility for empowering and advocating for women; seek their opinions and viewpoints, amplify their voices, promote them, help close the wage gap – these are just a few of the things that can be done. But what she thinks is it is even more important to understand is that empowering women is not just about how men can better support women, it's also how woman can better support each other. Her belief is that there is an opportunity for all of us to do this better and more often.
Leadership is an Action, not a Position.
A few things Dawnita is proud about related to her work at JBG SMITH would include embedding diversity and inclusion deeper into the business, implementing more equitable, inclusive hiring practices and establishing a more strategic approach to D&I in general.
"If I had to pick one specific proud moment as a leader, especially as a D&I leader, it was learning that in just one year of my arrival, Diversity and Inclusion became one of the top five drivers of overall employee engagement at JBG SMITH, increasing favorable employee perceptions by 18%. And the fact it happened amid a pandemic, made it even more meaningful," she exclaims.
Work Life Balance
She thinks the term work/life balance is misleading, as it leads one to believe that there is some magical formula out there that will allow us to perfectly manage our personal and professional lives; that's not always realistic, the COVID pandemic alone has shown the world that. "These past 18 months have forced organizations to pivot and re-think how (and where) work gets done. And it has certainly re-affirmed my belief that a focus on workplace flexibility, rather than work/life balance, is the way to go," she explains.
Her thought is that providing employees with the flexibility they need to take care of their personal and Professional obligations is a win/win for everyone. It also has an impact on employee engagement and productivity. Dawnita also believes that how organizations now approach and think about work/life balance and workplace flexibility, is the silver lining that came out of the pandemic. Companies are now realizing that a traditional work week and office environment is not as important as they thought they were. As a result, many have adopted more of a hybrid approach, allowing employees to enjoy the best of both worlds.
"At JBG SMITH, connection and collaboration are still things that are extremely important to us and how we do business, given so much of what we do is service and experience oriented," she says. "One of the motivating factors that binds our teams together is definitely in-person, collaborative, and spontaneous energy". She says that they too, had to figure out how to adjust to this new normal and they've fortunately done a great job of finding their "happy medium."