Kellie Teal-Guess: A Trailblazer for Outstanding Leadership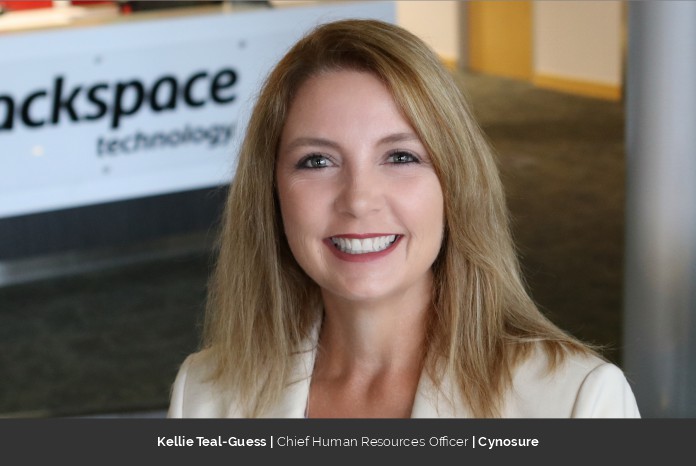 How do you evaluate a CHRO's performance? The answer is obvious: consider the level of enthusiasm with which prospective employees' express interest in joining the company's workforce. When it comes to shaping an organization's culture, a chief human resources officer (CHRO), like Kellie Teal-Guess, plays a key role. Kellie is a true HR powerhouse, managing staff in settings ranging from Large Global Organizations to small business. She is adept at applying strategic and technology solutions to global business challenges. Needless to mention that such excellent skills and abilities have earned her a spot in the Top 10 Outstanding HR Executives to Watch on our 2023 list.
Teal-Guess, Chief Human Resources Officer, Rackspace Technology, brings many years of experience in HR- including strategy, talent management and learning and development. She is committed to helping the organization win by applying workplace innovation, increasing employee satisfaction through engagement and helping the company to "live their values".
Kellie is a seasoned human resources expert with a background in various dynamic, international companies. With Kellie at the helm of Human Resources, Rackspace Technology, continues to attract, develop, and retain top talent in the industry. Kellie is both imaginative and dedicated, making her a perfect fit for the company.
Prior to joining Rackspace Technology, Teal-Guess, served as the Chief Human Resources Officer for Cynosure, a medical device company. It was preceded by her tenure as the executive vice president and chief people officer at CyrusOne, a global public data center company. Numerous accolades were bestowed upon the company during her tenure as their Chief People Officer, including two Best Workplaces for 2018 awards from Fortune and a spot on the list of the year's 100 Best Workplaces for Diversity. Teal-Guess has also worked in global human resources for ProQuest and Dell, two IT firms.
Teal-Guess earned her MBA, MPA and BA from institutions within The University of Texas system, respectively. She has won numerous awards and honors from the industry and the companies in which she has worked. The list includes the Silver Award for Chief Human Resources Officer and the Bronze Award for Human Resources Team of the Year, both from the Human Resources Association.
But to her, the highest honor she has ever gotten is the top engagement score awarded by her employees. She explains, "this signified that my team felt valued, heard, rewarded and developed. I was honored to be a part of an amazing team."
When asked to define success, the experienced leader replies, "success is the accomplishment of an aim or purpose."
The opportunity to aid in the strategic development and success of businesses and our employees ultimately led her to pursue a career in human resources. Because of this, she has had a fantastic professional life. She conveys, "I have watched, encouraged, coached, nurtured, and cheered so many people over the years. Mission accomplished!" In her extensive career, Kellie Teal-Guess upholds the ethos of being her best version and swears by Abraham Lincoln's words: "Whatever you are, be a good one."
Teal-Guess's Inspiration to Join the HR industry.
It is a great way to remind someone that anyone can achieve success, regardless of status or title. All you can do is your best. When one learns of the modest beginnings from which Kellie Teal-Guess has built a successful career, a quotation like this becomes all the more fitting.
We know that life is full of surprises and detours that run counter to our expectations. The path that led Teal-Guess to work in human resources is no exception. In her words, she stumbled into the human resources department. After she finished college, the company where she worked during the summers offered her a fulltime position in Human Resources after college. That was the first step on a very remarkable adventure.
Challenges that fortify Kellie's spirit
Adversity can be beneficial, but its actual value will become apparent once tested. The difficulty can bring forth latent strengths, whether in professional trials or personal stress. We know we can't grow beyond our comfort zones if we aren't forced out of them. Despite everything, we need to muster the strength to press on. Kellie exemplifies this perfectly. She maintains that challenging oneself beyond one's usual sphere of competence is essential to personal and professional growth. Experiences can be scary and unpleasant at times but are almost always valuable in the end.
Brief about Rackspace Technology and its services
Rackspace Technology is a frontrunner in the multicloud technology services industry. Regardless of the technology stack or deployment style, it can design, construct, and manage its customers' cloud environments on all of the most popular platforms. Rackspace Technology works with its clients as they progress through their cloud migration, assisting them in areas such as application modernization, product development, and technology adoption.
Kellie Teal-Guess 's contribution to redefining the HR industry.
Kellie Teal-Guess truly believes in James Kent's quote, "nothing is so potent as the silent influence of a good example." And if we look at her story so far, we can see how she has abided by those golden words. The world is better off because leaders like her who helped to forged new ground by monitoring the next generation of HR leaders and instilling morals of honesty, open communication, and integrity. She had ambitions to break the stereotype of traditional human resources leaders. She worked her way up from a career in operations to the HR lead. Today, she loves seeing how HR can be a differentiator and a game changer by executing people strategies that enable business success. Scaling talent is critical and in doing so, she hopes to improve both the business outcomes and the success of the people.
Teal-Guess thought on A.I., Data and HR
Kellie agrees that artificial intelligence (AI) and other technological advancements have and will continue to profoundly impact all of Human Resources. AI in our workforce is here to stay and is the way of the future. She encourages all HR leaders to embrace this change and us AI to make human interactions more meaningful. Used correctly, AI can save time, money and increase productivity. She also says that HR departments that aren't making data-driven decisions will find themselves behind their peers. One's data must always express their story and explain their actions.
Measures to foster Rackspace Technology's culture and integrity.
Martin Luther King Jr.'s famous words, "The time is always right to do what is right," serve as the guiding principle for Kellie Teal-Guess, and she has done her best to live up to those words throughout her professional life.
This Chief Human Resources Officer thinks that candor and an openness to new ideas are crucial to success. When working together, everyone benefits. For a company's core values and goals to truly permeate the organization, they must be celebrated, rewarded, meaningful, purpose driven and lived. She thinks that honesty and fairness are at the heart of integrity.
Although, her engagement with Rackspace Technology is fairly new, but Kellie rhapsodizes about her vision and plans that she has it chalked out.
"I look forward to helping drive talent acquisition and assessment, global workforce strategy, and employee satisfaction at Rackspace. The Racker culture is a differentiator for the company. I feel very fortunate to have the opportunity to further that culture and continue to be a best place to work globally."
The factor that sparked the launch of Kellie's successful career
One's own learning and development can benefit greatly from a mentor. We often connect with people who can offer us advice in various ways. Kellie has a long list of mentors, leaders and friends who have invested in her success. She is fortunate that these people "took a chance" on her and enabled her success. Kellie, a seasoned HR professional of today, thinks back on her life and work and counts herself incredibly lucky to have had so many influential people trust and believe in her.
Responsibilities as Chief Human Resources Officer at Rackspace
In today's innovative and progressive businesses, the chief human resources officer (CHRO) has broader responsibilities than simply managing the HR department. They also provide strategic direction and leadership for the company's executive staff, board of directors and stockholders. It calls for strategic preparation for imminent shifts in when, where and why work is performed. To prepare businesses and their workforces for the future, futurists like CHRO Kellie Teal-Guess study and anticipate the trends that will impact both.
Teal-Guess says that the fact that no two days are the same is a great part of her job. Kellie's focus shifts between the company's big picture and HR's role in assisting our clients by solving smaller, more immediate issues.
Kellie's mantra for perfecting the work-life balance.
Many established practices and norms in the business world have evolved due to technological advancements. A result is a less distinct division between "work" and "personal" time. There is a lot of data out there that suggests that a healthy balance in work and life is crucial for success in both areas. Kellie knows that the risk of burnout skyrockets when she doesn't practice mindful balance. So, she allows herself to unwind and enjoy her time off when needed This CHRO realizes that she is much more effective as a leader, manager, wife, mother and friend when she enables balance. We were curious how she achieved such a harmonious equilibrium between her professional and personal life. Upon being questioned, she says, "Oh boy, sometimes, "I balance and admittedly, sometimes I don't. I have to purposefully schedule my time, so I can step away for a bit, take a walk, workout or plan a trip to regroup and refresh and then return better. It's an ongoing battle but one I am not giving up on."
Kellie Teal-Guess' advice for prospective human resources professionals and business leaders
Kellie believes in a quote from George Eliot, "it's never too late to be what you might have been." So, she asks all aspiring HR professionals and business leaders to ensure that they love what they do. The CHRO of Rackspace feels that these aspirants must work in an industry they find fascinating and motivating. She encourages them to select a company and a leader who can and will inspire, nurture and grown them as individuals and as professionals, as well as someone who would invest in them and their careers. They need to find a job where they can feel safe enough to be themselves which will enable their best work.
Last but not least, she advises them, "go have fun, be curious, laugh and win – life is too short!"