Samuel Caulier: A Driven and Passionate IT Expert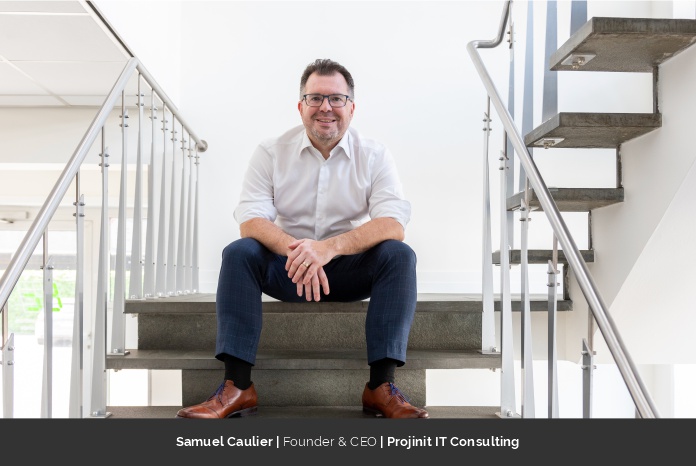 True, hardships bring out the best in a business and an entrepreneur. A true entrepreneur needs obstacles, or else he or she would be in management. Entrepreneurship guarantees that you recognise and exploit possibilities. For example, the globe is perpetually short of IT professionals, a well-known issue in the IT industry. As a result, organizations are forced to cancel tasks on occasion. But whether this is disastrous or not, Samuel Caulier's, Founder of Projinit, answer to this situation is "No, we remain focused and do not immediately make adjustments out of a panic reaction." He further explains, "Something I've learned in the meantime. I think that is why we have continued to grow in every crisis, unlike other companies. I am not saying that I ignore crises. No, I stick to the plan and look at my own KPIs."
Samuel Caulier is a seasoned negotiator who has worked on both the buyer and supply sides of contracts for large corporations. Samuel knows both sides of the bargaining table because of his broad IT expertise and commercial experience. "I'm a quick learner, a focused multi-tasker, and an avid, observant traveller, which has given me a deep awareness of, and respect for, cultural differences," says Samuel.
Samuel's journey began with the invention of the computer. He began by fixing computers for friends and family as a side profession, in addition to providing IT help in schools. Because of the things you could accomplish with a computer, there was a huge buzz of excitement and amazement. Samuel agreed, but quickly realised that providing services was more vital than selling computers. But, because blood runs stronger than water, he quickly opened his own computer business, which he has built into the company he is today. That has propelled him to his current position with Projinit.
Projinit; A Growth Place for IT Professionals
Projinit began as a modest computer store in 1997, specializing in ICT assistance for local companies and schools. Samuel's goal was to provide a resource for businesses in need of an IT infrastructure expert. After a few years, Samuel rebranded the company Projinit and shifted his emphasis to larger businesses. It is a focused, no-nonsense, and adaptable organization that provides IT solutions to both large and small businesses.
Projinit quickly established itself as a leading provider of IT solutions in Belgium. With over 170 personnel, it has a large pool of well-trained and experienced consultants that apply their skills on a project basis, through technical assistance, or through secondment to assist firms in achieving their goals. Projinit now employs roughly 70 employees and 100 freelancers who offer a comprehensive variety of ICT services. Its committed staff takes on every IT difficulty and dedicates themselves to providing focused solutions every day.
As the creator of Projinit, Samuel guarantees that there is enough money to complete the task. He keeps track of the finances and interacts with clients, freelancers, and staff to see how the team can improve operations. Samuel is a team player who knows how to delegate and encourage, in addition to being a leader. He says, "I'm results-driven and I regard going after results as a kind of sports activity."
At Projinit, the company strives for growth just like any other organization. But more than focusing on financial progress, an enormous amount of attention goes to the well-being and happiness of its employees. Samuel states that, after all, everything starts with employees in an organization. He sees that when employees are happy and enjoying their jobs, they automatically make the organization grow on their own. He also says, "When my employees are happy, I am too. You can get an award, but after 2 weeks, everyone has forgotten about it. Employee recognition remains."
Projinit is therefore enormously proud of its hyper-personal HR policy that continues to invest in a people policy where employees help to build the business. Samuel asserts, "Everyone who joins us gets the chance to develop an attractive career plan, to obtain certificates, and to work in a company that pays attention to a good work-life balance. I am convinced that these are the ingredients for realizing our ambition, which is to become one of the most important players in the IT landscape."
Improving and Innovating
Running a business is not easy to grow, which is typical of today's economy. Samuel states, "We live in a disruptive economy that includes climate change, war, and pandemics. Because there are no certainties anymore, you have to be able to shift with different scenarios within the growth strategy."
In the IT industry, innovation is always appreciated. Samuel thinks of global projects such as cloud and edge computing, or IT security projects with ISACA. He further adds that the IT industry is a rapidly changing sector, on top of the macro situation as it stands today. He admits that it is not easy to find a balance, but Samuel sees this as a challenge to grow and be successful despite everything. He says, "We think in terms of our customers and therefore continue to invest in knowledge."
Samuel believes that Projinit is extremely helpful to many businesses since its experience helps them to complete successful projects. Companies that have been hacked and have been resurrected by Projinit are examples. Projinit's personnel deserve all credit for this; they continue to grow and develop in order to be ready to manage any circumstance. This is how Projinit distinguishes itself.
Living for Work
Samuel finds balance in his personal and professional life is one of his biggest challenges, as for him currently, the balance is way off. He says, "I don't think it's taboo to live for your work. It doesn't feel like work to me, but like a project I enjoy doing. You can actually compare it with cycling tourists who go cycling on Sundays. That's how working for me is my escape." Samuel adds that he is stricter with his employees than he is with himself, as he knows what the traps are but he chooses to do it. He also doesn't expect this from his employees.
On the contrary, Samuel motivates employees to maintain a good work-life balance and rewards them with incentives, a bonus system and so on. He shares that a good approach is that most of them have been working here for more than 10 years, so they are well along in their story of marrying, building, and having children. Samuel says, "We are a family, for better or worse."
Start Early and Learn the Process
Projinit, according to Samuel, has to grow to 400 IT professionals in order to have a genuine effect in the market. The team hopes to recruit and retain employees through effective employer branding since there is no hierarchy at Projinit, only short lines of communication, fun, and openness. Samuel's ambition as an entrepreneur is to achieve this.
Samuel's message to future entrepreneurs is, "Not words, but actions; get started and you will learn along the way, and always stay true to your plan." He thinks it is because of this approach that the future looks bright for Projinit. He has ambition, and he will do everything possible to achieve it.