Niru Somayajula: Building a Global Business Leading Advancements in Underwater Acoustic Technology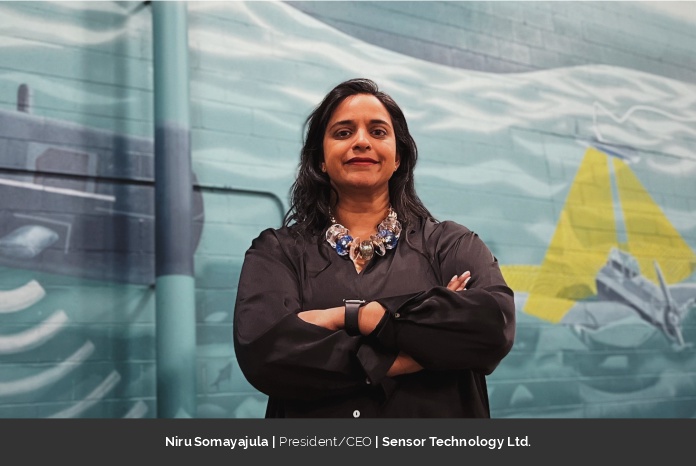 In 2011, Niru Somayajula took over Sensor Technology Ltd. and became the President and CEO of a client-driven manufacturer of custom acoustic underwater tools used to better understand what happens in our oceans.
Today, she is a technology leader, creating a global presence for her business by leading innovation in subsea acoustic technology.
Early lessons in entrepreneurship
The fact that Niru's immigrant parents were also entrepreneurs greatly influenced her early experiences growing up in Collingwood, Ontario, and primarily shaped who she is today.
As a student, Niru started in computer engineering at the University of Guelph before realizing that it was not the field for her. So, she switched to science at Western University, where she completed a degree in Geophysics and went on to do a master's at the University of Toronto.
Sensor Technology Ltd. was born in 1983, when the founders, Eswar and Shashi Prasad, transitioned Blue Mountain Pottery to hi-tech pottery called piezoceramics.
Throughout its 39-year history, Sensor Technology Ltd. has specialized in providing clients with innovative, customized solutions with repeatable results, an achievement that propelled the company into becoming a global leader in designing and manufacturing acoustic tools and systems.
In 2008, 75% of the company's sales came from one customer. They had to pivot when they lost that business due to economic decline. Niru was finishing grad school when she was asked to come into the company as an interim manager while the business was being sold.
"I was tasked with creating a transition plan and recruiting for a new management team that would help transition the company from its existing team seeking retirement after the sale to the new team," she recalls.
When the deal eventually died in 2010, while Niru was Operations Manager for the business, she worked with her Senior Leadership team to buy out the company's shares and assume the role of CEO.
"It was a huge challenge to diversify our offerings, but it ultimately built the building blocks of our current growth trajectory and my personal and professional journey," she recollected.
Niru notes that it took many years to change the mindset of the staff and the management of what needed to be done, to transition the company. They had to develop new products, but more importantly, new processes that would help them find, cultivate, and grow with new clients.
Leading advancements in underwater acoustic technology
Sensor Technology remains a proudly Canadian company that keeps the organization agile and adaptable, allowing it to lead advancements in underwater acoustic technology.
As a global leader in listening and imaging underwater, it plays a vital role in the acquisition of underwater data, and its components are used and are crucial for a better understanding of what happens underwater, from understanding fish migration patterns and detecting an inbound torpedo on a submarine, to locating hydrocarbons that power our lives.
Under Niru's leadership, Sensor Technology has seen extensive growth in the last decade. As the number of component manufacturers declined, the firm has doubled down on innovating in the components it offers.
In addition to the three facilities in Collingwood, the company has nearly doubled its workforce and expanded its presence to the east coast of Canada in Dartmouth, Nova Scotia.
It has multiple offices at COVE (The Centre for Ocean Ventures and Entrepreneurship), which supports the manufacture of hydrophones and transducers and a new 10,000 square foot Advanced Sonar Manufacturing Facility.
"At the end of the day, we are a technology company. We would falter quickly without innovative ideas pushing us forward," notes Niru.
She points out that Sensor Technology is constantly innovating in several areas. Their customers also look for innovative ideas that increase the performance of their products, so they are continually looking for ways to improve their products from a technological point of view.
"We seek innovation in our production processes that help streamline our manufacturing lines, to ensure our products are made as efficiently as possible and repeatable," she states.
Growing a global business based on values
Niru's vision for the company involves growth in several areas, including an increase in their offerings and in continuing to develop technology that adds value to their products, such as more features and better performance.
She also envisions further growth in international markets and a manufacturing presence in other countries to get their products into more hands.
Niru observes that while generating economic benefits for the company and maintaining a healthy P/L is essential, she sees success when those economic benefits flow down to their employees and clients.
"For me, it's a combination of things that define success. I also see success when there is harmony in the workplace," she states. Niru points out that having happy and hardworking employees creates less stress and contributes to the bottom line and the community.
"Last but not least, it's no secret that the company is very much mine to mould, grow, and work at. I see success as being able to grow the business while also maintaining my value set," she affirms.
The vision of making Sensor Technology a global leader
Niru's responsibility within the company is to develop and communicate its vision and the short and long-term plans throughout the company.
She also oversees the company's administrative and financial functions and spearheads the Business Development team to develop the relationships needed to propel the business forward.
"There is, thankfully, no regularity in my days in the office. I try to keep my mornings clear of meetings so I can focus on my own tasks, with afternoons often in meetings with staff, clients, or suppliers," she explains.
With two facilities on two ends of the country, Niru travels quite a bit between them and spends about one week a month travelling internationally to see clients and attend tradeshows.
In the last few years, she's had the great fortune of being invited to do a TEDx talk, speak on various panels, and join both Industry and Non-for-profit Boards.
"All these have been great recognition, for not only me but for Sensor Technology and where we are headed," she points out.
Niru reflects that a big part of their path to where they are currently is the ability to believe. "Belief in myself as a leader and trusting my instincts, and belief in my staff, that they are capable of attacking the task at hand," she notes.
Sensor Technology works in a very niche market, and one that Niru believes has terrific growth potential. She maintains that belief in staying the course and keeping focus has helped them immensely to get from a challenging time to the path they are on right now.
Niru's vision is to make Sensor Technology a global leader in piezoelectric-based acoustic tools and systems. With growth a big part of their recent past, the plan is for future growth. She hopes to open offices abroad and continue to develop new products and tools for a better understanding of what is happening in the ocean.
Participating in life and business at a high level
Niru often feels that her personal life is overshadowed by her professional life but finds that having her children with her half the time is a great reminder not to let her personal life get too overlooked.
Despite her busy schedule, she has a variety of hobbies that she loves to explore in what little free time she has, one being an avid cook and experimenting in the kitchen.
"I'm also a big fan of the outdoors and try to get out a few times a week to either bike (I have too many bikes), hike, paddleboard, or swim. Before COVID, I was racing a couple of triathlons a year, and training for the races helped keep me active and enjoying the outdoors," she declares.
Niru also encourages her employees to have balance outside of the office. She believes that having that time away really keeps people motivated and that communicating their long-term vision also gives them something to work towards.
Niru's personal goals as a business leader involve working on the big picture plans for the company. As she continues to grow and develop her team, she finds less pull on her in the business's day-to-day operations.
This lets her focus on what's next and how they will get there. Her message to other aspiring business leaders is never to stop dreaming up the ideas that push the business forward.
"As leaders, it's our job to be the visionaries, as we are the only ones with the unique position to see the business at a high level. It's also important to stick with your vision through the hard times. It's easy to waver when things get tough, but staying on the path makes a huge difference," she advises.
"As leaders, it's our job to be the visionaries as we are the only ones with the unique position to see the business at a high level."