Catherine Smola: A Credible Leader Advancing CSIO's Mandate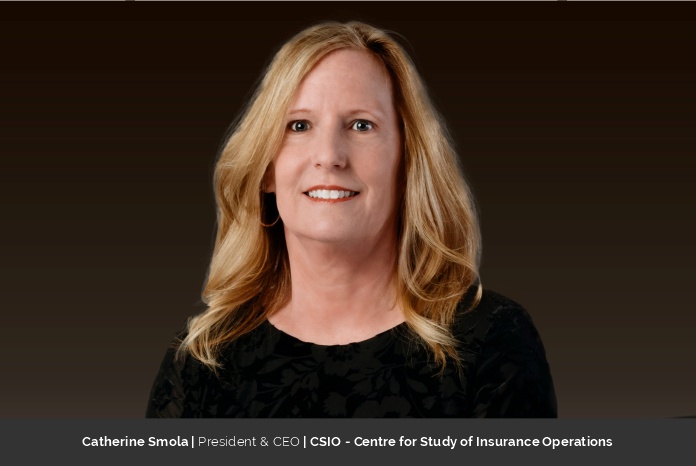 The word "credible" is central to the reputation of the Centre for Study of Insurance Operations (CSIO), Canada's Property and Casualty (P&C) insurance industry technology association. As its President and CEO, Catherine Smola embodies credibility with her diverse experience and knowledge.
Catherine has 30 plus years of experience in the insurance industry, and she is currently responsible for advancing CSIO's central mandate of seeking ways to provide a competitive advantage for the Broker Distribution Channel in Canada. She reports to the CSIO Board of Directors.
As Catherine leads an association, she does not have the authority to mandate anything. Together with the association members, CSIO builds solutions that their members choose to adopt. "Each time we roll out a solution and achieve widespread adoption, it's clear we've done a great job," Catherine says. "While awards, salary, or title may be popular measures of success, I think the true measure of success is when people and organizations choose to follow you when they have the option not to."
A guiding light to many, Catherine likes to mentor young professionals and help them grow into the best leaders that they can be. It gives her great joy to watch them develop their leadership skills and take on new challenging roles – not only at CSIO but in the insurance industry in general.
She considers it her best recognition when she sees an employee, of the team she built, grow and advance in their own career. "I would like to think I had a small part when someone has worked for me and is now able to lead their own team and achieve professional success," says Catherine.
Professional Life
Over the years, Catherine has held progressive positions at several insurance companies, all involving technology and gaining consensus. When she was a university student, she worked, in the summers, as an administrative assistant at an insurance brokerage, where she liked its attention to detail and focus on customer service. Catherine recalls the way the brokers took time to really understand each client's situation and the need for personalized service and advice.
After she finished her Honours Bachelor of Arts, degree at York University Catherine came to know that CIGNA Corporation (now ACE Insurance) was advertising a management trainee program for recent university graduates. As she had loved working in the insurance brokerage, and was interested in joining the industry, she applied and was accepted, to the trainee program.
Catherine calls the program "fantastic" because it offered her a well-rounded experience in various areas, including commercial lines. "The complexity of the risks really drew me in," she says. "I had the opportunity to go out with the engineers from the loss control department and visit the factories and facilities that we were insuring."
The management trainee program was an outstanding learning experience for Catherine. She says that it gave her a foundation that she is still drawing on today at CSIO, which she joined in November of 2011.
Challenges at work, Catherine believes, really strengthen the skills of a person. In the insurance industry, where she has spent her career, she has faced multiple challenges while trying to bridge the gaps between stakeholders' different points of view. For example, in one of her roles with an insurer, she was responsible for working with the three regions across Canada to develop and implement national strategic initiatives. Catherine recalls that each region had different interests, and because of that, they needed to build solutions to fit all of them. If one region wanted something and another opposed it, then we had to work together to reach consensus.
"I didn't have the authority to make and impose a decision," Catherine says. "I had to develop the skills to build widely applicable solutions and achieve consensus. That's been invaluable in my career."
40+ Years Old Organization
CSIO celebrated its 40th anniversary as an industry association in 2021. It was founded in 1981 to bring together members of the P&C insurance sector in Canada to solve common pain points. Today, its members number over 80 insurers, 35 vendors, and 38,000+ brokers. "Together, we solve operational problems that affect us all and which nobody can solve in isolation," says Catherine.
The organization has evolved over the decades. Catherine points out that they owe their longevity and relevance to a number of factors. First and foremost, CSIO's members continued willingness to collaborate together to improve the customers' ease of doing business in the broker distribution channel. Another key contributing factor is the commitment to support innovation through the development of standards.
Initially, CSIO was known for its standards and forms. Over the last few years, it has evolved to become an innovative thought leader that has been involved in developing, implementing, and maintaining digital solutions to improve the customer experience and helping brokerages digitize their operations.
"We've become the preferred provider for industry eLearning, with free, accredited technology and cyber-security webinars and courses," Catherine says. "As an association, we also advocate on behalf of our members."
The key to CSIO's success is the leadership role it plays, providing an open forum for the industry to work together to develop and enhance existing standards and solutions that improve the efficiency and competitiveness of the industry.
Innovation Has a Purpose
CSIO is all about innovation. That is the value they create for their members. Catherine says that they commission research from organizations, like the Conference Board of Canada to get the best intelligence, and then they use that to create new solutions or adapt existing ones. They, however, do not believe in innovation just for the sake of it. "It always has a purpose," Catherine says. "Everything we do is to make it easier for Canadian consumers to do business with their insurance providers and to help the Canadian industry be competitive."
CSIO also does not stop working on a solution once it is created. Its spirit of continuous improvement means its innovations – like its data standards – form a foundation for additional innovations. The biggest obstacle to change is inertia and the pull to keep doing things the way they've always been done, Catherine points out, adding that the job of CSIO is to help the industry overcome hurdles to its innovation.
And CSIO provides a central forum for its members to come together to develop a collective vision and willingness to face inertia with an insurgent mindset by continuing to ask themselves, 'is there a better way?' to address old challenges. "By bringing together members with different experiences and skills, creative ideas evolve; and that spurs innovation," Catherine says. "It's all of us working collaboratively that's been the real driver of finding better ways of doing things."
Transformative Years
Under Catherine's leadership, the last 10 years have been transformative at CSIO. She says that while external changes have affected the industry, they have been right there to help members evolve and keep pace. A few key initiatives launched under Catherine's stewardship are:
eDocs and eSignatures

– allowing insurers, vendors, and brokers to securely transfer electronic documents and signatures that all systems understand – and, in turn, to satisfy customer needs much more quickly. In 2021, there were almost 4 million eDocs transactions every month.

My Proof on Insurance (MPOI

) – MPOI is Canada's leading solution for securely emailing customers their personal and commercial insurance policy documents – including proof of auto insurance slip (eSlip) right from their smartphone.

Three full sets of Data Standards, with monthly updates to keep them in sync with business needs. The National Standards Working Group ensures that, and since product evolution doesn't stop, neither does the evolution of these Standards.
A Professional Development Program that features flexible, on-demand, and free webinars and courses – for members – on technology and security that keep members updating their digital knowledge. Members can further boost their insurance career by earning their CSIO Digital Member designation when completing six or more on-demand courses.
CSIO's Commercial Lines (CL) Working Group has made exceptional strides in furthering CL Data Standards since it launched a few years ago. Today, robust and mature Commercial Lines Data Standards mean fast, efficient processes so brokers can deliver small business commercial quotes in minutes, not days, improving the customer experience.
Innovation and Emerging Technology Advisory Committee, otherwise known as INNOTECH, and its Working Groups. Formed in 2019, INNOTECH has achieved a lot in just a few short years. The Advisory Committee reached consensus on three common industry pain points followed by the Working Groups who quickly moved on to develop both the business and technical requirements to launch three digital solutions designed to improve operational efficiency and enhance customer experiences in the broker channel. The first two solutions, Billing and Claims eDoc notifications, leverage existing infrastructure namely CSIOnet and the CSIO eDocs Standard, and allow for up-to-date claims status and billing information—a giant step forward in the insurer-broker partnership. The third solution is development of Application Programming Interface (API) Standards. The API Working Groups finalized Java Script Object Notation (JSON) API Standards for personal and commercial insurance policy inquiry, allowing larger volumes of information to move between insurer and broker systems in real-time.
Certifications

, to ensure solutions are standardized and tested.
Catherine says that during the pandemic, the need for technology solutions suddenly took off. CSIO had the tools available so that insurance providers could quickly implement technology solutions they knew would work and keep information flowing to brokers and customers.
What is Next?
In 2021, the theme of CSIO's annual report was raising the bar. They had made immense progress with their multi-year strategic plan, and also made plans to continue to support their members with advancing the digitization of the industry in 2021, and beyond. And, in 2022, CSIO and the Board of Directors are set to create a new strategic roadmap as their current one approaches the finish line.
Catherine says that the next generation of standards and solutions are already positively impacting the industry; however, they will need to give way to future generations in order for the P&C broker channel to continue elevating the customer experience. "After seeing first-hand how effectively our members, Committees, Working Groups, Board of Directors, and CSIO employees have collaborated in recent years, I'm confident that by challenging the old way of doing things, we will continue to unlock significant and long-term value for our industry," she adds.
Success, according to Catherine, depends on being able to adapt as things keep changing. For example, 15 years ago, the industry was focused on portals – until it recognized that their inconsistency was becoming a barrier to doing business. The emphasis then changed to standards. A decade ago, when Catherine joined CSIO, the challenge came to be how fast can they implement. And, within the last five years – particularly during the pandemic — the focus has moved to digitize to meet changing consumer expectations, notes Catherine
"In a very short time, we've had to be ready to pivot several times," she adds. "If you can look ahead so you're ready for the next change, you've won part of the battle. But the other part is having the right mindset – the willingness to keep changing and evolving."
Message to Aspiring Business Leaders
Catherine believes that there is not a single career path that leads to becoming a successful leader. So, in her message, she says, "aspiring business leaders need to be ready to ask for what they want, take risks beyond their comfort zone, pivot when necessary, and build a community that provides the support and advice they need to maintain their balance and learn as much as they can to thrive."