Jose R. Sanchez: Giving new dimensions to health care services at Humboldt Park Health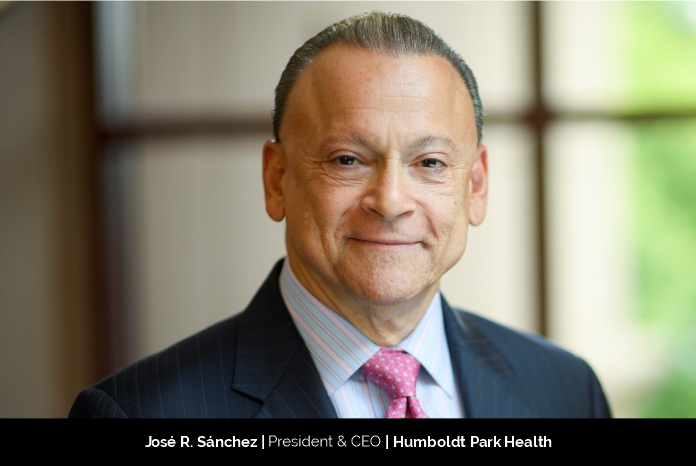 Having profound knowledge and experience in the health care sector, Jose R. Sanchez, President and CEO of Humboldt Park Health, is skillfully leading the charge of advancing health equity at the hospital. Tapping into his vast expertise, he aims to bring innovative solutions for all patients to deliver the best quality services.
Rise of a seasoned leader
Jose has been the President and Chief Executive Officer of Humboldt Park Health since late 2010. For over 40+ years, he has witnessed the challenges of health care in both New York and Chicago and gained valuable insights into successfully managing community hospitals located in urban settings. As he progressed forward, he decided to widen his knowledge to contribute towards the improvement of health care for underserved populations. Jose completed his Bachelor of Arts degree in Psychology from the City College of New York and then earned a Master of Social Work from Adelphi University. In 2002, he was conferred an Honorary Doctorate degree from the New York College of Podiatric Medicine in recognition of his immeasurable accomplishments and steadfast commitment to improving the health care outcomes for some of the poorest and most disadvantaged populations in New York City. In 2019, Jose was conferred his second Honorary Doctorate degree from St. George's University School of Medicine for his contributions to medicine, education, and public health.
Before assuming his leadership role at Humboldt Park Health, Jose took the onus for the role of Senior Vice President of the Generations +/Northern Manhattan Health Network, the largest health care network in the New York City Health and Hospitals Corporation. While handling the responsibilities, he oversaw three acute care hospitals, of which two were level one trauma centers and 34 community-based health centers in East Harlem, Central Harlem, and the South Bronx in New York City.
Supporting the community with Humboldt Park Health
For over 125 years, Humboldt Park Health has been committed to providing quality, affordable, and compassionate health care on the west side of Chicago. The hospital's mission includes advancing health equity for all those served with their community and beyond. As a safety net hospital serving a primarily underserved population on the west side of Chicago, Jose has led the charge through several challenges and transformed their service offerings to align with the changing demographics and needs of their patients.
COVID-19 came with its own difficulties and swiftly changed the environment of the world around us, especially for the health care sector. Despite these challenges, the team at Humboldt Park Health stood strong and, under the leadership of Jose, they proudly forged forward with meeting the ever-evolving and emergent needs of their community. In January 2021, the hospital completed a major rebranding initiative, renaming the hospital from Norwegian American Hospital to Humboldt Park Health to reflect the diverse and inclusive community it serves along with the tagline, "Advancing Health Equity," to emphasize the hospital's renewed commitment to ensuring all members of the community have fair and just opportunities to be as healthy as possible, regardless of their race, ethnicity, or zip code.
Driving the organization on its core values
Being a senior health care executive with 40+ years of experience in the operational, strategic, and fiscal management of multifaceted health care systems, Jose has maintained financial stability and growth throughout his tenure. On top of this, he orchestrated the hospital's preparation for its accreditation survey by The Joint Commission three times. The hospital was surveyed and successfully accredited by DNV-GL Healthcare in 2019 and 2020, and are well prepared for their 2021 survey. A major $7M renovation of the hospital was also completed last year, which offers patients, visitors, and employees a more vibrant and welcoming experience.
Jose remarked, "The hospital has been steadfast in its efforts to meet the expectations of quality of service of the patient care because of its strongly held core values, namely, respect, empathy, excellence, integrity, inclusivity, and equity." At the hospital, everyone from leaders to medical staff support one another in their shared commitment to deliver quality health care to all patients and their families regardless of the circumstances that bring them to our front door.
So, to help them in the best possible way, everyone at the hospital strives to provide excellence in the quality of care that it is free from harm, in a safe environment that facilitates access to critical services, follows best practices, and keeps their patients' health and wellness paramount. Integrity and transparency run deep in the veins of the hospital, and everyone at HPH encourage one another to grow. He adds, "HPH, its leaders, employees, and medical staff make advancing health equity a priority for all."
Proud moments
Jose's hard work and innovative strategies have brought a lot of achievements and accolades. He was named by Governor Pat Quinn to the State Health Improvement Plan (SHIP) Implementation Coordination Council and the Budgeting for Results Commission. He is one of 24 appointees who work collaboratively with the Governor's Health Care Reform Implementation Council to promote state-wide improvements in public health. He serves as a board member of different associations and organizations like Illinois Health and Hospital Association (IHA), the City Club of Chicago and is Co-Chair of the IHA Committee on Health Disparities. Besides this, he also serves as the board member of St. Augustine College in Chicago and Boricua College in New York. In 2009, he was named among the "Most Influential Latinos" in the United States by Hispanic Business Magazine. In March 2021, he was named among the "Top 50 Most Influential Latinos on the Move" by NegociosNow Magazine. On top of all this, Jose was one of the preeminent leaders involved in the 1st Annual IHA Equity Action Day event, which celebrated hospital and health system efforts to reduce health disparities and offered new insights for the journey ahead to achieve health equity.
Promising future
Taking the charge of the hospital, Jose wants to make Humboldt Park Health the first choice when it comes to health care and wellness services in the community. He adds, "We strive to be best in class for clinical care, service excellence, and employee engagement by following our guiding principle, Equity Begins at Home." He is fully dedicated to enhancing the quality of life for everyone and motivates his workforce to take the hospital to the next level.