Pete Tseronis: Building relationships by "connecting dots and bridges"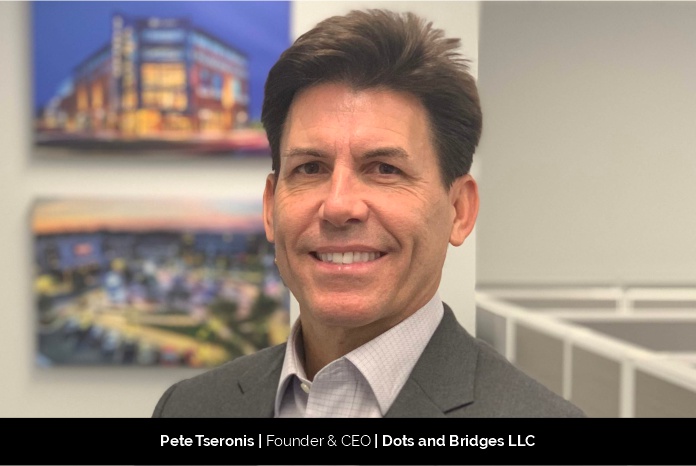 Developing sustainable relationships by nurturing people's dreams fuels a sense of satisfaction and happiness at the same time, and with that in mind, the Founder and CEO of the Dots and Bridges LLC, Pete Tseronis, is constantly building relationships and is fostering the blending of technology, humanity, and culture.
Pete has 30+ years of experience leading several cabinet-level and commercial level entities, and his main focus is to collaborate with government, investor, industry, and academic ecosystem to convey technology's value proposition and improve quality of life via the commercialization of transformative innovation(s).
Dots and Bridges LLC provides a broad suite of professional services to help its clients throughout the business cycle. Customer satisfaction, establishing trusted relationships, identifying "out-of-the-box" opportunities, and amplifying organization brand are just a few of the Dots and Bridges objectives.
Journey before Dots and Bridges LLC
Pete enjoyed an enriching Government career, starting off in the Pentagon and finishing as a Senior Executive Service member. Pete served four presidential administrations, three cabinet-level agencies and was appointed as the Chief Technology Officer (CTO) at the U.S. Department of Energy (DoE) and the U.S. Department of Education (ED).
Throughout his Government tenure, Pete collaborated with various stakeholders, e.g. National Laboratories, Investors, and Entrepreneurs, to socialize partnership opportunities in an effort to in bridge technology optimization with economic value.
He adds, "At the DoE, I was fortunate to work with an incredible swath of talented individuals and create organizations focused on Cyber-Physical Architecture, Systems Engineering, Technology, and Innovation, affording strategic direction and vision for the promotion and application of scientific and technological innovation across our Nation's critical infrastructure sectors."
Serving the ED, Pete directed many hiring, training, counseling, and development activities. Pete's focus on IT services afforded the ED mission components to leverage Data Center modernization during a time when converged communications were affecting and technology agendas.
Pete has been recognized as a change agent, both nationally and internationally, being elected to the Global IPv6 Hall of Fame and receiving multiple Fed 100 Awards.
Embracing Challenges As Motivation
There is a saying that success and failure go hand in hand, and both are incomplete without each other as both of them tell their share of the story. Pete's leadership is defined by his passion and purpose for the "greater good." And throughout his journey to grow the Dots and Bridges brand and credibility, Pete's fervor to "roll with the punches" ultimately pushes him forward. Pete feels that success is realized by working with like-minded people, loving the work one does, and welcoming the hurdles coming in between.
He states, "A key lesson learned is to accept that I cannot do it all, even if, at first, you have to do just that. And I view roadblocks as teaching moments, which, in turn, may create a more efficient means of securing clients and growing revenue."
Facts Tell, Stories Sell
Like most entrepreneurs, being a "Pete-of-all-Trades," is required. One must maintain the drive within him to be strategic, tactical, and operationally focused on the fly. Balancing this has resulted in expansive growth of Dots and Bridges LLC. Shaping the company culture/messaging in alignment with what is going in the world, both in terms of digital transformation and workforce development, Dots and Bridges seeks to create "lightbulb moments" for clients hoping to continuously "move-the-needle." The Dots and Bridges client base is recognizing the value of answering questions such as "Why Should I Care about this technology" and "What does this mean to me?"
Staying Informed
Pete confidently slays it all by staying educated. He strongly believes that technology serves to create efficiencies but requires due diligence. No individual (or company) is an expert in everything, and competition is ever-present.
He adds, "We at Dots and Bridges seek to stay abreast of what matters most to our client's mission and needs." The versatility of services they provide makes them unique and ultimately leads to having a good grip of the market and where it's going.
Responsibilities after wearing the CEO Hat
Running the company with a CEO hat on requires a balance of brand awareness and revenue generation. "Assisting clients with their unique differentiation is what we do at Dots and Bridges, helping them crystallize their value proposition," adds Pete. This has served to create a niche for Dots and Bridges.
With great thought leadership and a mentoring approach, Pete knows how to maintain a healthy working atmosphere in the company by always encouraging employees to immerse in the pool of curiosity and creativity, thus enhancing the work quality and its credibility.
He states, "The transformation over the years is one that is dynamic. It is a continuous effort to refine the business process, be open to new methods, and engage potential partners. Business transformation requires adaptation, both in terms of what is obvious and what is hidden in plain view."
Balancing Work And Life
He starts his day just like an ordinary person with a hot "cuppa Joe," which is fuel for him to get his neurons firing. And, especially now during the pandemic, Pete has converged his work/family environments, being a CEO, Mr. Mom, and Google Classrom teacher throughout the day.
Pete's wife and four children, comprise his "rock" and represent why he left the Federal Government to start Dots and Bridges. Being a father and husband is as much about being "present" in the family in addition to being a financial provider.
The Road Ahead
Pete adds, "The journey is one laced with incredible insight, extraordinary relationships, and continuous improvement. The Dots and Bridges mission remains committed to convening influential individuals from Government, Industry, Investors, and Academia; celebrating progressive thinking, entrepreneurial passion, and stimulating art-of-the-possible vision; creating connections, highlighting innovation, and cultivating trusted relationships; and utilizing storytelling/translation to convey messaging and teach individuals."
Dots and Bridges continuously shapes its advisory/consulting practice to provide a suite of custom and professional services. Dots and Bridges is blazing trails within the critical infrastructure conversation, showcasing how technology underpins the Nation's most critical sectors, which, in turn support our cities and communities. Dots and Bridges has introduced Its custom "Trusted Relationship" training workshops are helping change the paradigm from a buy-sell transaction to a seeker-solver opportunity. The Dots and Bridges YouTube channel highlights the topics, thought leaders and humanizing conversations necessary for today's ever-evolving technology landscape. Be it digital transformation, supply-chain risk mitigation, and/or a 21st workforce, Dots and Bridges is committed to translating tech-speak into societal value for humanity.