Alister Punton: Building A Lifestyle Community with Floating Homes at Sea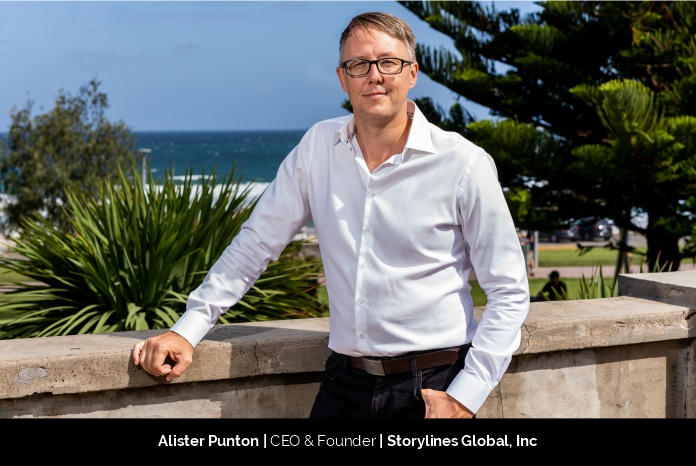 The real estate-cruise hybrid business is making dreams come true for those who love cruises or envision living in a home at sea.
Luxury global travel from the comfort of your home at sea, is what Alister Punton, wants to offer those for whom a life spent sailing from port to port, or retiring on a luxurious floating home, would be a dream come true.
As CEO & Co-Founder of Storylines Global, Inc., a real estate-cruise hybrid business, Punton is reimagining the global cruise ship and retirement industries, by offering residences at sea, via one of the travel industry's most compelling, high-growth ventures.
An entrepreneurial spirit in real estate and technology
With extensive experience in the property and technology sectors, developing businesses and solutions for markets globally, Punton has always had 'that entrepreneurial spirit' and firmly placed himself in control of his destiny.
His expertise in the property sector includes broker sales, site selections and feasibility, amalgamations for high-rise buildings, subdivisions, development and construction.
He is also an experienced systems consultant, developing offline and online solutions, including a crowdfunding portal and resource site, and has combined his skills in real estate and software to develop a fully integrated SaaS property product.
Working internationally all his life, Punton spent several years developing an import and distribution business in the construction sector in China, dealing with quality control, manufacturing processes, product development, sourcing, shipping, freight management, cost controlling, and much more.
In his spare time, he is an advisory board member to Monarc Global SaaS platform for private jet charter. "My life before Storylines was in various roles primarily in property and construction in Australia," he recalls. "What I didn't realise then, is that those experiences were setting me up for Storylines, which at its core is a real estate-cruise hybrid business."
Taking the leap of faith
Punton describes his journey as an entrepreneur and leader at Storylines as bumpy. As private residence yachts and ships tend to cater exclusively to ultra-high net worth individuals, he had to find a way to re-invent that model and make that lifestyle more accessible.
Storylines offers fully-furnished, 1 to 4-bedroom residences, along with studios and two-story penthouses, on board its flagship vessel MV Narrative, where residents can avail of a number of exciting amenities, including a microbrewery, library, movie theater, a solar-powered hydroponic garden farm and much more.
The residents have a say in where the ship goes, and these floating homes-at-sea can be purchased outright, or as 24-year leases. With the average starting price at $875,000, they cater to a more diverse global population than similar ventures.
The foundation for Storylines was laid with endless hours of research and a solid concept, so Punton together with business partner Shannon Lee took a leap of faith and started getting industry leaders on board. It was a personal ethos of just getting in and getting things done that has carried through to the successes that Storylines is now benefiting from.
"A classic example of this is fund raising," he says. "We knew at the start no-one was going to give us a few hundred million dollars to 'have a look', but we also knew that the business was a desirable one that people were instinctively drawn to, so we adopted a pay-to-play model where people wanting to be involved needed to front up, with cash or services or both."
Dealing with environmental concerns
Another concern that they had to deal with is the history of environmental concerns around the cruise industry, so Punton started out from day one to set Storylines apart and address these concerns by setting a new standard in the industry with the greenest cruise ship.
Their green initiatives include converting waste to energy and choosing a cleaner fuel source like liquefied natural gas (LNG), one of the cleanest-burning non-electric marine fuels. They also plan on choosing a sustainable supply chain, growing food on board in solar-powered hydroponic units, limiting the use of plastics, and utilizing reclaimed ocean plastic in design materials.
Standing still means going backwards
The challenge of starting a business that doesn't have a well-paved path is that the road has many roadblocks, as Punton discovered. "Nothing has been easy, but the biggest challenge was the start. Going in, my co-founder Shannon Lee and I knew this," he says.
Despite the challenges, Punton is nothing if not resilient, a word that sums up his journey so far. On a day to day basis he deals directly with the management team to keep things moving on the right track toward the company goals, while his co-founder, Shannon Lee, works on strategy and vessel development.
"I've grown a lot as a leader in the last six years of running Storylines, and a big part of that is learning to recognize your own weaknesses and turning them into strengths, just little by little each day," he says. "It's important to never stop learning and growing, as you can never stand still. With everyone else growing, standing still means going backwards."
Building a diverse lifestyle community
Punton keeps a very close eye on the sales department, as that is what Storylines is all about – the residents and the lifestyle community they will become once together. So, making sure they are on-boarding new residents that really align with their eight principles is the most important thing for him.
The Eight Principles of Storylines:
· Discovery
· Lifestyle
· Experiences
· Participation
· Contribution
· Mindset
· Ownership
· Global Citizenship
The Storylines community is represented by a wide variety of socio-economic backgrounds and diverse world views. They have seen very strong growth as a company over the last 18 months, given that more people now have the freedom to work and study remotely. As a result, their internal team has well over doubled.
"Getting strong department leadership in place has allowed me to focus on growth, strategy and execution," says Punton. But his proudest moments of recognition come from their loyal resident community.
"They are the ones that have made Storylines a success," he says. "I owe it all to each and every one of them. They tell us that we are making their lifelong dreams (of traveling the world) come true."
On a regular basis, he receives photos from groups of residents meeting up somewhere around the globe to get to know each other and begin to live the Storylines lifestyle. "Each time that happens is a very proud moment for me," he says.
The value of building a great team
Punton believes that success comes in many forms, and changes almost daily, depending what you are doing and what stage you are at. But one thing he does not underestimate is the value of building a great team.
"Sounds simple, but it's the hardest thing to do well in a growing company, and the very first thing you need to do is get yourself a good, no, great team," he says. "This cannot be understated. Your team is in direct correlation to your company's success."
A good yardstick Punton uses is how far he can step back and not have everything fall apart the moment he does. "The more and longer you can step back from the daily grind of running your business, the better your business," he says.
Another challenge he faced was that of keeping motivation high in a completely remote workforce, represented by no less than 10 countries, and even more time zones.
"I was uniquely positioned though, as I have been working remotely for most of my adult life," he says. "In our business we try to keep it fun, and the fact we are building a global floating city, well, that is fun and exciting in and of itself."
In our business we try to keep it fun, and the fact we are building a global floating city, well, that is fun and exciting in and of itself.
Keeping communication open, and hosting social team events is the foundation of keeping motivation high, and this is an area he hopes to improve on this year.
The challenges of work-life balance
Work-life balance is something that Punton admits he has only managed to tame in the last few months. Up until that point it was not uncommon for him to be at his desk from 7 am till 2 am, six days a week. But, with two small kids and a wife in the mix, he soon realised that this was clearly not sustainable, and that something had to give.
The solution was in hiring a team of personal assistants working around the clock, 24/7, to take the load off – redirecting emails, internal messages and calls, making sure that nothing is missed, sitting in every call and meeting to follow up on anything that he said he would do, triaging tasks that come in and following through in whatever department.
"This has changed everything for me, and I highly recommend anyone trying to break free from the shackles of the day-to-day minutia to focus on the bigger picture, to at least trial this for yourself," he recommends.
Building a legacy in Storylines
Punton's conviction in Steve Jobs' famous quote that "the people who are crazy enough to think they can change the world are the ones who do," inspires him to believe that one must never give up on their dreams.
"That's 6 years and counting of the people closest to you thinking that you're crazy, knock backs, no's, endless flights and airports, meetings, events, late nights for years on end coupled with early starts… the list goes on. Stay true to your plan and turn others' negative energy into your positivity," he says.
Punton and Lee originally set out to repurpose older cruise ships into new markets. The first project they looked at had an end value of around $230m. Now they have a brand new vessel with a project lifetime value in the billions.
"I can see the forward trajectory of where Storylines will be in three years and well past that time, and although I'll never stop, I think it would be safe to say that I will have surpassed my original dreams for Storylines," he says.
Today, Storylines is making the seemingly unrealistic dream of living on a ship permanently come true for their residential community, with their brand new state-of-the-art vessel planned for launch in 2024.
"By the time our flagship Storylines MV Narrative sails, my 'overnight success' will be almost 10 years in the making," says Punton. "With a project lifetime value in the billions, and with more vessels in the pipeline, I think it's safe to say we have built a legacy in Storylines, not just for the founders but for the residents and all involved."
By the time our flagship Storylines MV Narrative sails, my 'overnight success' will be almost 10 years in the making.