James Russell: Bringing change in the financial industry for small companies with Brisk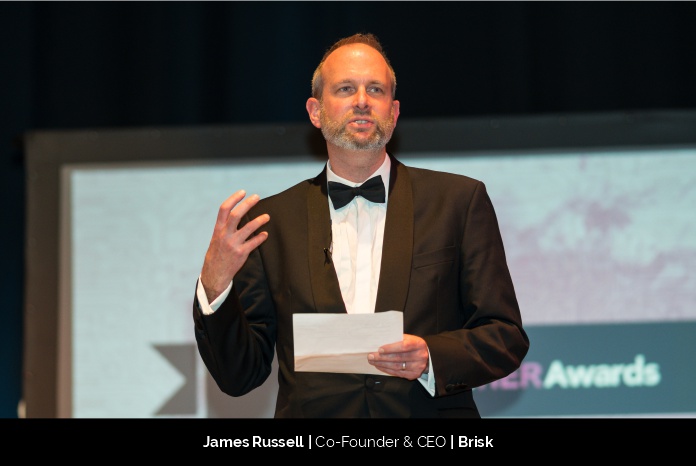 Being optimistic by nature and a big fan of technology, James Russell, Co-founder and CEO of Brisk, is allowing small companies to enter a world of new opportunities and expand their business.
Behind the curtain
Realizing a significant gap between the small-scale and largescale companies to manage and mitigate risk, James co-founded Brisk. However, to reach this point, he structured his journey fantastically.
He states, "I started my career at the car parts manufacturer, Lucas in Supply Chain and Sales. I then moved to the consultancy firm Ernst & Young before spending 17 years at the insurance company Aviva."
This allowed him to expand his skillset and gain valuable experience. He adds, "I'm an optimist and see the possibilities in life rather than the negatives, but as we see personal assistant apps for our health, finance, wellbeing become part of our daily suite of tools we use, I saw the possibility to plug a gap that exists to help small businesses." This marked the advent of Brisk.
Setbacks along the way
James believes growing a business is like riding a roller coaster. The highs are high, but the lows can cut deep into the self-belief. The setbacks sadly coincided with the pandemic.
He adds, "Some distribution deals were put on hold, and key insurers had to pause innovative projects like ours while they dealt with their own challenges. We, therefore, had to adapt and sharpen our focus on how an app like Brisk can really help small businesses in their time of need."
He believes that they had some lucky breaks raising funds, but the first challenge they found building a new product that doesn't really exist yet, is dealing with market inertia.
He states, "You have to rely on that small early-adopter segment of the market which means dealing with a lot of early rejection to find those who share your vision and will work with you to take a prototype to something that has product-market-fit. We found some great early-adopter clients who I will forever be indebted to."
Breaking shackles for small companies with Brisk
Larger companies have resources to manage risk, spot savings opportunities, and keep their business organized. But small businesses are often doing these things as the 'admin' that comes after the daily focus on securing sales and serving customers. They are therefore vulnerable and at higher risk.
Brisk is a digital assistant that saves small-scale businesses time and money by reducing their risk. James mentions, "Brisk is a technology platform that enables a business to plug into multiple data sources to unlock insight. Much as a personal finance app will help you manage your money, Brisk provides businesses with a digital assistant that helps them keep track of finances, people, companies they work with, cybersecurity, online reputation, and compliance activities – all in one tool. It's like a guardian angel watching your back 24/7, from alerting you to a supplier that may be at risk to late-paying customers or an email account that has been breached. Businesses get the chance to act before damage happens or spot that saving opportunity that they hadn't seen."
He expresses that financial services have started to modernize, but mainly for individual consumers. For large companies, the risk is still complex and requires bespoke management by humans with specialist underwriting. That won't change for a while. But for small businesses, there is a generation of start-ups and 'digital natives' coming through who expect technology to automate things for them. They don't want annual insurance policies that don't automatically adapt as their business changes.
He adds, "Our contribution will be to embed insurance and financial services into the wider context of a business. 'Smart' products and services that adjust to match my need. If my sales go up or head-count goes down, my insurance will automatically adjust. If I am paying a higher premium because I am at higher risk of suffering a cyber attack, I am given the option to reduce my risk and see a reduction in my insurance premium."
Life as the Co-founder and CEO
At Brisk, James' prime responsibility is to steer the business in the right direction. With the core vision on the front, he keeps the business on the right course to achieve new heights.
He gets proper support from his co-founder Greg, his team, and his family. He states, "I have to know when to hold firm or when to change course without killing momentum. I get energy from seeing the team enjoying what they are doing and hearing customer feedback and their words of encouragement. I'm driven by the sense of responsibility to the team and our shareholders and my family."
Being the founding member of the team, he likes to set the rules straight. He expresses that everyone shares a common desire to provide small businesses with a tool that can really help them reduce their risk and sleep easier at night. From that goal, it's been easy to set everything they do against the values of listening to the customer and doing the right thing that helps them.
He adds, "I do worry about the schizophrenic battle technology and data have between 'good and evil.' Our culture and approach are 100% about making data work in the service of the client. 'AI for good.' Although we are small now, we want to do our bit to influence the way technology is used."
Blending work life with personal life
James believes that balance in work and life is crucial to succeed at both the professional and personal front. When anyone takes the leap to do the thing he/she desperately wants to do and feels passionate about, it can be all-consuming.
Leaving a corporate role to start a business means making sacrifices, not just financially. Days, weekends, holidays blend into one continuous stream.
However, with full support from his co-founder, team, and family, he is able to excel on both fronts. He handles all the responsibilities of the work properly and also makes time for the family.
Next stepping stone for the company
James adds, "My vision is for no business to be 'caught-out' and put at risk because they missed something. I see a world where technology can help us see the information and insight we need so we can make the right decisions. "
This year will be about joining forces with other companies to accelerate the company towards its vision and a product that becomes the 'go-to' app on a Monday morning for small businesses.
He states, "We have just launched our first insurance products, so small businesses can now manage risk and combine it with their insurance coverage. That's an important first step towards integrated 'protection as a service.' We are currently building out the financial insight capability, which will combine a business' bank transactions with their accounts data to unlock hidden insights that will save them time and money. Beyond that, we will continue to create a living data profile of a business that will enable them to access tailored financial services. "
For more information, click on: www.getbrisk.com