Paving the Path towards Success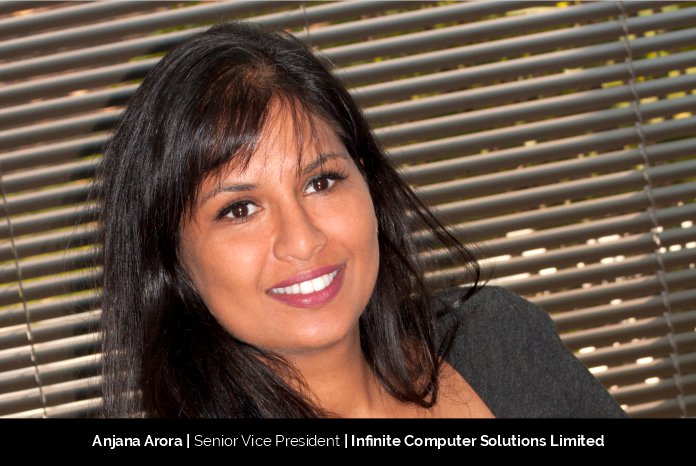 With a motto of making a difference and embracing different opportunities, Anjana Arora had set out on a journey. Today, the pioneering businesswoman is the Senior Vice President of Infinite Computer Solutions and is responsible for the company's burgeoning growth in the market. Herein, Beyond Exclamation proudly highlights the inspiring journey of Anjana Arora and her road towards achieving business excellence.
Everything Happens for a Reason
Growing up, the goal of Anjana was to have a meaningful impact on those around her. She realized early that both personal and professional success come from the positive effect we have on our surroundings.
"I have always known that my life was going to be led on this desire for positive change. As a person that always interested in Science and Math, so I did not necessarily see myself in a Market Strategy function. However, I believe my technical background gives me a good edge is a very measurable industry. I believe everything happens for a reason and that I am exactly where I was always supposed to be. I found my dream job even though I was not looking for it." exclaims Anjana.
Smallest Decisions have Big Impacts
For Anjana, the best part of her journey has been working with the many different teams that she has been able to be a part of, both in small and big businesses. She mentions "By going through this journey and experiencing new things, I was able to find the best fit for myself."
Starting off her journey with GE and then moving to PWC really gave her confidence at a young age to talk to executives and get them to take action. It also expanded her view of the world. She explains "Being able to travel and see the world from a different perspective has shown me that there is still so much to learn and so much more work that can be done."
However, just like any other individual, the road hasn't always been a bed of roses. The toughest part of Anjana's journey thus far has been making the decisions that she has had to make to get to where she stands now. "There are no small decisions in life – even the smallest decisions have big impacts. Deciding to come back to work after six years, for example, was a tough decision that left me feeling insecure and scared about what I was getting myself into. However, that decision brought me to where I am now. Not only has that decision affected my life, but it has helped me understand where the younger members of my team are coming from and really help them prepare for their future," Anjana recalls.
A Brief Career Overlook
Anjana boasts a pool of responsibilities at Infinite Computer Solutions, including public relations, analyst/advisory relations, partnership agreements, content creation, event organization and, digital presence management. She holds a Bachelor of Science degree in Mechanical Engineering from the State University of NY at Binghamton. She is also a graduate of the GE MMP program.
Over the last 20 years, Anjana has held cross-functional leadership positions with companies such as GE, PwC and Booz Allen. Prior to being promoted to SVP-Market Strategy, she was the VP of Marketing at Infinite and at Infinite Convergence Solutions. Anjana and her team build awareness regarding Infinite's core competencies and opening new markets while supporting the technology and technical teams in delivering their customer commitments. Anjana's marketing expertise includes the following industries: Telecom, Healthcare, Manufacturing and IT Services.
Working with many teams and companies early on in her career gave her the chance to evolve into the position that was the best fit for her. Coming from a technology background, Anjana was initially hesitant concerning her marketing abilities. However, with additional training and the confidence showed by the Infinite leadership team upon her, she was able to take on this marketing role with absolute precision.
"Before working for Infinite, I led a happy and fulfilling life. Adding Infinite to that equation has only expanded that happiness. Of course, the support of my family and colleagues allows me to pursue my passions and keep growing"
A Company with Infinite Promises
According to Anjana, companies should turn towards Infinite due to the company's strong domain knowledge in its chosen verticals. The verticals include Healthcare, Banking & Finance, Telecom, Media & Publishing, and Federal Enterprise.
With its innovative technologies, Infinite is enabling its customers to stay ahead of the dynamic marketplace. Infinite's core competencies in the area of Platformization enable us to use analytics, process automation, and cost optimization. The company supports its customers in their ability to engage their end-users faster, better, cheaper.
Here are some of the key features and promises of Infinite Computer Solutions:
Support 2M veterans' healthcare through an automated Medical Disability Evaluation process.
Enable 149M mobile subscribers with its telecom solutions.
Process 1 trillion messages with its telecom solutions.
Touch 100M consumer lives through its global Sis.
Make efficient patient care accessible to 80M patients through its healthcare payer offerings.
Enables comfortable commuting experience to 2M travelers through its digital transportation solutions.
The ability to serve those who have served us
Vetfed Carenet has is another work stream that she is proud to be involved with. The company is a partnership between Infinite and Vetfed. It has established its provider network to provide health assessments for Veterans across the USA. The strong network of physicians and medical staff conduct evaluations and capture information required by referring organizations. The company's healthcare providers work with the details of each individual to ensure that matters are handled with the respect and sensitivity they deserve. She finds it very rewarding to be part of the strategy and outreach for the organization.
A Continuous Journey of Expansion and Growth
Anjana firmly believes her job will grow and change as her company goes on evolving and expanding. Looking forward, her plan is to continue to grow as a leader, not only for Infinite but also for her personal family. "Being a role model for my children has inspired me to not only show them that they can accomplish anything they put their minds to but also to empower women everywhere. With a little push and encouragement, people can accomplish anything."
Anjana believes that she has not achieved everything she has set out to do, nor will she accomplish them anytime soon because there are always new goals to go further than you initially imagined. She asserts "This is what gives me the fuel and drive to get up every day and finish what I have started. Life is a long journey full of up and downs, which is what makes goals and dreams so important; however, those aspirations won't amount to anything without hard work behind them. Being able to see Infinite transform from an IT services company to a front-facing product/Platformization™ company has truly been an amazing experience. Seeing the company grow and gain market recognition showed me that my hard work paid off in the end. "
Infinite is on the cusp of its next growth phase, which is an exciting phase for both Anjana and her team. The company has been growing exponentially and there is still so much more work that can be done. "This is just the start of much more to come," she concludes saying.