The 10 Most Influential Women in Tech, 2021 Vol II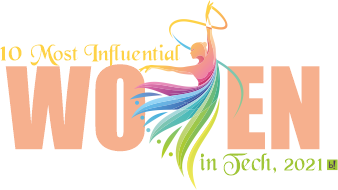 Over the past two decades, women entrepreneurs have taken the reins in the business world. The number of female-owned small businesses grew 1.5 times more than the overall national average for new ventures, with over 9 million female-led companies being reported in the U.S. during 2016.1 Women entrepreneurs run the gamut from small, homebased business owners to powerful chief executives of some of the world's most notable companies.
While it's true that women still face certain challenges on the road to entrepreneurship, they are invariably changing the game by creating new business models and new jobs, and ultimately helping to shape and grow the economy.

In this edition on influential women in tech, titled, "The 10 Most Influential Women in Tech, 2021 – Vol.2" we are presenting successful women from technology who believe in inspiring others and leading them to better heights. On the cover story of our edition, we have Alicia Carroll, an American engineer, technologist and President of Tech Innovation Global, Incorporated – a company founded for community initiatives, COVID-19, analysis; mandatory mask recommendations and the environments' biodiversity to connect science to earth and overall well-being. Tech Innovation Global is a Small Business/Minority Business for community service, improvements, charity and overall well-being. Alicia Carroll is an award-winning technologist of 18 years.

Tech Innovation Global has been performing COVID analysis since February and provided a detailed analysis on re-opening in the May/June timeframe. Tech Innovation Global Inc. also provided integrated logistics supply capability to many teams to determine what supplies and items were available in America. Tech Innovation Global also reached out to about three thousand companies, many of the Fortune 500 companies, and encouraged them to require facemasks in their facilities. Therefore, Tech Innovation Global Inc has been performing a lot of COVID activity and reaching out to industry. Tech Innovation Global is collaborating with telehealth COVID-19 (SARS-CoV-2) screening services to provide additional safety during the flu season.

Apart from the cover story, we have Lisa Lang, Founder and CEO, ThePowerHouse; Pauline Ng, Founder & Managing Director, Porcelain; Tracy Lloyd, Founding Partner, Emotive Brand; Sarah Amritt, Co-Founder & Inventor, Omie View Bassinet Mirror; Jessica N. Box, Owner, SoCal Survival Swim; Sharon W. Reynolds, President & CEO, DevMar Products, LLC; Anjana Arora, Senior Vice President, Infinite Computer Solutions Limited; Michelle Lanter Smith, Chief Marketing Officer, PrismHR and Leyah Valgardson, Executive Coach & Leader's Voice Strategist, Leader's Voice.

Without further ado, let's begin already. Happy reading!
Follow us on social media.