Porcelain: Redefining the Importance of Skincare with the Touch of Technology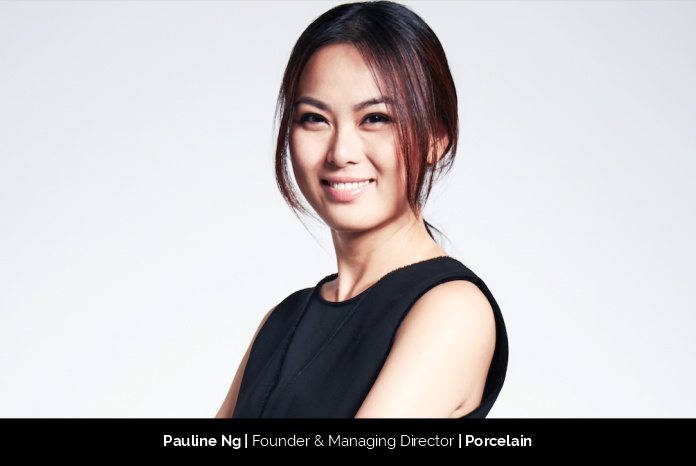 Appearance might not be an important element in determining your personality but how you feel about yourself is certainly a significant characteristic that stimulates self-confidence and an optimistic attitude. When Pauline Ng, the Founder and Managing Director of Porcelain gauged the vitality of inner beauty, she indulged into contriving the art of skin refinement to help others. Through Porcelain, Pauline has been an over-achiever in her attempt to bring about a change in how people feel and care about themselves.
Porcelain is a homegrown cult skincare brand that started as a skincare salon with the ambition to do things differently. In their overwhelming journey of 10 years, Porcelain has been graced by more than 80 awards for exceptional products and services. With a clear vision to be transparent at every step, Porcelain is an established brand that is trusted and recommended by thousands of loyal customers.
In 2009, Pauline Ng, ventured out to be a self-made businesswoman, and has not looked back since then. She may have faced many challenges while climbing the ladder of success, but it only made her stronger and gave her the nudge to do better. In this exclusive article, Pauline shares with us the success story of Porcelain that has grown from a small two-man outfit into a trailblazing skincare authority.
The Passion that Incorporated Porcelain
Cosmetics is an evolving industry that has witnessed the growth of some enormous brands. Yet, when it comes to skincare, customers are very careful as to the brand they choose. Pauline's mother, Jenny Teng, was passionate to help people get better skin. With over 20 years of experience as an aesthetician, Jenny co-founded Porcelain with Pauline and brought a remarkable level of skills and expertise into the business. Jenny's passion was truly inspiring that saw the transformative power of skincare and how good skin can empower and bring confidence. With Porcelain, the mother-daughter duo wanted to provide clients with a place they can trust; that means transparency, delivering exceptional value and standards to clients, two-way communication, and the combination of craftsmanship with state-of-art technology for holistic skincare. "Porcelain is a safe place where clients would experience no hard selling; I wanted to run a place built on integrity and trust.", Pauline shares.
Every Challenge is a Learning
As a pioneer in the industry, Porcelain had to face many challenges while they were still trying to emerge as a trusted brand. There were different challenges at different stages of growth. Initially, the biggest challenge was the lack of capital and Pauline had to monitor the cashflow very closely. Having done that Pauline was able to increase the company revenue over time. Eventually, they started growing and hiring. During the growth process, we tend to make many mistakes that help us gain learning lessons that are beneficial for the future. While Porcelain started hiring, they too made a legal mistake that was of creating self-drafted Employment Contracts. Referring to this as a painful lesson learnt, Pauline got out of it with the help of a few friends who stepped in at the right time. The next challenge was the fear of becoming obsolete. When Porcelain reached the point where they needed to expand, Pauline realized that their original "self-designed" logo and packaging bottles could no longer work. She knew that they had to re-brand, which was expensive but worth it.
Porcelain also faced a few more roadblocks like, ensuring consistency in service standards, training, retaining, and hiring staff, amongst other operational issues. Also, the landscape became extremely competitive with new entrants in the Medical Aesthetics field.
As with any company, manpower and quality control issues are the biggest challenges. But, Porcelain prefers to grow slowly, instead of over-expanding which helps in maintaining a high level of quality of service. The company also strives to offer the best remuneration to their employees and develop a strong cohesive company culture to retain employees who have aligned values. "Our challenge remains in creating sustainable, yet malleable processes to help us achieve international growth in the next five years.", Pauline adds.
The Exceptional Services of Porcelain
Porcelain currently offers a suite of over 30 treatments available for all skin types and concerns. They take pride in their treatments, for the use of cutting-edge technology combined with traditional craftsmanship and the use of products under Porcelain Skincare.
Porcelain's treatments have won several awards over the years. One of their signature treatments is the QuintessentialTM, a 120-minute intensive extractions facial (most facial spas perform this only as a perfunctory step in another primary facial). The QuintessentialTM targets severely congested and acne-prone skin by cleansing impurities from deep within to unveil smoother and brighter skin. Its intensive treatment is based on a secret extraction technique developed by co-founder and director aesthetician of Porcelain, Jenny Teng. It allows accurate identification of the different types of skin congestion, followed by a tailored extraction method to best suit each individual's skin conditions.
At Porcelain, extraction facials are only performed by therapists who have honed their skills over a compulsory 6-month training period. This means that each therapist is trained to carry out extractions using the right angle, amount of pressure and technique to decongest skin while minimizing the risk of scarring.
Technology is another aspect that adds value to Porcelain's services. The new-age consumer is reliant and highly dependent on technology, they require a personal approach, and demand for greater transparency. "The right use of technology can help businesses elevate the consumer experience in an engaging and personalized manner.", says, Pauline. Technology is at the core of their business at Porcelain. Starting with their Skin Analysis machine, they use it to conduct Skin Discovery, a 360° evaluation of their client's skin. The information is then used to curate and customize treatments and products tailored to the individual's needs. They then track their client's entire Porcelain journey and the evolution of his/her skin with their software, which can also be viewed via the Porcelain's mobile app.
What Makes Porcelain Different
Transparency is integral to Porcelain's business. The advent of their Porcelain mobile application and third outlet, Porcelain Origins, incorporates multiple digital touchpoints that serve not only to enhance and streamline the consumer experience, but also improve transparency and clients' accessibility to information. They do not believe in hard selling, but rather, educating their customers and giving them the freedom of choice.
Porcelain also has really strong internal competencies: From heavy investment in the best medi-technology equipment, intensive R&D, craftsmanship, to integrated data points, they are able to do high-level personalization for clients to help them gain the best results.
Porcelain believes in correcting, not concealing. A lot of treatments and products are targeted at treating the root causes instead of just the symptoms. For example, the fine lines that appear from dehydration. The key is in getting your skin back to its right balance of pH, sebum and water levels. Once that happens, skin problems do not recur as frequently, sensitivity is reduced. Porcelain understands that they need to get that healthy skin from the inside out, from the cellular level, and let it do its job.
A Dream Project of a Successful Entrepreneur
Porcelain was founded in 2009 by Jenny Teng and her daughter Pauline Ng who was then a fresh graduate from the Singapore Management University. Pauline quickly learned the business and gained the position of Managing Director in the company. She runs a tight ship at Porcelain to ensure the values of integrity, transparency and craftsmanship perpetuate throughout the company since 2009. Although Jenny is not at the forefront of managing the company since 2015, she continues to use her expertise in training all the therapists for treatments and cleansing.
As the Managing Director of Porcelain, Pauline Ng, manages the overall business operations of the company. Additionally, she is also focusing on R&D to continuously innovate and expand their current product line.
"Witnessing the success stories and watching our clients achieve healthy, radiant skin they desire keeps us motivated. We innovate by curating and creating the best solutions through an active feedback loop with our clients. All our treatments and products are designed, developed, and continuously reformulated because at Porcelain, we listen.", Pauline proudly shares.
The Growth and Future of Porcelain
For 11 years now, Porcelain has been focusing specifically on the business of skincare treatments. One amazing shift they have seen is that the more the consumers are educated on skincare, they expect greater transparency in ingredients. As discussed earlier, Porcelain leverage on technology to drive their operations, business decisions as well as their product & treatment R&D. For instance, they opened Porcelain Origins, Singapore's first Smart Spa offering curated touchpoints and digital innovations that help meet their clients' changing skincare needs. They are also one of the first beauty salons to introduce a Porcelain App, aimed at elevating the personalized experience.
"We innovate and reformulate our products to ensure they are free from nasties while meeting our client's changing needs.", Pauline adds.
Porcelain has humbly grown from strength to strength over the past eleven years, from a two bedder to the premium spas at Guoco Tower and Paragon Shopping Centre. "Many may view success from pure dollars and cents, but to me, having the support from our customers during this Covid period, where they trusted us and helped the business bounce back quickly, and we didn't have to let go of a single staff – to me, marks the success of a strong company built on a good foundation.", the Managing Director asserts.
Porcelain's product sales have been registering strong growth over the years thus, their focus is to ensure continuous expansion through R&D and having it sold via more distribution channels both locally and regionally. They are also on a constant look out for partners to explore the possibility of extending their services overseas.
With a well-defined vision today, Porcelain holds its course to become people's lifelong beauty partner that accompanies people through the evolution of their skin. They look forward to putting their expertise and goodwill at the service of people's well-being.