Paul Guenther: Pursuing his Passion while Success Follows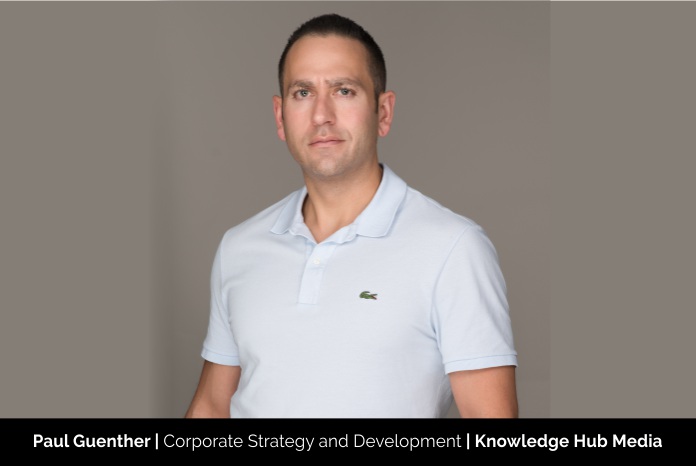 An entrepreneurial mind is not bound by age or lack of opportunity. All it takes is an innovative thought to lead them on. Paul Guenther had always dreamed of being an entrepreneur. At the amateurish age of fourteen, Paul started his first E-commerce website. Thereafter, he worked in several high paying jobs that offered him promising careers in sales, marketing and production, however, Paul knew that his true passion lies in being an entrepreneur which led to the founding of Knowledge Hub Media. He was self-taught in web development and knew how to build out good sites with strong but natural keyword saturation which proved as a value add in the growth and success of the company.
Knowledge Hub Media provides B2B demand generation (or lead generation) services via white paper and content syndication. The company today, has an influential global presence. They have a large global audience (the people consuming their content) and can reach just over 39 million B2B contacts. They are also global from a sales perspective with clients from every continent on Earth (sans Antarctica, of course) over the last 10+ years. Recognized as one of the top privately-owned fast-growth companies in the United States, Knowledge Hub Media has received Inc. 5000 honors from Inc. magazine three years in a row (from 2015–2017). The company is developing rapidly with the changing trends of the marketing and advertising industry. Paul led the company to success with his profound knowledge derived from the various fields he worked in, combined with his childhood dream of being a successful entrepreneur. In this exclusive article, Paul shares his journey with us that highlight the challenges, growth and success of Knowledge Hub Media.
Turning Dreams into Reality
Paul was working for a company that was in the B2B Advertising industry, and he really liked it. He had successfully taken on and worked in several different roles within the company – more specifically, in sales, client services and client marketing. This is where Paul felt that he had a pretty good grip on most of the moving parts. Once he was confident, he quit his job in 2009, and started his own B2B Advertising Technology company. Back then, it was called "IT Knowledge Hub" – as IT Professionals and IT Decision Makers were their general target market in terms of visitors and email subscribers. Most of the challenges Paul faced at that time, included, fulfilling campaigns with a limited audience. Initially Paul, had to also spend a large amount of money on marketing to spread the word and to keep the registrations coming in. Despite these challenges, Paul was determined to achieve his entrepreneurial dream and was willing to be patient for his success.
Today, Knowledge Hub Media has attained a prominent position in the industry with their unique and distinctive offerings as compared to their competitors. Paul and his team have overachieved their goals by providing excellent customer service which is the company's value proposition. Beyond their employees and financials, Knowledge Hub Media's growth strategy is strongly based on the customer experience (offering the best in the industry), their internal management efficiency, and their ongoing ability to innovate.
The Life of a Successful Entrepreneur
Paul graduated from Penn State University with a bachelor's degree, in the Spring of 2006. He had founded another website back in 2002 which helped him to pay for college. Between 2006 and 2009, he had seven different jobs that some people might consider "careers.", however Paul longed to fulfil his childhood passion. "At the end of the day, I didn't like any of the jobs too much… And being the entrepreneur that I am, I was always bouncing around to new opportunities, chasing a higher paycheck. I was never truly fulfilled career wise until I started Knowledge Hub Media.", says Paul, a steadfast business leader.
Paul has taken Knowledge Hub Media from just a startup to a full-fledged running company with many accolades along the way. Some of the few personal achievements that Paul regards as his best are, graduating with an MBA / Master's in Business Administration (2010), graduating with a Doctorate in Business Administration (DBA) in 2019. Professional achievements include, bringing on the first sales employees – Anthony DiFilippo in 2011 and James Pastuf in 2012 who continue to work with the company till date. In fact, everyone who has ever worked with Knowledge Hub Media continues to do so, they have had 0% turnover in almost 11 years of business. Other important achievements are, on boarding their first non-sales employee, Paul's brother, Chris Guenther (2014), hitting $1 Million in Revenue for the first time (2013), hitting $3 Million in Revenue for the first time (2017).
Paul is a proficient businessman who has learned his trade from hands on experience. He is a focused leader but at the same time he ensures that he maintains a balance between his work and personal life. Albeit, striking a perfect balance is difficult, Paul makes a constant effort to do so. He works hard all week. His typical day at work begins early in the morning at 8 and ends early in the morning at 3 the next day. "I do take breaks and hang out with my family in between all of this, of course! But I NEVER work on the weekend. This is a promise that I made to my wife before we got married; a promise that I made to myself before I even started the company. I do not want to be tied to work 24/7, and being a sociable person, I also like doing things with friends and family on Friday nights, Saturdays and Sundays. Most importantly, to spend as much time as possible with my beautiful wife Allison and three-year-old son, Paul.", Paul shares. Pledging to never work on the weekend ever, has afforded Paul the ability to achieve great success.
The Role of a Responsible CEO
As the CEO of Knowledge Hub Media, Paul has a long to do list every day that must be checked by the end of each day. His prime responsibilities include, B2B Sales & Business Development, handling Accounts Payable / Vendor Invoices, building out ABM Lists, Install Base Intelligence List, Intent Data Lists & Other Datasets, running Employee Payroll, Paying Independent Contractors and Handling All Bookkeeping, formatting & Posting Unique Website Content, enterprise Form Solutions, Edits and Maintenance, generating & Updating Monthly Income / Expenses Reports, generating & Updating Monthly Sales Revenue Targets, generating & Updating Sales Commission Reports, initiating ACH/EFT and International Bank Wire Payments (Monthly), maintaining an Ongoing Master Lead Delivery Report, setting up Monthly Team Meetings: Preparation, PowerPoint Slides & Presentation via Zoom, weekly 1-on-1 meetings with each of my employees – where we can discuss/address just about anything, ongoing Employee Satisfaction Initiatives, Requests, Reporting & Training, ongoing Sales & Service (Current Clients), ongoing Sales & Service (Partnerships), ongoing Wed Design Changes, Plugin Maintenance & Formatting, outsourced Report Maintenance (VI), prospecting New Clients via Email, forecasting New Campaigns, Completing and Submitting RFP's to Clients, Search Engine Optimization, SEO Reporting and Search Engine Marketing Initiatives, Server Maintenance & Uptime, Website Metrics Reporting, Website Updates, Maintenance & Uptimes. "I am still very much involved in essentially all internal processes. I'm working around the clock most of the time – but don't feel bad, I like it!", he shares.
Distinctive Services of Knowledge Hub Media
Knowledge Hub Media utilize their customer's white papers, webcasts, eBooks, and other assets to generate highly qualified sales leads; based on the specific software and/or service-based solution(s) offered by each of their clients. Each client's internal salesforce then contacts the leads that they have generated to (1) gauge their interest in the solution that they are offering/selling, (2) get them into the automation platform and/or sales pipeline, and (3) ultimately close the deal. They run many different types of specialized lead generation campaigns, as well. These include BANT Campaigns, where four qualifying questions are asked to ensure the contact has the authority, the budget, the buying timeframe and the need for the solution being promoted.
In addition to the earlier mentioned services they also run SQL/SRL lead campaigns, where the leads indicate that they want to be contacted and receive more information about a client's solution. These are very high quality, sales ready leads. They have recently developed the ability to provide intent data to their clients. So, along with running standard Account-Based marketing (ABM) campaigns, which they have done for years, they can also build customized ABM lists for clients. These lists are made up of companies who are already showing intent to buy their solution. The intent is measured by the types and amounts of content they are consuming on several different B2B technology related topics.
Motivating Factor and Handling Competition
Paul is responsible for the lives of nine people. Their income and their livelihood depend on the company's income and livelihood. This is the biggest motivating factor for Paul, to ensure that his people have jobs to go to everyday. "Because of that motivation, I've never had to lay anybody off, and we've actually never had any kind of turnover. We have a 100% retention rate, and I'm really proud of that. Almost 11 years in business, and nobody has ever quit, been terminated or laid off!", Paul asserts.
Knowledge Hub Media differentiate themselves from their competitors in a few very specific, and valuable ways. For one, they can micro-target their demand generation campaigns – providing leads to their clients that are made up of very specific job titles, company sizes, industries and install bases. These days, most of their campaigns are also company targeted via ABM lists or buyer intent lists, as well. Second, they can effectively target every country in the world to engage in lead generation (save Japan), and can promote each client's offer(s) in the native language of their choice. Lastly, they ensure that all their campaigns are completed on time! "We don't ever "over-promise and under-deliver," and all leads are delivered within the campaign's agreed upon flight dates.", Paul adds.
Knowledge Hub Media try to stay ahead of the game by using their own, internal big data. From this data, they derive their own B2B intent data analytics – which allows them to target companies and individuals who are more likely to be in the buying cycle for the types of software and technology solutions that they are promoting on behalf of their clients. The main takeaway is that their intent data is dynamic and always changing. Changing just as quickly as marketing and advertising technologies, if not even faster!
A Vision for a Better Future
Paul's vision for the future of Knowledge Hub Media is to continue to add new team members, create new products, and innovate new technologies to offer their clients a true edge over their competition. Also, to build revenue year over year and to reach $10 million in annual sales by the end of next year. Paul dons a different approach when it comes to the growth of the company. He resists the pressure of approaching growth as a race and lets it come organically. Founders often measure their growth and relentlessly pursue their target; however, Paul believes that they often should take the time to learn their industry and ramp things up the right way.
Paul's journey while building Knowledge Hub Media has been a thrilling experience for him. He went at his convenient pace and built a rock-solid foundation first instead of pursuing growth. Moving forward with a positive outlook, once he was confident, he took on the responsibilities of additional employees within three years of the foundation. "When you become a slave to growth, it changes the company culture, and I never want that.", he shares. For Paul, a conservative approach to business builds a better company that can stand the test of time. A company that can withstand every business and economical obstacle offering a secure workplace for its employees, is a strong company that is built to stay for the long run. Paul is a business leader who has not only built a strong company on his own terms but has also built the lives of his employees offering them better opportunities to grow and thrive. "The test of our progress is not whether we add more to the abundance of those who have much; it is whether we provide enough for those who have too little.", says, Paul, an inspiring leader who was once an ordinary employee with an extraordinary dream.