Jim Tompkins: To Keep Trying is the way of a Successful Business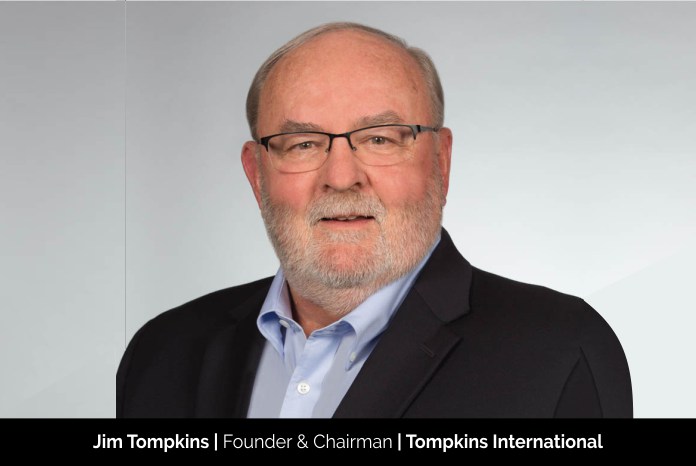 In the 8th grade, a 4-foot-8-inch Jim Tompkins aspired to be a professional basketball player. It wasn't until his senior year in high school that Jim decided he wanted to follow his dad's longtime advice to become an engineer. When forced to rewrite a failing English paper on the topic, Jim rewrote it about industrial engineering, and since then has always wanted to be an engineer.
Jim followed this path through college, receiving his Bachelor of Science, Master of Science and Ph.D. in industrial engineering from Purdue University, during which time he had the opportunity to meet his professional idol, Lillian Gilbreth, one of the early pioneers of industrial engineering who at the time was an adjunct professor at Purdue. Jim fondly recalls his first interaction with Lillian, when he was asked to drive her to the airport and was overwhelmed by her warm, down-to-earth personality.
The birth of Tompkins International came when Jim was working as full-time professor at North Carolina State University in 1975. While teaching an industrial seminar in South Carolina, a plant manager attending the course approached Jim for help with designing an injection molding plant. After the first plant was complete, the plant manager presented Jim with a contract for seven additional plants. Unable to balance his teaching commitment with the new projects, Jim turned to one of his graduate students, who now serves alongside Jim as the Vice Chairman and Chief Administrative Officer of Tompkins International.
Over the last 40 years, Tompkins International has evolved from a supply chain consulting firm into an end-to-end supply chain consulting and solutions company, with business units focusing on supply chain consulting services, material handling integration, Asia market strategy, and four recent ventures, including MonarchFx, SensorThink, Tompkins Robotics, and NexusFx.
MonarchFx is a smarter logistics solution comprised of best-in-class supply chain companies focused on delivering cost effective, high service level fulfillment solutions to brands and retailers. The MonarchFx distributed logistics network consists of nationwide facilities using Tompkins Robotics, the Tompkins Warehouse Execution System and the Distributed Inventory Flow Forecasting tool. The company's latest venture, NexusFx, builds and manages direct-to-consumer channels through its innovative technology, marketing and services platform.
Despite all of the successes during his career, Jim has faced his share of roadblocks, most notably when the company was being sold from one private equity firm to another. While it was a rocky seven years, Jim bought the company back in 2015, and wasted no time before getting back to his entrepreneurial roots, devoting more than half his time to the company's four new ventures.
Jim acknowledges that entrepreneurs make more mistakes than anyone else because they are entrepreneurial. Recalling how his friends questioned his decision to buy the company back in 2015, Jim says that as an entrepreneur, you are surrounded by people who want to tell you how everything you are doing is wrong, with the more innovative your pursuit, the greater the resistance among the people who care the most about you. His advice for entrepreneurs facing roadblocks is to keep running forward and when you inevitably fall, learn why you fell, get back up and keep running. One of Jim's favorite mottos is "Try hard and get it right the third time," adding that nowadays he is able to recover more quickly after each mistake.
While his walls are adorned with countless awards spanning his entire professional journey, from recognition as a Distinguished Engineering Alum by Purdue University to receiving the prestigious Frank and Lillian Gilbreth Industrial Engineering Award from the Institute of Industrial Engineers, Jim prefers to celebrate the small daily wins. The now serial entrepreneur, whose first professional dream was to become an NBA player, states, "It's not about scoring the basket, it's about winning the game. The big wins are based upon a thousand little wins, and I celebrate the little wins." To Jim, these little wins are as simple as someone telling him "great job" or "thank you."
As for what the future holds for him, Jim's goal is to keep doing what he is doing for as long as he can. While some people tell him he works too hard, the truth is he just loves what he does, adding, "If I loved golf as much as I love supply chain, people would call me a bum." This passion is fueled by his belief that Tompkins International is poised to do something really special. "Now is the easiest time in the history of mankind to change the world, and I feel blessed to be living at a time when I have a chance to do something really amazing."