Chris Mavris: Starting Small makes Franchising Big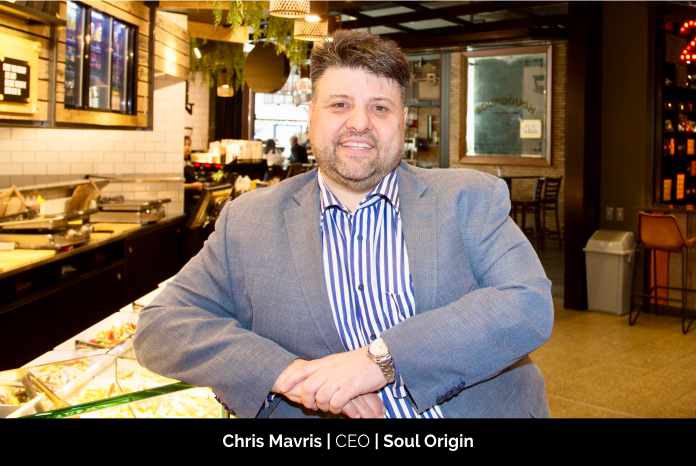 The food industry has offered large business opportunities for cooking gourmets who have been passionate to start something of their own. One such leading company is the Soul Origin who has climbed the ladder of success rising from 3 stores to a whopping number of 105 stores throughout Australia in 5 years. With food business running in their blood, entering this business was like thriving in their natural environment. Chris Mavris, CEO of Soul Origin has an interesting journey to share along with insights that have kept him motivated as he followed his passion.
The Retail Race
Like every startup in the market today, Soul Origin also had to face their initial challenges that was lack of time, money and resources. Along with this, they also had to build credibility for new brand as they had set out into the market with a view to franchising. Fortunately, they had over 80 years of experience of retail food knowledge backing them, being a retail brand run by retailers. Using their wide knowledge and expertise to their benefit they went all out citing numerous ways to meet the needs of their business. From the very beginning of the business they worked as one in driving every minor to major part of the business. The team knew and understood the business and were focused to face every challenge head on. From food manufacturing, store builds to franchise recruitment and retail support, the dynamic team of 4 had it all covered. With every roadblock that stood in their way, they had one vision that kept them going that was "People First", and they nurtured every aspect of the business with their personal touch.
The Soul Origin Services
Your soul is happy when you have a good meal. Well, Soul Origin has shared countless smiles and moments of happiness as they excel in serving the best coffees, salads and other irresistible delicacies. They offer 25 breaded varieties from baguettes to olive oil paninis with a distinctive selection of breakfast wraps. This appetizing menu is backed with specialty grade coffee and a brand that speaks to all and sundry. They serve the best coffee in every food court and their delicious menu attracts a plethora of crowd that are caught up in the morning rush and have skipped breakfast or the lot that needs a quick bite to satisfy a sudden craving. With fitness and health being taken seriously these days, fast food is not a very good option for all the health freaks, however Soul Origin has redefined the idea of fast food, making it a nutritious option for anyone.
The Customer Choice
With the utilization of the most advanced systems and equipment, Soul Origin offers, fresh and nutritional fast food that has drawn a large fan base to them. With long deli bars the food is out front for all to see, so the customer gets what they see as our team picks their product right in front of the customers eyes. They offer real food for real people and believe that they do not need to attract their audience with fancy and stylish images, because the quality and taste of their food does the job. Their customer feedback has been a source of motivation for them to keep doing what they do as it reassures the team that they are doing well.
One of their regular customer shares, "It blows my mind how they serve 100's of people a day at the Chadstone store and remember everyone's name. I only go once or twice a week and every time they remember my name. Genuinely the nicest people", while another customer said, "Just wanted to say I had the best coffee from your north lakes store yesterday. Nice and hot. I love your salads also. Thanks"
Being described as neat and tidy and excellent at their services, Soul Origin has truly come a long way in the industry.
The Game Planner
With an experience of over 20 years in the food and franchising business, Chris Mavris started at Soul Origin 6 years ago with two stores. Prior to that he managed his own café, patisseries and espresso bars along with a job as the National Operations Major for a major franchise brand overlooking 100 outlets. Based on his franchise experience, when he was approached by the franchise founders he got on board interviewing accounting firms, working through numerous legal firms to see who would assist with their modeling and Franchising Disclosure Document Pack. However, Chris knew that that was not what he had planned to do. He joined the brand as a General Manager and his job roles were true to its title. He handled franchise sales, legal, financial management, operations, supplier relations, new store opening team co-ordination, distribution coordinators adding to his expertise.
Chris always knew that he did not want to follow, he wanted to lead. However sometimes even though you are knowledgeable you must follow. As life took its course every unplanned detour worked well for him. Every experience that he gained in varied elements of the business, Chris added his own touch to it and invested it in the high growth environment that he thrives on. Initially starting with two stores, he has seen the company grow leading the food business today with 105 franchise stores making every effort worth it.
The Franchising Formula
Chris has witnessed major changes in the franchise business in the last 24 years. The business has been regulated over the years to reward "good" franchisors and weed out the fly by nighters. Initially a franchise agreement would sum up in 10 pages while today the agreement is over 100 pages, citing the level of compliance and legalities that have increased. The level of compliance for franchisors has imposed significant cost on their support center model, that takes the form of legally mandated disclosure documents that must be updated annually. This makes franchisors jointly liable for under payment of team members if reasonable steps are not in place. With the increase in technology and widespread of access to internet, potential new franchise partners are more knowledgeable than before, which is a beneficial factor as it fosters the addition of well-informed partners to the brand.
An Eclectic Future
The future is in our hands; as they move ahead with this vision, Soul Origin is gearing up for a brighter future. Knowing the economic environment in Australia they have decided to refocus as there are many external negative forces at play namely; the availability of cash from banks; financing being the most significant. As they continue to grow their footprint in Australia at a reduced pace, Chris and his team are now inclined to a global presence. They have the potential to cross the borders with their food, taste and quality. They positively move ahead with a view to give people what they want in this high paced generation. With better ideas and strategies and keeping their goal of doing whatever it takes, Soul Origin is all set to serve the best food to the world that is fresh, suitable for everyone, nutritious and fast.
They might have started small but their passion for the profession kept the merriment of the business going, as they loved what they did. A team of four nimble foodies paved the way to a giant franchise brand today, that has instilled confidence in them to continue to write success stories in their "People First" business plan.