Jake Olson: An Inspirational Leader Who Lost Eyes but Not Vision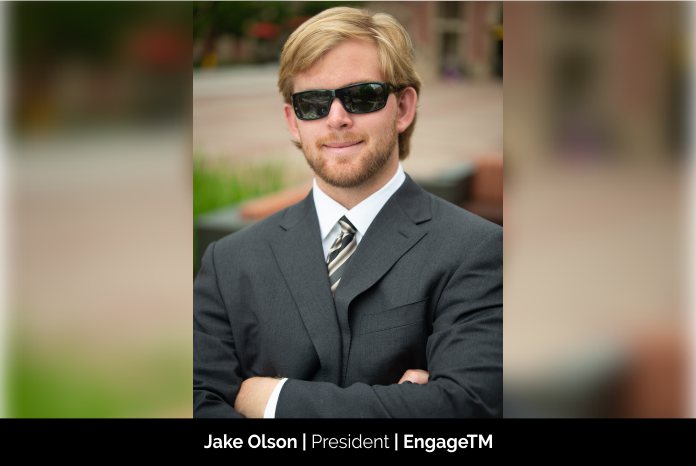 He lost sight in his left eye before the age of one. For the next twelve years, he battled cancer in his right eye 8 times. He beat it for seven times. But when it came back for the eighth time, there was nothing he could do. He knew he was going to go blind. It was a sad feeling knowing that he had fought so hard for so long only to see the cancer win in the end. He knew he was going to have to re-learn how to do basic things that were once so easy. Putting toothpaste on his toothbrush, food on his fork, or walking around his house would all require significantly more effort. He viewed going blind as his biggest setback, but it ended up being his biggest set up. What followed since then is nothing but an inspiring tale of courage, character, grit and passion. But more than anything and at the time, where he couldn't see anything, it was his vision to play football that triumphed over. This is his story.
Jake Olson was the long snapper for the University of Southern California's football team and is currently a free agent. Jake is also a co-founder and President of EngageTM which is a web based platform designed to digitize the process of booking anything from a speech to a once in a lifetime experience. EngageTM is the AirBnb for events, allowing individuals to book talent online for a keynote speech, buy tickets to talent's pop-up events, or engage with talent in a unique, personalized way. Currently, the process of booking someone is slowed by inefficient email exchanges, scanning and faxing contracts and common questions. EngageTM puts the entire booking process in one place, making it much simpler for the user and the talent. As the President of EngageTM, Jake sets big picture strategy and serves as the public face of the company. He is also very passionate about helping others, and therefore, established his foundation, Out of Sight Faith, to provide technology to blind schoolchildren.
The humble beginning
Growing up, Jake wanted to either play in the NFL or on the PGA tour. He was a huge sports fan and would have never imagined himself as an entrepreneur, but he definitely wanted to forge his own path from a young age. Therefore, when life hit him hard, he came back strong. Shortly before Jake went blind, Pete Carroll, head coach of the USC Trojans, heard about his story and invited him up to a practice. He was thrilled to get to go behind the scenes with his favorite team. Jake had no idea that Coach Carroll intended to make him a part of the Trojan family, and that watching this practice was only the beginning of a relationship that would change Jake's life forever. Being around Coach Carroll helped remind him that nothing was impossible if you were always willing to compete and work for it.
After he went blind, Jake became more determined than ever to not let blindness stop him from living the life he wanted to live. Jake grew restless watching his high school football team play, and he knew he had to find a way back on to the field. He discovered the position of long snapping, and worked at it until he was good enough to start for his high school team. After snapping in high school, he was granted a waiver and started practicing with the team in 2015 after walking on. Jake participated for the first time in the 2016 spring game, and then for the first time in a live game in 2017 against Western Michigan. And while it seems like it would be tough to snap the ball while blind, Jake has drilled perfect snaps over and over throughout his career. Eventually, he become the first blind college player ever when he snapped in USC's game against Western Michigan on September 2nd, 2017.
Going blind can never make you lose your vision!
His vision for Engage was seeded after he snapped in his first game. "I had been doing a lot of speaking and appearances prior to that, but after I snapped, my manager and I got flooded with requests. We started looking for a better way to handle the process of booking a speech or any experience, and that led to founding Engage," Jake recalls. Today, Engage is a web based platform that complete digitizes the process of booking talent for an experience. "Customers choose us because of our great roster of talent, the unique experiences offered on our site, and the fact that we turn a week's long process of emails, phone calls, paper checks, and faxes, into a process that takes a few days and is all done in one centralized place," Jake further adds. When asked, whether he has achieved all that he desired, Jake firmly says, "I definitely have not chieved all that I have desired. I am very happy with life, but I am always pushing for more. The moment that I realized all my hard work paid off came when I got to play in USC's season opening football game against Western Michigan on September 2nd, 2017. I put in three years of countless hours practicing and working to finally get the chance to play. It changed my life. I am driven by a desire to make a positive impact on as many people as I can while achieving success for myself and my family, and building Engage is a great opportunity for me to do that."
Passion, Grit, Resilience and Vision
Managing balance between professional and personal life always becomes difficult when one has to lead a company from the front. However, according to Jake, "The key for me is setting boundaries and having my priorities straight. After or before certain times, I won't take phone calls or do work. I make sure that every day I have certain personal time set aside. There is nothing more important than my family and health, and I make sure that I do not let work get in the way of those two things."
Jake recently signed with United Talent Agency, and they will be helping him with getting his own TV show, book deals, and other brand partnerships. He wants to keep doing all the speaking he can, see how far he can go with his golf game, and stay involved in the sports world. Jake's main day to day focus is on growing Engage and helping it scale and be as big as it can. He wants to see the platform hit a point where Engage is doing thousands of bookings annually, and completely disrupt the entire talent booking industry.