Nicko Satria Utama: Bringing groundbreaking solutions to make the world a better place to live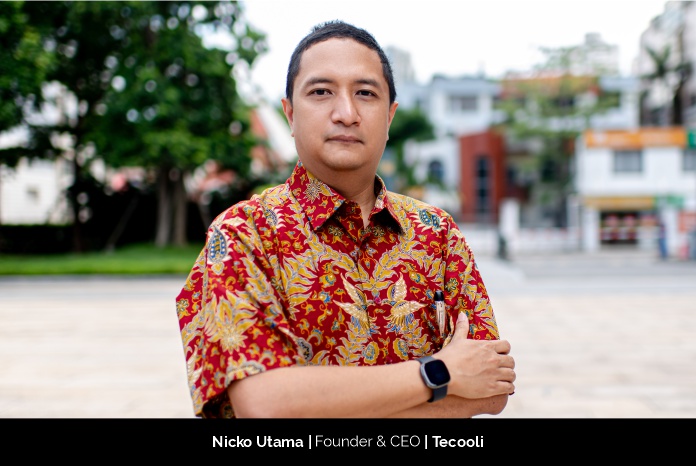 Having vast experience of 20 years in the software and service industry, Nicko Satria Utama, CEO of Tecooli Service OÜ, is backing up his skills and expertise in the industry to bring new innovative solutions to serve people in the best way possible. He abides himself with the principle to help people and make them successful in their lives, and it reflects on his professional and personal life. His work revolves around the question, "What can I do to help people so that they are a success?" He measures success in terms of helping other people and loves to help them rise and shine in their lives.
Tecooli Service OÜ deals with Virtual Reality as a Service, where it provides the cloud-based virtual reality that customers can use by subscription. The company provides a digital marketplace on virtual reality in which there is a place for the buyer and seller to interact and communicate through VR.
Laying the foundation of Tecooli Service OÜ
Watching movies and TV shows about future technology left a lasting impression on Nicko's mind, and he realized that these technologies are the way to achieve a better life. He knew that his dream to help people could become a reality with the power of modern technologies. So, he decided to pursue a career in the software industry. He expanded his academic skills and knowledge base by completing several certifications and courses.
Backing up his skills and passion, he started climbing the ladder of success step by step. Throughout his journey, he matured into a seasoned leader and gained valuable experience in the industry.
Before founding Tecooli Service OÜ, Nicko was a software engineer and was looking for the right partner who believes in his mission and vision. When he was to gather a solid team, he marked the advent of his company to bring innovative and smart ideas to the table to ease the real-life issues of people. As the co-founders of the company belong to different nationalities, Nicko decided to open the company in Estonia as its jurisdiction makes them flexible, easier, and faster.
Evolving into a seasoned leader
Nicko states that the biggest challenge while working with new and modern technology is to tackle the status quo. Besides this, three entities, namely, family, friends, and coworkers, posed different challenges while he aimed to do things differently.
His family saw that the new technology was unnecessary and is a waste of financial resources. So, Nicko needed to educate them about his ideas and make them understand the power of futuristic technologies.
His friends were quite religious and thought that technology was unnecessary as they only focused on praising God. Nicko had no partner to discuss the latest trends in technology like AI/ML, Blockchain, and VR. Some of his friends said that AI and VR belonged to the God domain. So, Nicko decided to look for partners who resonated with his ideas and passion.
While forming his team, he realized that people want to just complete the job and ignore the idea of looking for new strategies to do their job in a better way. So, it was important to look for the right people and keep them motivated towards growth.
Going through all this, Nicko urges the young rising stars to always stay determined and focused on their goal and keep working until they achieve them. It is necessary to find the right partners to work with, and going abroad to look for them is quite beneficial. Never settle with the status quo and always keep a steady inflow of innovative ideas to grow to the next level.
Introducing innovative solutions with Tecooli Service OÜ
The in-house team at Tecooli Service OÜ, provides customization for virtual reality applications, customization of the marketplace inside Virtual Reality, research and development for new VR/AR, and VR system integration with customer systems.
They take a balanced approach between open source and closed source and reap the benefits of both worlds. Open-source offers innovation and speed of development while closed-source offers stability and security of development.
The team works with agile methodology to release the features quickly and gain an edge over the other competitors. While working with the agile framework, they release the product for market testing, collect valuable feedback and ameliorate the services for future releases. They stay in touch with their customers to know about the best features of their products and work on them in the next iteration. They have an extensive Research and Development department that looks for innovative ideas to offer the best services to their clients.
Most of their business, development, and operations run on the public cloud, such as AWS Amazon, and Microsoft Azure. Nicko states, "We don't have on-premises hardware and software running. It is cost-effective, easy to scale, and easy to maintain since our teams spread into different countries and time zones. Business is easily adapted, and we are using public cloud security standards to keep ourselves secure. The only hardware we are using is our own personal device such as laptop/computer and VR headset."
The team always looks to innovate things and create something new. Nicko adds, "We spend some hours weekly or daily to discuss in our internal discussion on technology trends based on community, movies, or customer input. Sometimes we have a little challenge like, can we make something like in the movie?"
They love to challenge themselves and push their limits to grab new opportunities. Rather than working with the traditional methods, they look to find new ways to develop modern solutions. For example, rather than developing simple content management using WordPress, Drupal, or Joomla, the team is looking into the possibility of using serverless architecture and utilizing the benefits of the public cloud to create something innovative.
Strong Culture Implementation
Nicko believes that relying on his remote team that has the best heart and interest in their soul is essential to attain desired results. He adds, "We have a degree of autonomy for team members to decide what is best for the teams with our core values. We even welcome all team members to learn new knowledge and experiment with new things through different online self-learning materials and use public cloud services to try their implementation. Further, we also encourage team members to actively share and collaborate with the community through workshops, webinars, blogs, or podcasts. This also helps both the community and our company to innovate further by listening, understanding better, and sharing."
Keeping an open door for all employees in case of problems, he has developed a strong company culture where all follow a goal-based system using SMART goals that help in tracking them both monthly and quarterly. It has facilitated them to improve over time, not just in their job roles but in life as well.
For their advanced growth, he shares, "We are using 80%-90% of the time for the development of our product and service, and the rest of the time is used to work on individual projects. If we see any individual project that can be used to enhance our product and service, we also allocate a budget to develop that project further."
Embracing technology for all
Nicko shares his company's vision stating, "People with tech for everyone and everywhere."
He opines in the fact that all new technological inventions will transform people's daily life. Explaining it ahead, he says, "My technology such as VR can change a lot in human life. For starters, it will cut off business travel and meetings since VR can radically change how we meet. We can meet in person inside VR, and the technology will make the experience quite realistic."
Not only this, using their high-end products can result in a significant reduction in carbon usage. VR is a futuristic technology and holds infinite potential to enable developers to create anything using their creativity. It will also enhance their personal productivity to go beyond the definite boundaries and design something exceptional from your imagination.
Facing Pandemic Woes
Ever since COVID-19 disrupted the entire world, businesses around the world have faced setbacks. Even many members of Nicko's team got sick or had to serve their sick families. As a supportive response to the COVID-19 situation, Nicko offered a generous vacation or leave for all employees sick from COVID-19 and even pushed all his employees to get vaccinated with proper company reimbursements. Although some countries provide free vaccines, their delayed procurement made it difficult to get vaccinated faster. So, Nicko asked the team to get paid vaccination with full support from the company's compensation.
While the beginning of 2020 led to facing many losses, slowly, they managed to get back on track. Overall, the company's growth has been steady during the pandemic, and until 2020's end, they saw a sharp rise in the number of projects and team members. He states, "All the team members are working remotely at different time zones in different countries and has hardly impacted the business operation. Additionally, we are increasing the number of development teams, business operation teams, marketing, and sales teams. It is all because there is an added number of new customers and new partners."
Wearing the CEO's Cape
Being the CEO of Tecooli, Nicko serves as the leader who wears multiple hats. Since the company is still a startup, he is responsible for all the main chores such as designing and experimenting with codes or making brand new hardware for developing a new product or prototype or negotiating and discussing between vendors, partners, companies, customers, etc. that need to make swift decisions.
Other than this, he is always available to help his team in case they encounter any technical problems while coding, testing, or deploying. Further, he handled all the one-to-one consultations with his team members for both personal and professional development. Besides this, he actively assisted the finance, administration, and human capital teams. To add a layer of innovation, he has even started focusing on business processing automation via automated workflow third-party SAAS.
A Motivated Team is the Best Performing Team
According to Nicko, keeping the team motivated to give their best is his utmost priority. He believes that wisdom, compassion, and courage are the three universally recognized moral qualities of people.
Thus, he asks his team members to work flexibly within the week without forcing them to work for fixed hours. All he requires is to fulfill the minimum time requirement of 8 hours a day and five days per week. He further adds, "We encourage Saturday and Sunday for their own time unless they want to work. We don't have a lot of pressure for work."
Just like daily life ideals, he encourages his team members to keep their special ideals on codes, design, and architecture for products. It makes them feel empowered and appreciated.
To keep things smooth, he says, "Once or twice a month, we also have personal life sharing sessions which can be either positive or negative. The best part is that we are only listening, not judging in those sessions. This also allows other team members to offer help to the one facing personal issues."
Making radical changes for a better future
To boost his employees' morale, Nicko wants to incorporate transparency as much as possible. To explain it further, he says, "I will be open about the salary and benefits for everyone in the team so that each team member is aware of everyone's salary, benefits, and bonus. I will also include a budget for each project so that they know exactly how much bonus they will get in the end."
Moreover, he will channel his energy in hiring persons based on the specific team needs. Also, for all existing team members looking for a raise in their salary, he will ask all the team members to see if the raise is justified.
Further, they are planning to make a great investment in educating people on future technologies to bring more awareness. For this, they will work with different high schools, vocational schools, institutes, academies, or universities to join research and development.
The company will also strive hard to promote intrapreneurship for any valuable ideas. They will also open a unique business unit within the company or new company with full team members to implement all the ideas.