Harbinder Singh: Working to transform the environment with YES Full Circle Solutions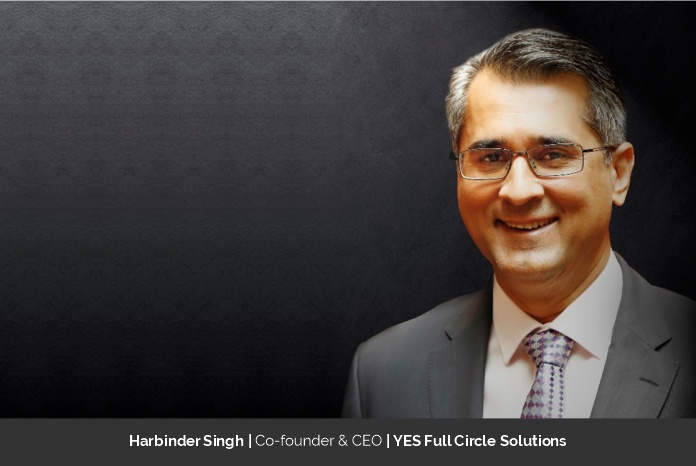 Harbinder Singh, Co-founder and CEO of YES Full Circle Solutions, is steering the front of his company with a holistic view on managing waste. Harbinder states, "30 years ago, I got involved in waste management, and somehow it just clicked. I found it a lot of fun – working out and delivering various solutions to manage waste and encourage recycling. With climate change, and greater environmental awareness, recycling and promoting a circular economy has become crucial to the survival of mankind on this planet. Simultaneously, issues like gender equality, social inequality has also come to the forefront. YFC was set up to address these multiple issues under the theme of "Doing Good to Do Good"
Behind the scenes
In the early days of his career, he held senior leadership roles in organizations, generating millions of dollars in profits whilst creating a positive environmental impact, but he always felt that there was still something missing.
Starting around 2015, he began asking himself whether he could do more in terms of other social causes also. The turning point for him was the formulation of the UN Sustainable Development Goals. It incorporated both social and environmental impacts.
He states, "Corny as it sounds, but there is a quote from Optimus Prime that reflects what happened – "Fate rarely calls upon us at a moment of our choosing." This was when I decided to leverage and combine our experience in environmental, technology, and social causes to launch Yes Full Circle – a social enterprise company based on the principle of Doing Good to Do Good in Feb 2020."
Learning from the hurdles along the way
When the team entered the market, the COVID pandemic disrupted everything. He states, "We were less than a month old when the pandemic hit. It was a challenging time. We believed in our mission of doing good to do good and persevered. What really helped us was (and still is) the fantastic efforts of the governments during Covid-19 and the passion and commitment of our clients and colleagues."
For their clients, it is a question of working with them to help them identify the solutions they want. Everything depends on what the clients want and how committed they are to doing things in a scientific manner. The price factor also plays an important role in all this, so the prime thing was to balance every aspect.
He adds, "We work with clients to get a fair rate and not a good rate. A good rate may be good for the supplier but bad for the client, or vice-versa. A fair rate is one that is good for both the supplier and client. We have been fortunate that many organizations have been working with us from the beginning, most of whom, have during their consultations, understood the importance of the solutions put forth and have come on board."
Another learning lesson for Harbinder and the team was that hiring the right people needs patience. He expresses, "Sometimes in a rush to provide an opportunity to someone, we don't choose the right people. For a small organization, it is easy to identify and remedy a wrong hire. But for a larger organization, it is more challenging. This is why we encourage our management team to have an active approach in the first 2-3 months a new person joins to help them adjust, and where required, provide guidance. It is an ongoing process, and the management team does invest a substantial amount of time on people development, coaching and encouragement."
Transforming the old methods with YES Full Circle Solutions
Thirty years ago, the focus was on waste collection and some selective recycling. Today it is about ensuring a holistic view on managing waste. The movement towards a circular economy is essentially going back to the laws of nature.
The earth is a self-balancing ecosystem. Humans need the planet and not vice versa. If people don't respect the earth, they will pay the price. The warnings are already there, for example, global warming. Plastics are another example. Today plastics are entering the food chain and eventually contaminating the food supply.
Harbinder states, "YFC is run as a for-profit business to ensure financial discipline. However, we are NOT solely driven by profits. We are committed to creating positive environmental and social impact and have incorporated social good into the business. Doing good to go good is about generating social and environmental value from waste that is traditionally seen as having no value. Doing Good refers to avoiding landfills."
He further adds, "End Waste Now is our zero-waste solution for private sectors and governments. This is where we work to encourage waste diversion, leveraging technology and rewards, to support the circular economy. This is done by understanding how to modify the waste generation process so the outputs can be used as inputs in a circular economy, compared to the current linear model. We use technology, AI, machine learning, and data analytics to monitor the impact of what we are doing and help make corrections to help us achieve the zero waste targets."
Life as Co-founder and CEO of the company
Wearing the hat of the CEO of the company, Harbinder oversees different things and aims at building a positive culture in the working environment while encouraging everyone to work with their full potential.
He believes that balance comes in life at a certain point. Fueling the start-up consumes a lot of time and effort. However, as they have attained a specific milestone, he takes a less hands-on approach and delegates the work among his capable team members.
Future plans for the company
Competition is important as it encourages innovation. At present, YFC's Singapore, UAE, and India hubs act as the regional bases for Southeast Asia, Middle East, and South Asia markets, respectively. The Singapore headquartered company has continued to expand over the past few months and presently has three strategically located closed-loop facilities in Dubai and one in Abu Dhabi, with plans to launch more recycling facilities across the operating regions with like-minded social entrepreneurs.
Harbinder adds, "YFC does not intend to charge management or franchise fees, but does require a documented commitment to comply with the UN SDG Goals and to allocate a proceed of the profits towards causes that have a social and/or environmental impact."