Bhagath Reddy: Combining Modern Distilling Methods with Traditional Perfuming Extraction Techniques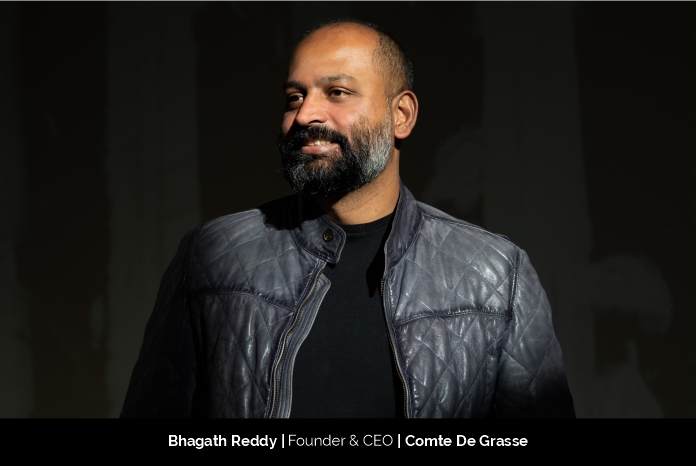 Today's, organizations are being pushed to be more inventive as they align their leadership teams to create value, galvanize their workforce, and set action plans for the future. There is no doubt that good leadership is an important part of an organization's success but organizations need to embrace the notions of innovative leadership so that they can build on ideas, generate value, and help improve themselves, teams, and the business as a whole. In innovative leadership, leaders are accountable for encouraging innovation in their teams to make a big difference. They regard innovation as one of the major growth drivers, to manage it formally as part of the leadership team or through an innovation council, and to learn from their mistakes to achieve it.
Meet Bhagath Reddy, who sees innovation as the key for organizational success, and believes by altering old methods with new innovation there is no goal that is unachievable.
He is the Founder & CEO of Comte De Grasse, a company that is renowned for creating sustainable luxury spirits by redefining the technology used to make them. "Comte de Grasse is intentionally a melting pot of vision, extreme passion, and a hard-headed insistence on fully sustainable processes," says Mr. Reddy.
The Idea behind Starting Comte De Grasse
The idea to start Comte De Grasse began with Mr. Reddy's wish to make whisky for his father. He says, "I knew I wanted to do spirits differently, my research and self-education process le d me to the perfume industry and city of Grasse. I found that many synergies existed between perfumes and spirits." This curiosity led Mr. Reddy to the discovery of the cutting-edge science that goes into the making of fragrances today and provided the team with the building blocks to establish Comte de Grasse.
Before Comte de Grasse, Mr. Reddy had a fast paced job heading merchandising and brand management for a luxury retailer based in South-East Asia operating over 200 exclusive stores in 9 countries across 20 fashion and luxury jewelry brands.
Pioneer in Modern Ways to Distil Spirits
Comte De Grasse is a luxury spirits distillery changing the way spirits are made with innovative distilling and extracting methods. The goal is to disrupt the traditional way of manufacturing spirits with the use of science and expertise from the fragrance industry. The science over traditional approach is not just to try and create spirits that are qualitative but also to try and find a more sustainable and efficient way to produce spirits.
Mr. Reddy states, "By challenging the way spirits are made. We are pioneering new technology to distil spirits. This gives us a head start over other traditional players and we hope to utilize this to our advantage by launching 8 spirit brands across multiple categories by 2028."
Learning while Facing Challenges
According to Mr. Reddy, like all start-ups, Comte De Grasse has also had its fair share of setbacks. One of the most important learnings of the journey has been that as an industrial start-up, one's capital expenditure can be very high so it is to phase initial plans. He says, "Going too heavy on capital expenditure from the word go can inhibit your ability to invest into marketing and create awareness about your products among consumers."
He further adds that the most expensive mistakes, however, have been while choosing external agency partners. "It is more important to find partners that share your vision irrespective of the size of the agency and not get attracted by just big names," says Mr. Reddy.
Work and Life as a CEO
In today's fast pacing world, it is quite challenging to maintain balance while working for a fast-paced start-up. Mr. Reddy finds that taking mini-breaks helps a lot switching off for a day or 2 helps in maintaining a balance while also ensuring that things don't get piled up. He states, "I am lucky that I have a very understanding wife and the fact that we are based in one of the most beautiful parts of the world makes things a lot easier, our next holiday is only a 2-hour drive away."
Mr. Reddy states that at the company, he works with a small team and due to it is a highly flat organization, all work closely with all departments. He says, "My team is the one that constantly inspires and motivates me and not the other way round. Each team member genuinely believes in what we're attempting to accomplish, and that ties us together and motivates us."
He further adds that the greatest achievement so far has been the fantastic team of individuals who have come together to form the core team at Comte de Grasse. He sees that every single one of them truly believes in the values of the company, and his proudest moments are when the team comes together and enjoys a cool 44°N and tonic.
Eyes on to Become Global Leader in luxury Drinks and Innovation
As per Mr. Reddy, Comte De Grasse's vision for 2030 is to be the global leader in luxury drinks and innovation. The company hopes the modern and sustainable production technology that it is developing will be more widely adopted, and some traditional non-sustainable practices are made redundant.
The management is leading with a set of very ambitious goals that include launching 4 luxury spirit brands by 2025 and securing distribution in 30 key markets globally. Currently, the company has distribution partners in 10 countries and is about to launch its second brand "06 Vodka" in August 2021.
Success that Comes by Understanding Failures
In the words of Winston Churchill, "Success is the ability to go from failure to failure without loss of enthusiasm." This has been Mr. Reddy's success mantra and has defined his approach to having a start-up.